We're now into July, and the NBA is just a few weeks away from its scheduled return.
After previously diving into the trends for NBA championship and Eastern Conference futures, let's shift gears to the Western Conference.
The Lakers were atop the board at +120 when William Hill re-released its Western Conference futures in June, and now they're the +115 favorites. The Clippers are right behind them at 8/5 (+160) odds, followed by the Rockets at 15/2.
Teams that have had their odds improve since they went back up include the Pelicans (30/1 to 22/1), Thunder (25/1 to 20/1), Trail Blazers (30/1 to 25/1) and Kings (1000/1 to 350/1). On the other end, the Jazz have seen their odds considerably worsen, shifting from 17/1 to 28/1.
The Lakers were tops in total number of tickets and total dollars wagered for winning the 2019-20 NBA title, and they also lead the way in both for Western Conference futures. Los Angeles has drawn 20% of the total number of tickets and 21% of the total dollars wagered.
The team that ranks second in the two categories is actually further down the board. The Blazers have received 11% of the total number of tickets and 16% of the total dollars wagered, highlighted by one Nevada bettor placing $1,000 on Blazers 150/1. If Portland were to come out of the Western Conference, the total payout for that wager would be $151,000.
The biggest potential total payout for a Western Conference futures bet at William Hill thus far is for the Pelicans. Another Nevada bettor put down $500 on Pelicans 500/1 for a potential total payout of $250,500.
Meanwhile, the largest wagers placed as of now for this market have come in on the two teams from the Lone Star State. A $2,000 bet was taken on both the Mavericks at 35/1 and the Rockets at 9/1 for respective potential total payouts of $72,000 and $20,000.
William Hill also has another futures market available in New Jersey regarding which Western Conference team will end up as the No. 8 seed. The Grizzlies are -140 chalk, with the Pelicans next at 7/2 and the Blazers at 4/1. You can see every team's odds here.
Check out William Hill's latest 2019-20 Western Conference futures odds and trends below, which are available to bet in Nevada, New Jersey and Iowa.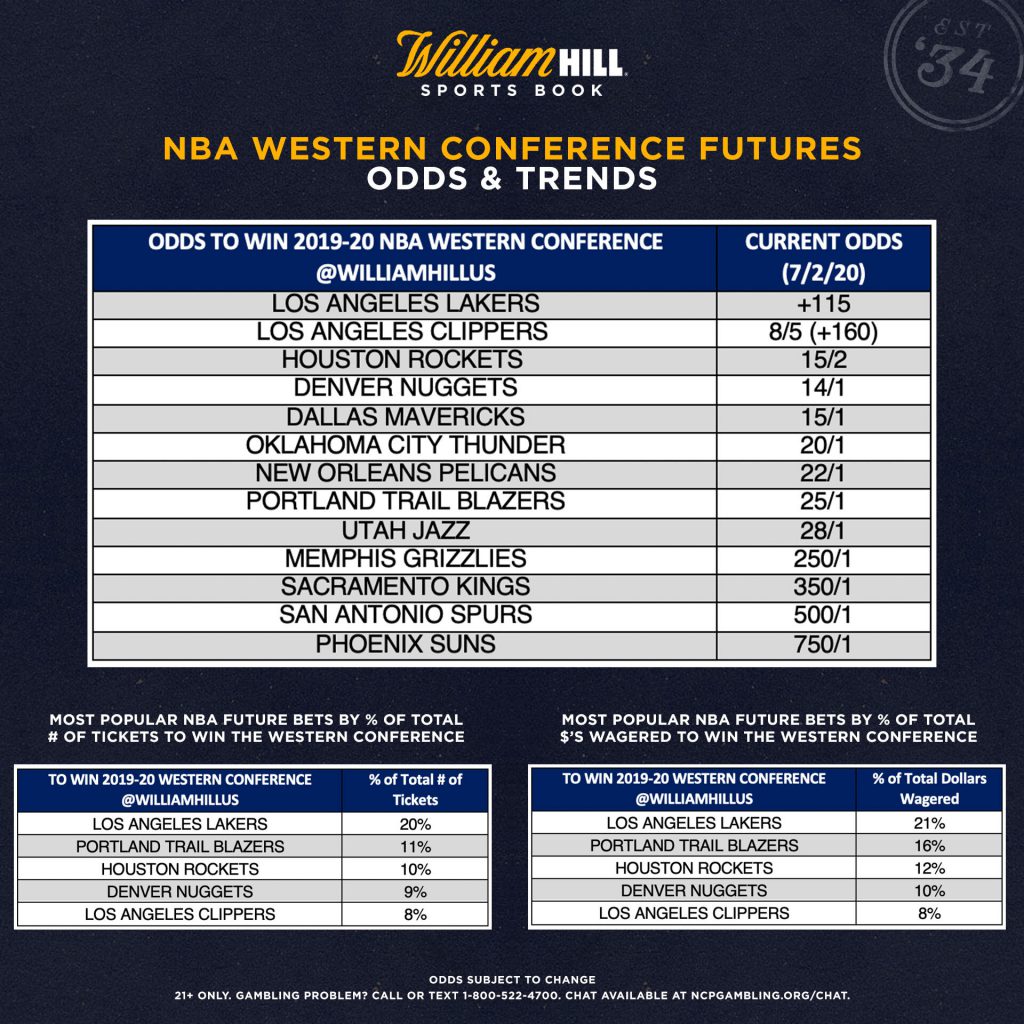 Bet NBA with William Hill, America's #1 sportsbook.