Sign up today for a new William Hill Nevada Mobile Sports account, and you can earn a $50 Bonus Bet on top of your initial deposit and cumulative qualifying sports wagers of $50 or more.
The William Hill Nevada Mobile Sports app allows you to bet on the go from any iPhone, iPad, or Android device anywhere in Nevada. Sign up today, and you'll never miss another bet.
With the largest wagering menu, the Mobile Sports app features LIVE InPlay betting on all major sports.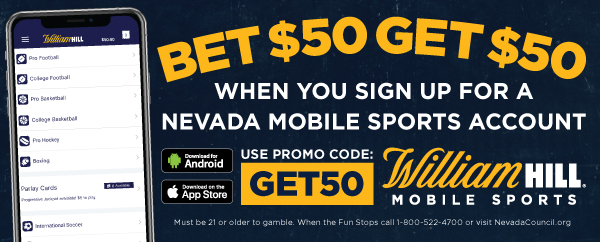 William Hill Nevada Bet $50 Get $50
Terms and Conditions
Promotion Overview
Eligible new William Hill Race & Sportsbook accountholders can earn a $50.00 Bonus Bet by depositing and placing at least $50.00 cumulatively in Qualifying Sports Wagers. The promotion begins at 12:01am local time on Wednesday, August 16, 2023, and ends when William Hill removes the promotion from its promotions page on the William Hill Sportsbook website (https://www.williamhill.us/nevada-contests-promos/) ("Promotion Period"). Promotion offered by William Hill.

ELIGIBILITY: 
1. To be eligible for this promotion, you must: 
             Be 21 years of age or older; and 
             successfully open your first William Hill Sportsbook mobile or online account in Nevada during the Promotion Period; 
2. The date and time of account opening is determined by the automatic system timestamp that is created once all account opening procedures have been completed. Your account will not be considered open until the required identification verification process (whether by manual or automated means) has been completed.
3. A new account must be created at a William Hill Race & Sportsbook located in any of the following properties listed in this link: https://www.williamhill.us/bet-50-rules/
4. The following individuals are not eligible for the promotion: 
Individuals who are excluded from online wagering, including through a government program, at William Hill's discretion, or by their own request;

 

Accountholders who have an existing

William Hill

or

Leroy's

account in any other location as of the start of the Promotion Period (even if they re-register during the Promotion Period); and

 
Individuals who are prohibited from participating by any applicable law.

 
5. Once you open your account for this promotion, you will no longer be eligible for any other new player offer for any William Hill or Leroy's service in any other location. 
HOW TO PARTICIPATE:
6. After registration, deposit and place at least $50 in real money wager(s) to qualify for the Promotion. 
7. Participants must cumulatively place, within 90 days of registration, at least $50.00 in real money wagers, that also settle within 90 days of registration ("Qualifying Wager(s)"). 
8. To qualify for this promotion, your wager(s) must: 
                 Be placed within 90 days of registration; 
                 Be cash wager(s) (no Bonus Bet or other promotional credits can be used);  
                 Settle within 90 days of registration;  
                 Not be settled before normal market settlement via the Cash Out feature; 
                 Not be a Super Boost Markets, Round Robin, or Teaser wager; and 
                 Not have a Profit Boost token applied to the wager.
9. The Bonus Bet will be credited two (2) business days after the Qualifying Wager settles.
10. Only wagers and deposits made on the William Hill Sportsbook mobile application will count towards the Promotion. 
BONUS BET LIMITATIONS AND CONDITIONS:
11. Each Bonus Bet is for one-time use and cannot be divided across multiple wagers.
12. Unless otherwise stated in the Promotion Offer Materials, your Bonus Bet must be used within 30 (thirty) calendar days from the date it is awarded. Unused Bonus Bets will expire and be removed from the player's account. 
13. When you use your Bonus Bet for a wager, and your wager wins, the value of the Bonus Bet is not included in the winnings.
14. Bonus Bets are not transferrable to any other William Hill online or mobile account, cannot be redeemed for cash at any time, and do not count towards qualifying for any other promotional offers. 
15. Bonus Bets are subject to additional limitations and conditions set forth in the applicable William Hill Sportsbook House Rules. 
ADDITIONAL TERMS AND CONDITIONS:
16. Participation is void where prohibited or restricted by law. 
17. This Promotion is subject to all applicable federal, state, and local laws and regulations, and all aspects of the Promotion are subject to the approval of appropriate regulatory authorities. 
18. Participants agree to allow William Hill the unconditional use of their name and likeness for Promotions/advertising and announcements without compensation, consideration, notice, review, or consent.
19. Participants are responsible for payment of any and all taxes, licenses, registrations and other fees, as applicable. 
20. William Hill reserves the right to make changes to or cancel the promotion at any time. Other restrictions may apply.
21. William Hill reserves the right to change the rules of the Promotion Period due to unforeseen or extenuating circumstances. 
22. William Hill reserves the right to modify or cancel this Promotion at any time, for any reason, subject to any applicable regulatory approval, provided that such modification shall not, as of the date of such modification, materially alter or change any points already awarded. 
23. All decisions regarding the interpretation of rules, eligibility, etc. for this Promotion lie solely with William Hill whose decisions are final. 
24. William Hill may disqualify any participant from receiving any points based upon fraud, dishonesty, violation of these rules or other misconduct whether or not related to this Promotion. 
25. William Hill is not liable for injuries or losses arising or resulting from participation in the Promotion and is not liable for any acts or omissions by employees, whether negligent or willful, in the conduct of the Promotion and is not liable in the event of any equipment or software malfunction. 
26. William Hill is not responsible for lost, late, mutilated, or illegible entries nor for electronic transmission errors or delays resulting in omission, interruption, deletion, defect, delay in operations or transmission, theft or destruction or unauthorized access to or alterations of entry materials, or for technical, hardware, software, or telephone failures of any kind, lost or unavailable connections, fraud, incomplete, garbled, or delayed computer transmissions, whether caused by William Hill, users, or by any of the equipment or programming associated with or utilized in the Promotion or by any technical or human error which may occur in the processing of submissions which may limit, restrict, or prevent a participant's ability to participate in the Promotion. 
27. If for any reason the Promotion is not capable of running as planned, including infection by computer virus, bugs, tampering, unauthorized intervention, fraud, technical failures, or any other causes within or beyond the control of William Hill which corrupt or affect the administration, security, fairness, integrity, or proper conduct of this Promotion, William Hill reserves the right at its sole discretion to cancel, terminate, modify or suspend the Promotion. 
28. Any attempt by any person to deliberately damage or to undermine the legitimate operation of this Promotion may be a violation of criminal and civil laws and, should such an attempt be made, William Hill reserves the right to seek damages from any such person to the fullest extent of the law. 
29. Records related to the Promotion will be retained for record keeping purposes in accordance with local legal requirements. 
30. By participating in this Promotion, participants agree to the rules. 
31. Any questions or disputes concerning the interpretation of these rules or situations not covered by these rules will be resolved by William Hill Management in a manner deemed fair to all concerned, and that decision shall be final and binding on all contestants. If the patron is not satisfied with the results of William Hill's decision, they have the option to seek resolution with the Nevada Gaming Control Board. 
32. For questions or any other information regarding the Promotion, contact William Hill Customer Support.
33. Terms and Conditions apply. Must be 21 or older to gamble. Know When To Stop Before You Start.® Gambling Problem? Call 1-800-GAMBLER, text 800GAM, or visit 1800gamblerchat.org.