William Hill is featuring more than  300 ways to bet on UFC 249 across the country in William Hill's mobile markets: Nevada, New Jersey, Iowa, and Rhode Island. With odds on every bout on the 12-event  fight card, including William Hill's legendary LIVE InPlay  action  available throughout the evening, bettors will have the option to wager on not only who will win each bout and the round over/under, but also which round the fight will end, the method of result, if the fight will go the distance, and more. Check out the latest trends for tonight's title bouts.
For Saturday night's fights, William Hill has teamed up with its casino partners across the country for the first installment of "William Hill's Fight Night Betting Menu" featuring DIY menu items so you can stay safe at home while eating the food and drinks that you love from three different properties!
Appetizer:
"BBQ Tots" from PT Wings & Sports at The Strat – Las Vegas, NV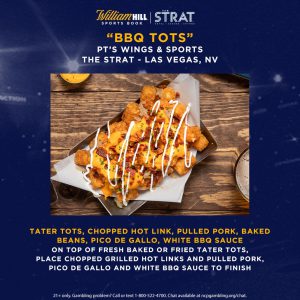 Recipe for White BBQ Sauce
1 CUP MAYO

1/4 CUP WHITE VINEGAR

1 TABLESPOON SPICY BROWN MUSTARD

2 TEASPOONS CREAM STYLE HORSERADISH

1/2 TEASPOON SALT

1/2 TEASPOON FRESHLY GROUND PEPPER

1/4 TEASPOON GARLIC POWDER

1/4 TEASPOON PAPRIKA
Main Course:
"Gregg's Ground & Pound Burger" from Brew Brothers at Isle Casino Waterloo – Waterloo, IA
Eldorado Resorts, Inc.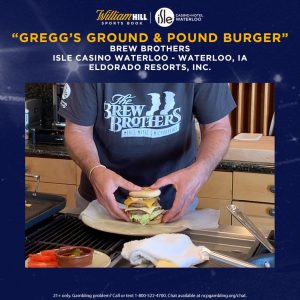 8 3-ounch hamburger patties

2 yellow onions, diced into small squares, and sautéed in 1 tablespoon of olive oil on medium/low heat for 15-20 minutes (last 5 minutes – add 2 tablespoons of water)

4 slices of pepperjack cheese

4 slices of cheddar cheese

8 small hamburger buns (3-4 inch) cooked with 1 teapsoon of butter per bun until golden brown

1 head of lettuce, separated into slices

12 slices of bread & butter pickles.

*Makes 4 double patty burgers
Special Sauce Ingredients
1/3 CUP MAYONNAISE
3 TBSP KETCHUP
1 TBSP SWEET RELISH
1 TBSP DIJON MUSTARD
1 TBSP LEA & PERRINS WORCESTER SAUCE
4 SHAKES TABASCO
SALT & PEPPER TO TASTE
MIX TOGETHER IN A BOWL
Beverage:
"Mickey Finn" from 1927 Lounge & Speakeasy at Ocean Casino Resort – Atlantic City, NJ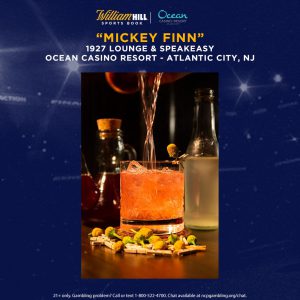 Ingredients
1.5 oz of Ketel One Botanical Peach & Orange Blossom Vodka
.5 oz of lychee liqueur
.5 oz of yuzu syrup
1 oz of pomegranate juice
2 oz ginger beer
Shake all ingredients in a shaker, then pour over ice. Top with ginger beer & garnish with a Buzz Button!