The Lakers and Bucks fell in their Game 1 matchups last night, the first time since 2003 that both No. 1 seeds lost their first postseason contest.
As a result, there's a new team atop the 2019-20 NBA championship futures board at William Hill.
The Clippers were priced today at +220, marking their first appearance all season as the title favorite at William Hill. They were +325 one week ago, trailing the Lakers at +200 and the Bucks at +300. Fast-forward seven days, and the Bucks are now behind the Clippers at +340, followed by the Lakers at +350.
"This isn't the NBA playoffs where you get four home games," said Nick Bogdanovich, Director of Trading for William Hill US. "This is a makeshift playoff on a neutral floor after being off for three months. I think you'll see many swings like the Clippers now being the favorite."
The Clippers are not just leading the way in terms of odds, as Los Angeles also has been the most popular bet of late.
Since the NBA playoff field was finalized this past Saturday, the Clippers are tops with 18% of the total number of tickets and 60% of the total dollars wagered among all 2019-20 NBA championship futures wagers. That includes one Nevada bettor placing $5,200 on Clippers +300 for a total potential payout of $20,800. 
Over that span, the Lakers rank third in total number of tickets (11%) and second in total dollars wagered (10%), while the Bucks have only generated 4% of the total number of tickets and 6% of the total dollars wagered.
In their respective first-round series, the Lakers are now -210 to advance over the Blazers and the Bucks are -4000 against the Magic. But despite still being favored after falling into an 0-1 hole, the path for these two teams could be difficult in Orlando.
"I think the Bucks and the Lakers are for sure in trouble," Bogdanovich said. "The Blazers got the hot hand, and that's hard to turn off. The Bucks have looked out of sorts for a while if you ask me. Both of those teams are still the favorite to win their series, but I wouldn't be surprised if they don't."
The Blazers have been another trendy bet recently, as their title odds have improved from 20/1 to 14/1 over the past week. Since Portland locked up the No. 8 seed last Saturday, the Blazers have drawn 17% of the total number of tickets and 6% of the total dollars wagered.
Check out William Hill's latest 2019-20 NBA championship odds below (before today's playoff games tipped).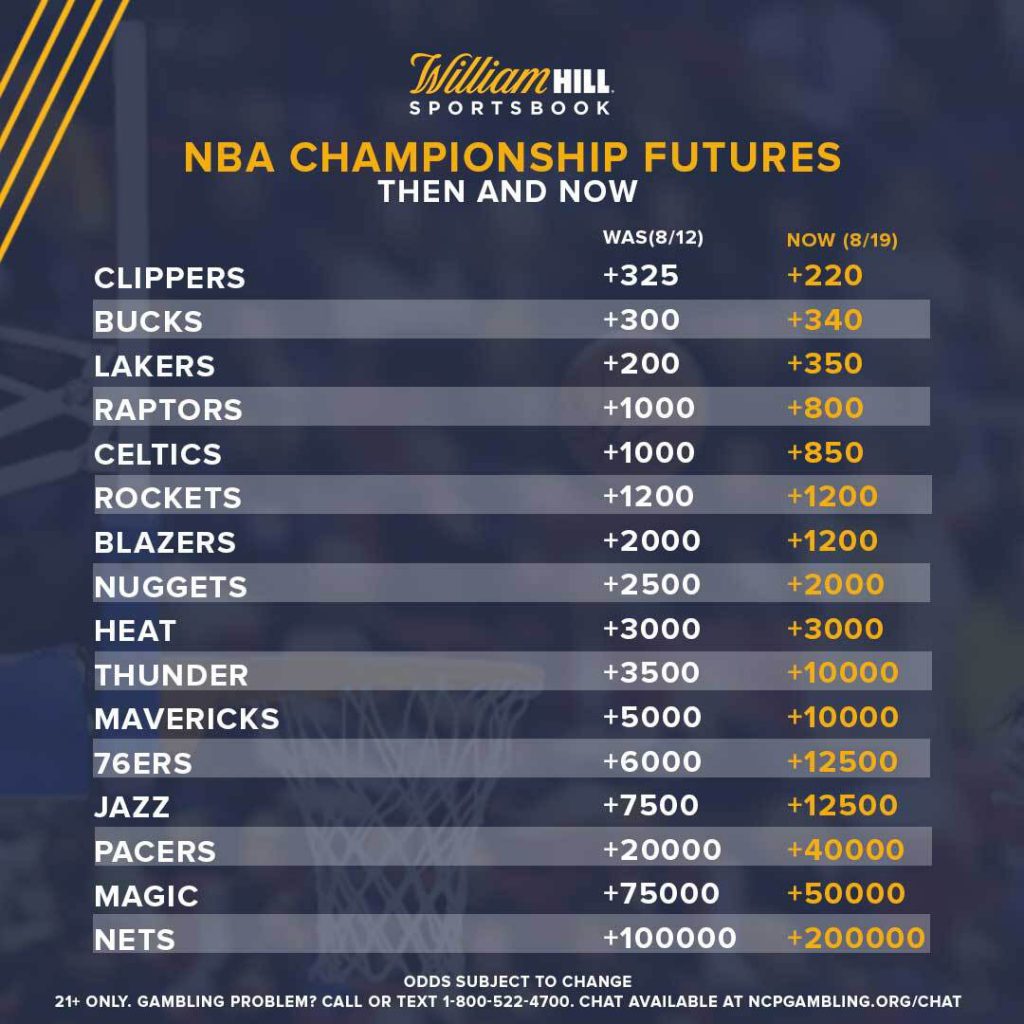 Bet NBA with William Hill, America's #1 sportsbook.