After being postponed from its usual first Saturday in May slot, the wait is finally over. Sixteen horses will be competing in the 146th Kentucky Derby tomorrow.
All eyes will be on Tiz the Law, as he attempts to become the 14th horse ever to capture the Triple Crown. Tiz the Law won the Belmont Stakes back in June as a -120 favorite at William Hill. For the Kentucky Derby, he's atop the odds board again at William Hill at -160.
"Tiz the Law hasn't run a bad race yet. He's won four races in a row, three great ones in a row and by open lengths," said Paul Bach, bookmaker for William Hill US. "I had him at 2/1 for the Derby before the Travers, and after he won the Travers by five lengths, I made him 6/5. People couldn't wait to get 6/5, and bet that down even more."
William Hill bettors have been backing the favorite, as Tiz the Law has received 32% of the total number of tickets and 58% of the total dollars wagered. That includes one Nevada bettor who placed $2,200 on Tiz the Law at even-money odds for a total potential payout of $4,400, which is the largest thus far at William Hill for the 2020 Kentucky Derby.
Honor A.P. has the second-lowest odds at 5/1, followed by Authentic at 8/1. Honor A.P. and Authentic have each generated 9% for both the total number of tickets and the total dollars wagered, highlighted by another Nevada bettor putting down $1,000 on Authentic at 10/1 for a total potential payout of $11,000.
One horse, though, has seen his Kentucky Derby futures odds improve dramatically over the past few months. After originally being listed at 100/1, Thousand Words is currently priced at 12/1—which only trails Tiz the Law, Honor A.P. and Authentic.
"The horse that I took money to very early when I first put it on the list was Thousand Words," Bach said. "I always get money on [Bob] Baffert horses. He won his initial race, a maiden race, then he won the Los Alamitos Futurity, and bettors were all over him."

Last year's Kentucky Derby was unforgettable, as Country House pulled off a stunning victory after Maximum Security's disqualification. Could there be another long shot this time around who can emerge from the pack?
"Country House was a playable long shot," Bach said. "Last year, I had him at 75/1 at my last future book, which was 50 points lower than other places in town. Then he was 35/1 right before the Derby. And then he went off at the race. I always liked him, he finished third in one of the points races and he had some run in him.
"To me, he was just an overlay, you were getting value on a horse that ran third in a Grade 1. This year's long shots, they don't have the talent like Country House did."
Besides betting on which horse will win the race, William Hill also has 11 head-to-head matchups available as well as a margin of victory prop. One and 3/4 to 3 lengths is a +180 favorite for that market, with 3 and 1/4 to 5 and 1/4 lengths right behind at +200. On the other end, 10 lengths or more is 25/1 and dead heat is 50/1.
Check out William Hill's latest odds and trends for the 2020 Kentucky Derby below.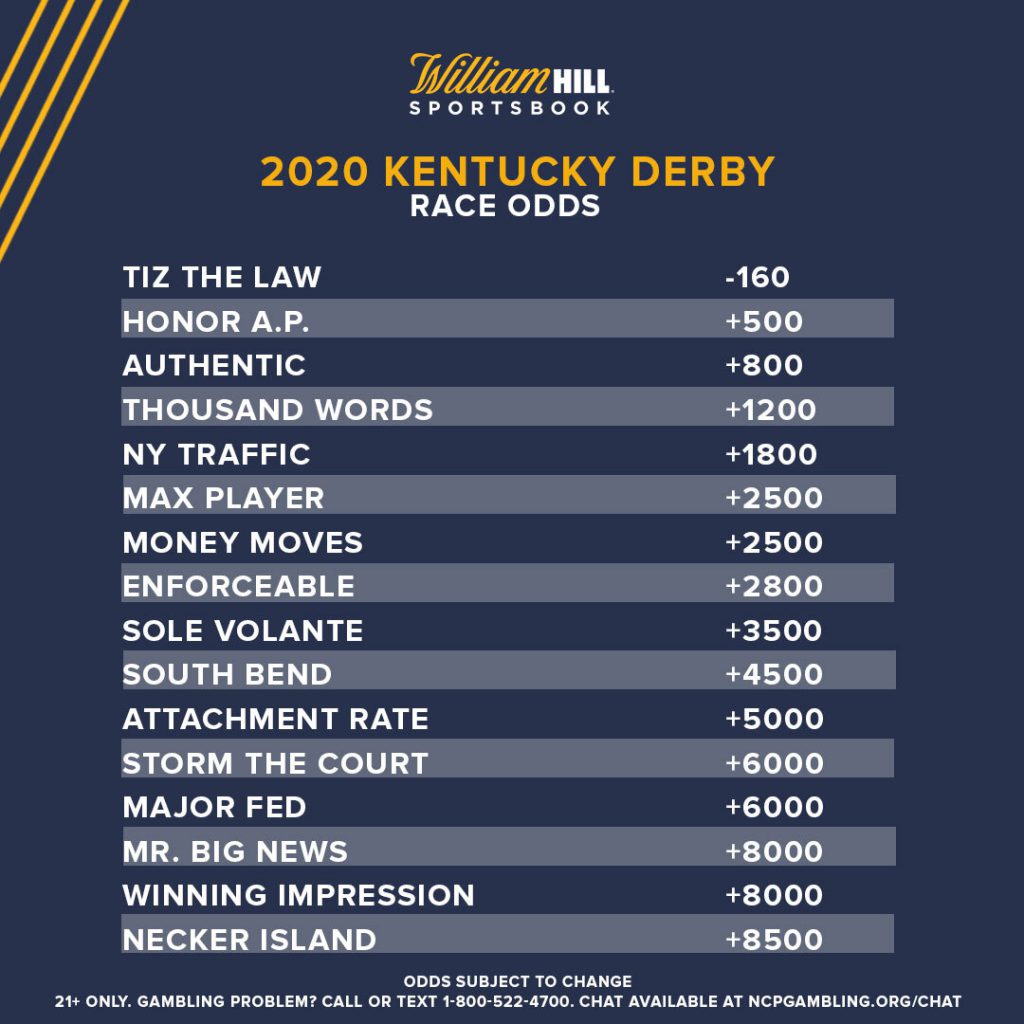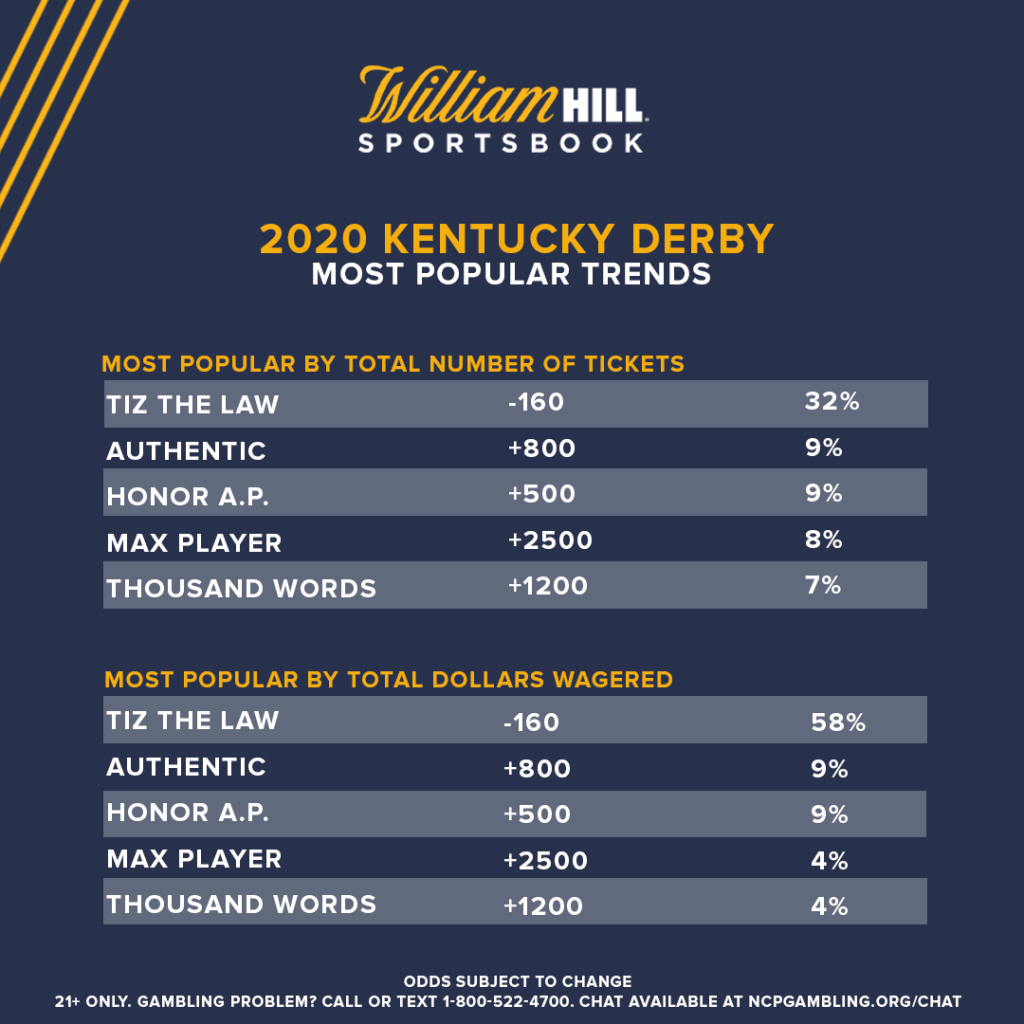 Bet horse racing with William Hill, America's #1 sportsbook.