It's been a little over two weeks since Nationals ace Max Scherzer threw out the first pitch to open the 2020 MLB season.
Since then, there's been early surprises, disappointments and, of course, significant odds shifts in William Hill's 2020 World Series futures market. So on this Futures Friday, let's take a look at the big changes from Opening Day along with which teams William Hill bettors have been wagering on to win it all during the season.
The Yankees and Dodgers were +350 co-favorites to capture this year's championship on July 23. The Bronx Bombers, however, are now solely atop the board at +300, with Los Angeles right behind at +325.
The Twins have emerged to have the third-lowest odds at 9/1, followed by the Cubs at 12/1 and the Braves at 14/1. All three of those teams have seen their price drop since Opening Day, with the Cubs making the biggest improvement from 20/1 to 12/1.
No team's World Series futures odds have shifted as much over the past two weeks as the Rockies. After residing at 200/1 at the start of the season, Colorado has jumped all the way to 30/1 thanks to a 9-3 start. To put this move into greater perspective, the Rockies went from tied for the fifth-highest odds with the Royals and Mariners to tied for the 12th-lowest odds with the defending champion Nationals and Reds.
Other teams whose futures odds have markedly improved during the season include the White Sox (30/1 to 22/1), Padres (35/1 to 25/1) and Marlins (400/1 to 100/1).
On the other side of the coin, the Angels have gotten off to a discouraging 5-8 start. As a result, no MLB team has seen its futures odds rise the past two weeks as much as Los Angeles, as the Angels have gone from 18/1 (tied for seventh-lowest) to 60/1 (19th-lowest).
A trio of NL East teams with losing records—the Nationals (18/1 to 30/1), Mets (18/1 to 35/1) and Phillies (30/1 to 50/1)—have had their futures odds noticeably worsen as well from Opening Day.
Like in the offseason, the Yankees and Dodgers lead the way in total number of tickets and total dollars wagered for 2020 World Series futures wagers from Opening Day on. New York ranks first in both categories, capturing 8% of the total number of tickets and 12% of the total dollars wagered. Los Angeles is next with 7% of the total number of tickets and 10% of the total dollars wagered.
One team that ranks in the top 10 in both departments during the season that didn't appear in either pre-Opening Day is the Padres. San Diego has generated 5% of the total number of tickets and 4% of the total dollars wagered among all in-season futures wagers.
In terms of the largest 2020 World Series wagers taken at William Hill from Opening Day on, two $5,000 bets have come in on a pair of AL West clubs. A Nevada bettor placed $5,000 on Astros 12/1 for a potential total payout of $65,000, while a New Jersey bettor put down $5,000 on Angels 35/1 for a potential total payout of $180,000.
Additionally, another team with sizable odds drew a noteworthy futures wager during the season, as a Nevada bettor laid $2,500 on Reds 30/1 for a total potential payout of $77,500.
Check out the teams with the lowest odds for William Hill's current 2020 World Series futures as well as in-season betting trends below.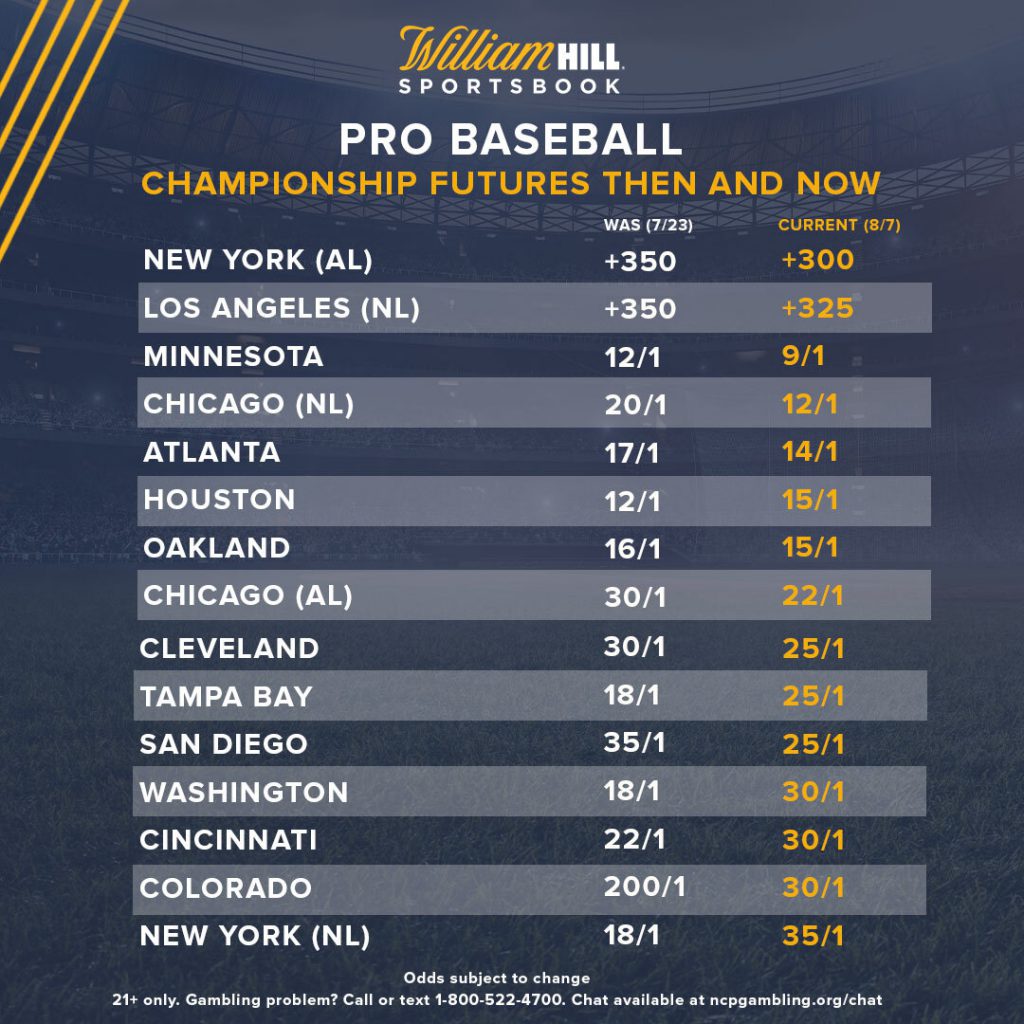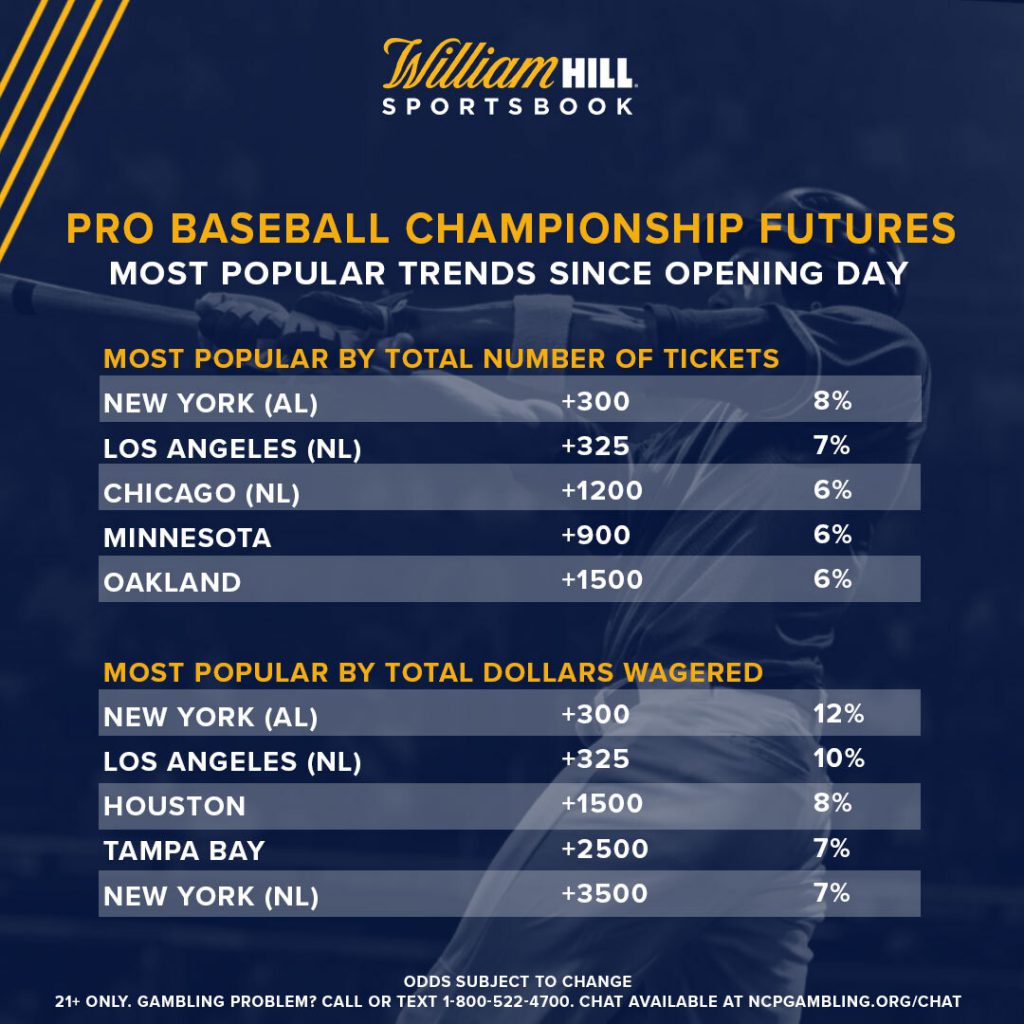 Bet baseball with William Hill, America's #1 sportsbook.