Welcome back to our eighth Win Total Wednesday, where we dive into the current odds and trends of NFL win totals. The NFC West is our last stop before moving onto another sport's win total data.
As of July 8, the NFC West teams have made up 12% of the total number of bets and 13% of the total dollars wagered of all win total bets placed at William Hill.
This division is where the past two Super Bowl runners-up reside, yet William Hill bettors aren't optimistic about either exceeding its win total.
The San Francisco 49ers lost to the Kansas City Chiefs in last year's title matchup, and currently are tied with the New Orleans Saints for the highest win total in the NFC at 10.5.
While 49ers over 10.5 is still favored at -120, it's come down from its -150 opening price. Yet it's been the under that has attracted 51% of the total number of tickets and 71% of the total dollars wagered.
William Hill bettors, however, are even more pessimistic about the team who was defeated in the Super Bowl two years ago.
The Los Angeles Rams' win total opened at 9, but it has since shifted to 8.5 with the under favored at -120. The Rams are the only NFC West team whose win total has dropped this offseason, and the reasoning is clear: There is no NFL team who has attracted a higher percentage of under bets than Los Angeles.

The Rams' under leads all NFL teams in both total number of tickets (80%) and total dollars wagered (95%). That includes one New Jersey bettor who put down $7,000 on Rams under 9 (-140) for a potential total payout of $11,998, which is the biggest NFC West win total wager placed at William Hill as of now.
For the other two NFC West teams, we shift to a more positive note. The Arizona Cardinals have seen their win total shift from a 6.5 (over -140/under +120) opener to its current number of 7 (over -135/under +115). Arizona has received 91% of the total number of tickets on its over, which ranks second to the Buffalo Bills (92%) among all NFL teams.
The Cardinals' over has also gotten 77% of the total dollars wagered, but that doesn't top the division. The Seattle Seahawks (9.5) are first in that department, as Seattle's over has captured 85% of the total dollars wagered as well as 85% of the total number of tickets. 
When looking just at the division, the Cardinals' win total is first with 29% of the total number of tickets for all NFC West win total bets. However, it's the Rams' win total that leads the way for total dollars wagered for all NFC West win total bets at 37%.
Check out William Hill's latest odds and trends below for the NFC West's win totals, which are available to bet in Nevada, New Jersey and Iowa. For every NFL division's Win Total Wednesday analysis, you can read all of them here.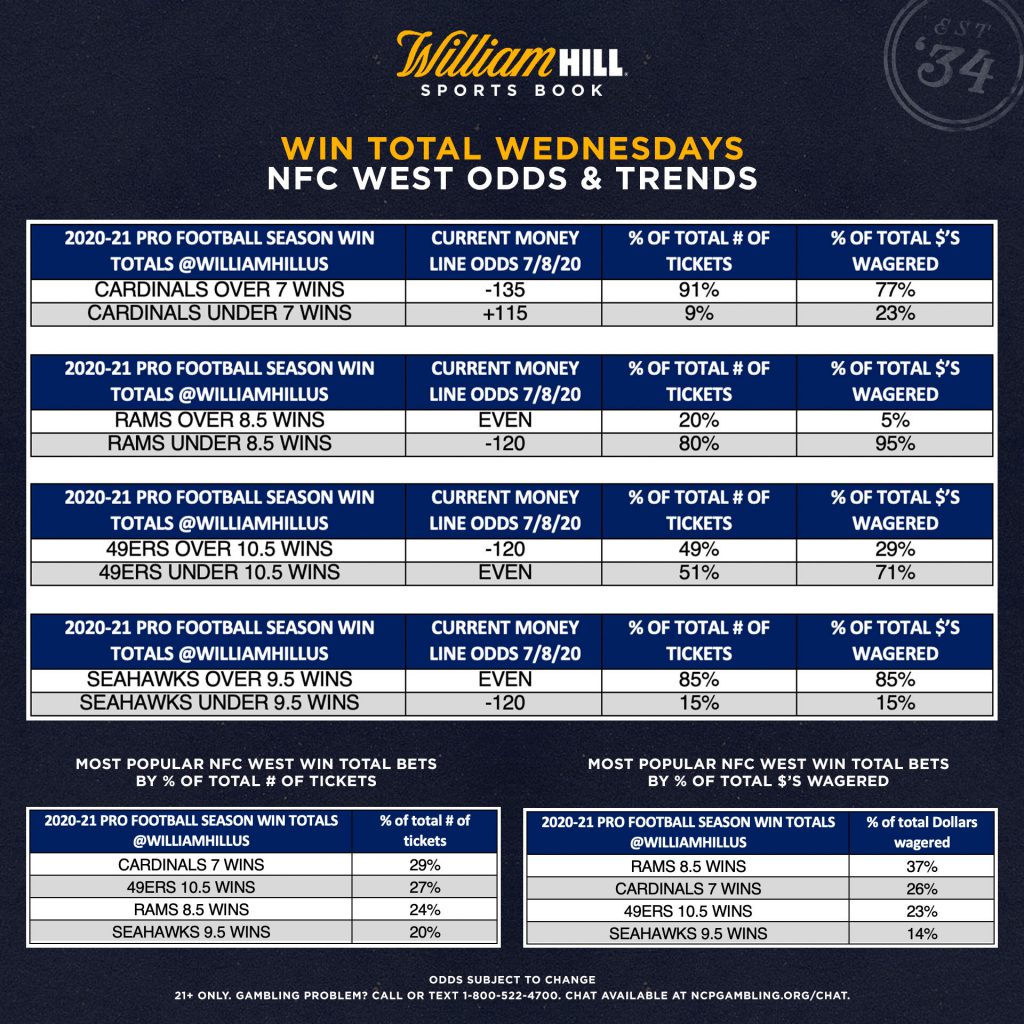 Bet NFL with William Hill, America's #1 sportsbook. Check out the rest of our Win Total Wednesdays here.