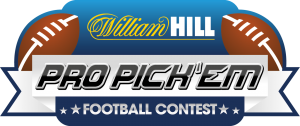 More than $400,000 in total guaranteed prize money up for grabs this fall
LAS VEGAS (July 29, 2013) – With the 2013 football season just over a month away, William Hill Sports Book is rolling out Nevada's most diverse menu of football contests. Returning from the 2012 season are the popular Pro Pick 'em and College Pick 'em contests, with the new Three 'N Out survivor-style pro football contest rounding out the lineup.
Combined, the three contests will pay out more than $400,000 this season in guaranteed prize money, with just over $300,000 of it coming in the form of weekly prizes in the Pro and College Pick 'em contests.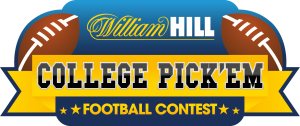 "Last season, our contests were a huge success, and we feel we have improved our offerings significantly this time around," said William Hill Director of Public Relations Jimmy Vaccaro. "The Three 'N Out contest was wildly popular with our customers during March Madness, and we think it will be an even bigger hit on the gridiron."
Each entry into the Pro Pick 'em contest costs $25, and up to 25 are allowed per customer. Each week, players will pick the winner of all Sunday and Monday pro football games, with a $10,000 weekly prize paid to the entry with the most winners. The entry with the most winners at season's end will collect a $25,000 cash prize.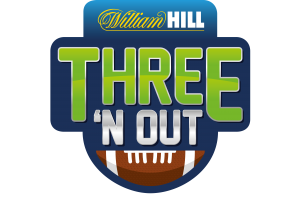 The popular College Pick 'em contest – Nevada's only college football handicapping contest – costs $100 to play, with a maximum of 10 entries allowed. Players choose seven games against the spread from a menu of designated games, with first prize each week paying out $5,000 and the season's top record earning a $10,000 cash reward.
New this season is the Three 'N Out pro football contest – a survivor-style format that was big with customers during March's men's college basketball tournament. Entry into the Three 'N Out costs $25, with up to 5 entries allowed per customer and a guaranteed $50,000 prize pool. Each week, players will pick one side or total from any Thursday, Sunday or Monday pro football game. If the pick wins, the entry advances to the next week. Once an entry has three losses, it is eliminated. With the maximum 5 entries, one player can have 15 lifelines to use during the 17-week season.
The Three 'N Out contest starts on Thursday, September 5, as Baltimore and Denver kick off the 2013 season, and will last until either only one entry remains, or when the regular season ends on December 29. The College Pick 'em contest lasts 10 weeks, starting on Saturday, September 7 and running through November 9. The Pro Pick 'em contest begins on Sunday, September 8 and lasts through the December 29 regular season conclusion. All contest entries this season include membership in the William Hill Rewards Club, which earns players special offers throughout the year, plus the ability to earn comps and free bets with their race and sports wagers.
The deadline to enter and qualify for season prizes in all contests is Saturday, September 7. Entries in the College and Pro Pick 'em contests can be purchased after that date, but those entries will only qualify for weekly contest prizes.
Players may register their entries at any of the 75 full-service William Hill books throughout Nevada. Weekly contest picks can be submitted at any William Hill full-service or kiosk location. For full contest rules, please visit www.williamhill.us.