The calendar flips over to March this upcoming Sunday, meaning it's time for the home stretch of the college basketball regular season with a bevy of tournaments rapidly approaching.
Some bettors already know which teams they'll be rooting for to cut down the nets, as many wagers have already been placed in the college basketball futures market. But which squads have attracted the most action?
The two top bets by the public are currently the two favorites to win it all this season. Kansas leads all teams with 6/1 odds as the program tries to lock up its fourth national championship. The Jayhawks have drawn 10% of the total dollars wagered, the highest percentage of any team, along with 6% of the total number of tickets. Gonzaga, meanwhile, sits at 9/1 and has captured the highest percentage of total number of tickets (7%) and only trails Kansas in percentage of total dollars wagered (8%).
The other two teams who are among the top five in both total number of tickets and dollars wagered are Duke and Baylor. The Blue Devils were knocked out of the Elite Eight last year as the consensus title favorite, and are tied for the third-lowest championship odds at 10/1 with Baylor. The Bears had a 23-game winning streak this season, a Big 12 record, and seem primed to end up as a No. 1 seed for the NCAA tournament.
Preseason No. 1 Michigan State has fallen to No. 24 and has spent some time this campaign unranked, yet people are still unafraid to back the Spartans. Michigan State (20/1) has gotten 4% of the total number of tickets (sixth among all teams) and 7% of the total dollars wagered (third). One bettor even placed $15,000 on the Spartans to win the title at 16/1 odds back in December to win $240,000.
Another notable futures bet taken at William Hill was $5,000 on Penn State at 75/1, which would net a cool $375,000 if the Nittany Lions win their first-ever men's CBB title. Penn State's current odds are 35/1.
Below are the teams that have generated the highest percentages of total number of tickets and total dollars wagered, along with William Hill Nevada's 2020 NCAA tournament odds.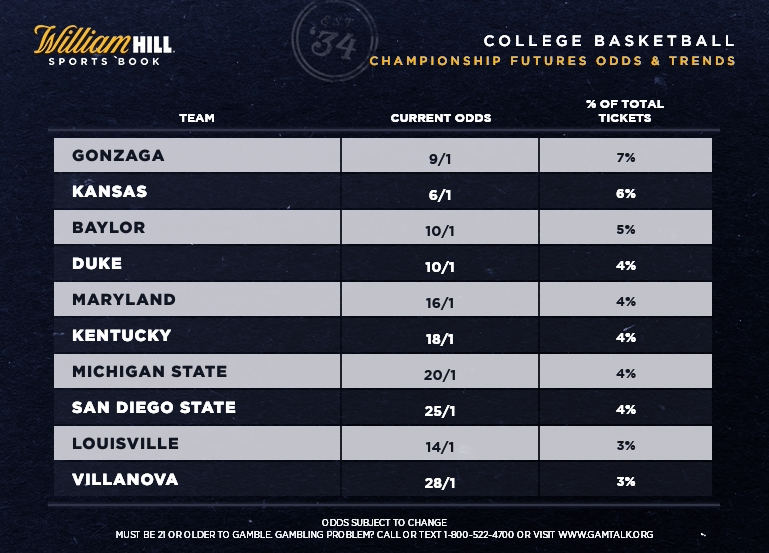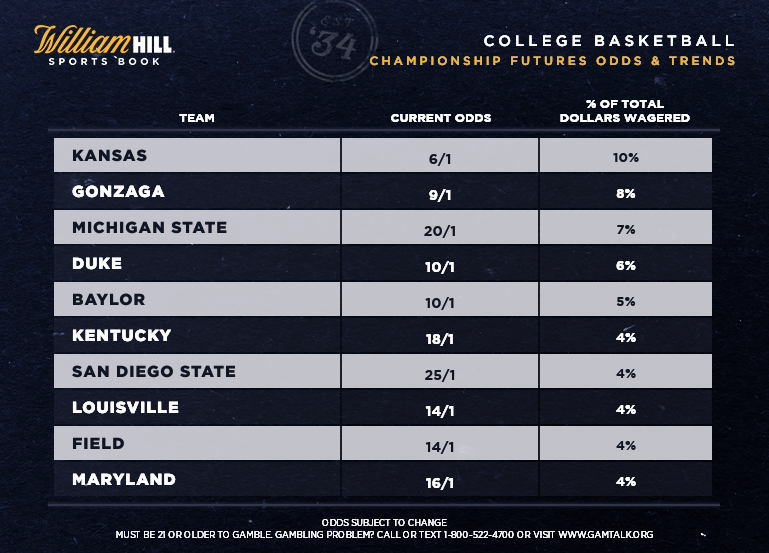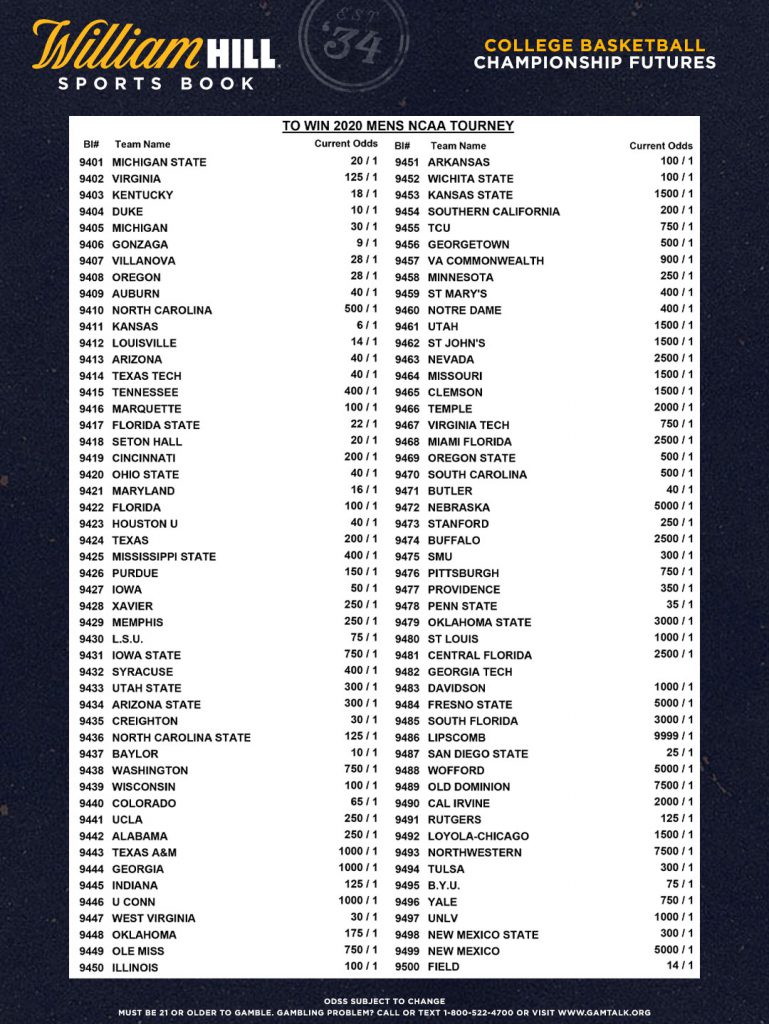 Bet college basketball with William Hill, America's #1 sportsbook.