All eyes will be on Tua Tagovailoa next Thursday night at the 2020 NFL draft. Will he go in the top three? Will he be the next quarterback taken behind Joe Burrow? Will he slide outside the top 5… or even the top 10?
There's been a lot of buzz surrounding the former Alabama star quarterback heading into the draft, especially at William Hill.
"Tua's draft position, we originally opened at 4.5," said Nick Bogdanovich, William Hill's U.S. Director of Trading. "We went down to 3.5 when there was such great news about his health. But now bettors are backing the over due to all the uncertainty."
The over (drafted fourth or later) on Tagovailoa's 3.5 draft position odds is now priced at -280, while the under (drafted third or earlier) is at +240. Bettors have been backing over at a high rate, as it has drawn 74% of the total number of tickets and 65% of the total dollars wagered.
Despite the over attracting the majority of the tickets and money, Bogdanovich said he plans to keep Tagovailoa at 3.5, just in case a team trades up to the third pick.
Even though Tagovailoa won't be going first in the draft, he's certainly first in popularity with William Hill bettors.
Among all the player draft position prop bets taken at William Hill, Tagovailoa has received 16% of the total number of tickets. The next highest is Oregon quarterback Justin Herbert at 7%.
It's the same deal with total dollars wagered for all of the players' draft position props. Tagovailoa leads the way at 15%, followed by former teammate Jerry Jeudy at 9%.
Yet, despite all of the action on Tagovailoa, there doesn't appeared to be a clear-cut destination for the signal-caller's services.
Six different destinations have gotten at least 10% of the tickets in William Hill's "team to draft Tua Tagovailoa" prop. The Chargers (5/2 odds) are tops with 17% of the total number of tickets, edging out the Redskins (5/1) at 16%. Despite odds of 14/1 or higher, the Lions (14%), Raiders (13%), Patriots (10%) and Bengals (10%) all have bettors intrigued.
One other area where Tagovailoa has generated plenty of interest is William Hill's "third quarterback drafted" prop. He was listed as high as +700, however is now a -110 co-favorite with Herbert. Bettors have backed Tagovailoa on 44% of the total number of tickets for this prop, as well as 57% of the total dollars wagered.
Even with all of the action already surrounding Tagovailoa, don't expect it to slow down right before the draft.
"Everyone's talking about Tua. I think the majority of the betting on him will come in the next week," Bogdanovich said. "Before his injury, people thought he would be a superstar. Now, is he damaged goods? It just depends on what the bettors believe and who they're listening to."
Check out some of William Hill's NFL draft props involving Tua Tagovailoa below, which are available in Nevada.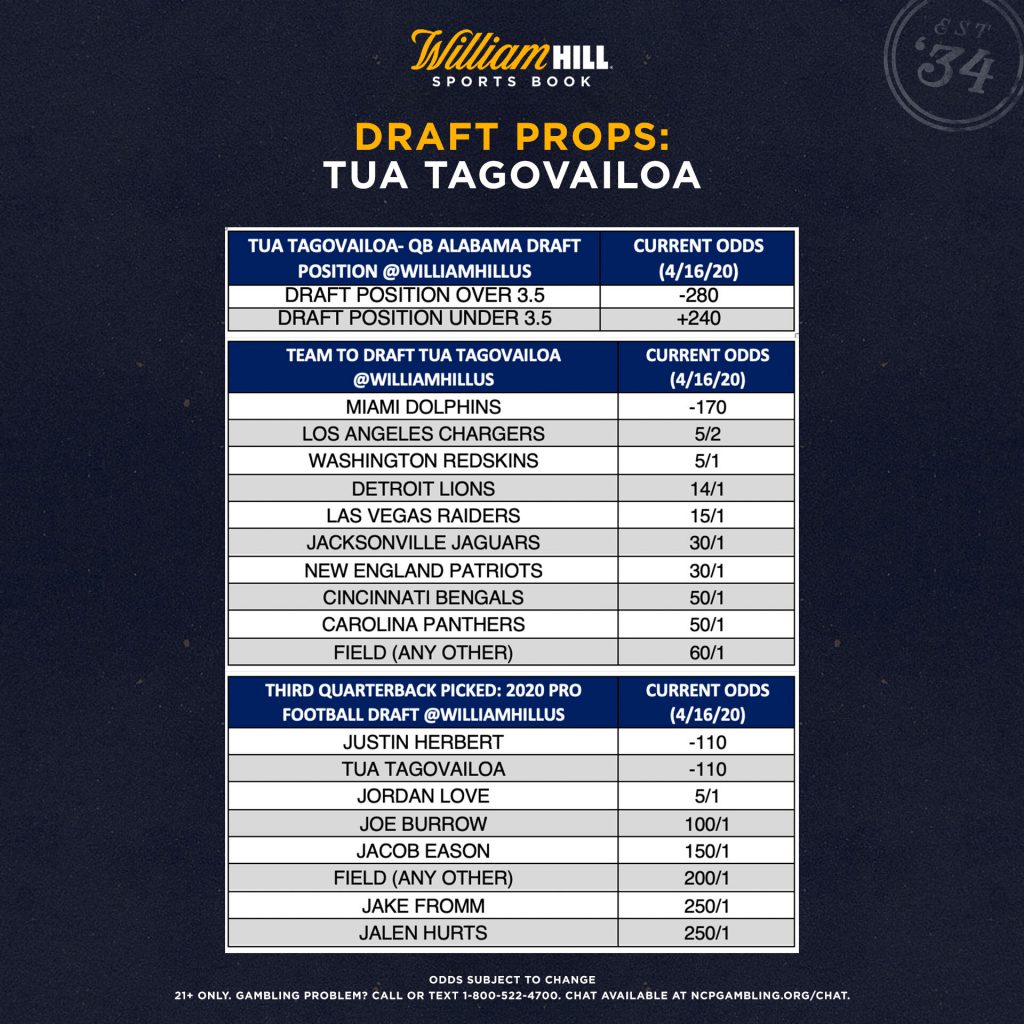 Bet NFL with William Hill, America's #1 sportsbook.