It was another winning week for overs, as they went 9-7 in Week 3 to push their overall season record to 29-19 (60.4%).
Given all of the scoring early on, it's not a surprise to see the majority of Week 4's games have a total north of 50 at William Hill, which is the first time that's happened this season. In fact, the eight Week 4 games currently with totals in the 50s matches how many there were combined from the Week 1 to Week 3 closing numbers this season.
Additionally, Week 4 features the highest total of the season thus far at William Hill. Falcons vs. Packers on Monday night currently resides at 57, which actually is a one-point drop from its week high of 58.
So with the high totals set this week, have William Hill bettors started to eye some unders?
In terms of total number of tickets, not quite. Just one Week 4 contest is receiving the majority of the total number of tickets: Giants vs. Rams (48) at 51%.
Yet, only the Saints vs. Lions (54) over this weekend is currently bringing in at least 80% of the total number of tickets. Last Thursday at this time, there were seven Week 3 showdowns that had gotten at least 80% of the total number of tickets.
For total dollars wagered, however, this is the first Thursday this season where the majority of unders are getting the most money. William Hill bettors are currently siding with the under in eight Week 4 contests in terms of total dollars wagered. Last Thursday, there were only four such Week 3 unders that commanded at least 51% of the total dollars wagered.
The game with the highest percentage of total dollars wagered on the over is Cardinals vs. Panthers (51.5) at 95%. On the other side of the coin, Ravens vs. Washington (45.5) leads all unders with 92% of the total dollars wagered.
The biggest bet on any Week 4 total as of now at William Hill actually has come in on this week's lowest total. Tonight's face-off between the Broncos vs. Jets had the total open at 40, and now it sits at 41. One William Hill Nevada bettor placed $11,000 on Broncos vs. Jets over 40 (-110) for a total potential payout of $21,000.
Check out William Hill's latest odds and trends for every NFL Week 4 total below.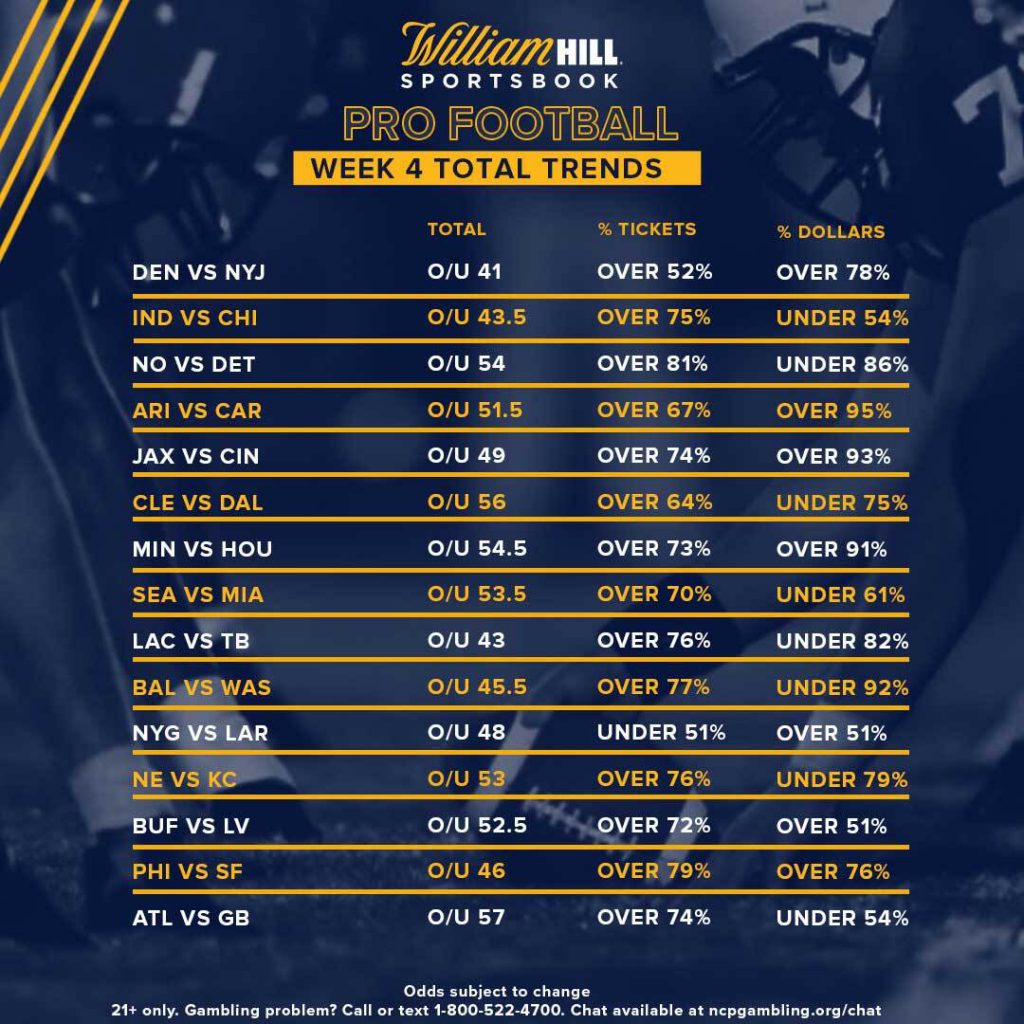 Bet NFL with William Hill, America's #1 sportsbook.