Welcome to Total Thursdays, where we'll be diving into the odds and trends for every NFL game's total each week.
NFL teams scored a combined 87 touchdowns in Week 1, which was the most in league history. However, overs cashed in nine games while the unders pulled through in seven contests.
Several totals have already had massive shifts since William Hill released its NFL Week 2 odds back in May. The biggest movement has come in Ravens vs. Texans, as the total resides at 50 after dropping 4.5 points from its 54.5 opener.
Four other games have seen shifts of at least three points: Chiefs vs. Chargers (51 to 47.5), Broncos vs. Steelers (43.5 to 40.5), Rams vs. Eagles (49 to 46) and Lions vs. Packers (46 to 49).
Despite several matchups seeing their totals drop, only one game has received a majority of the of tickets on the under. The under for 49ers vs. Jets has generated 54% of the total number of tickets, while the total dollars wagered is a 50/50 split. The total in that contest is currently at 42.5 after originally being released at 43.5.
The under has generated the majority of the total dollars wagered in four games, with Rams vs. Eagles leading the way at 85% followed by Ravens vs. Texans at 73%.
On the other side of the coin, many William Hill bettors are expecting an offensive explosion in Tom Brady's home debut in Tampa Bay. The Panthers vs. Buccaneers over (now at 48.5) has attracted 86% of the total number of tickets, which leads all Week 2 games.
That over, however, has only brought in 51% of the total dollars wagered. Under 48.5 for Panthers vs. Buccaneers actually drew the largest NFL Week 2 total bet thus far at William Hill, as one Nevada bettor placed $2,750 on it for a total potential payout of $5,250.
Only one game's total has received 90% in either category in either direction. The over for the Sunday night showdown between the Patriots and Seahawks (45) has gotten 93% of the total dollars wagered.
Check out William Hill's latest odds and trends for every NFL Week 2 total below.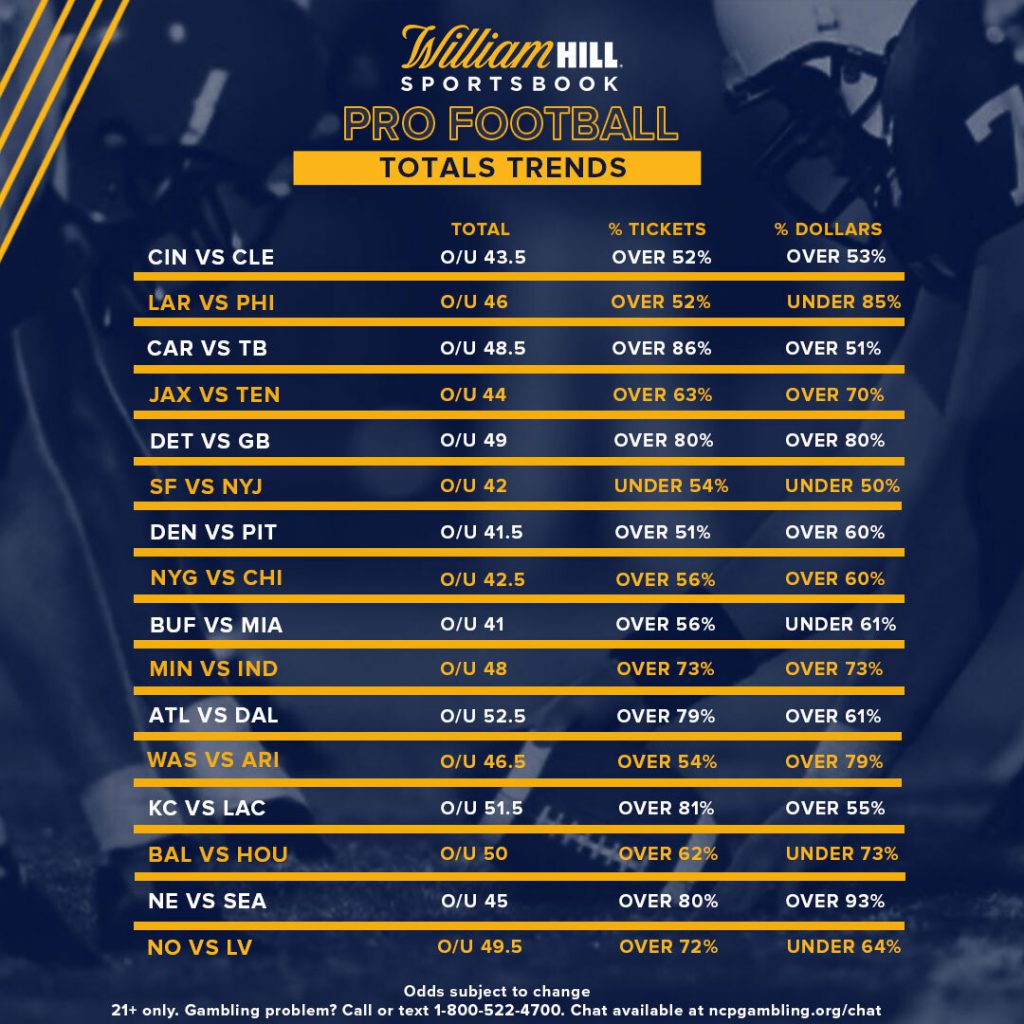 Bet NFL with William Hill, America's #1 sportsbook.