Though several sports are currently sidelined, bettors have found something new to pique their interest in March and April: Table tennis.
Whether it's wagering pre-game or using InPlay, the public cannot get enough of the constant back-and-forth action.
Over the past couple of weeks, William Hill has offered odds in Nevada for the Men's TT Cup, Moscow Pro League, Men's Setka Cup and Czech TT Star Series, with New Jersey and Rhode Island recently going up as well. As a result, table tennis has shot up the ranks as the most popular bet currently available.
"Table tennis has been a high percentage of our handle over the last few weeks, showing that sports fans have really embraced it," said Nick Bogdanovich, William Hill's U.S. Director of Trading. "They are starting to become more familiar with the players and with 60 to 80 matches a day, plus InPlay, it's non-stop action."
With William Hill UK having table tennis odds up throughout the year, the U.S. trading team has relied on that expertise to help guide it with releasing this new market in the states.
And the public has embraced it, with a few bettors taking it to another level. One hit on a 10-leg, $50 table tennis parlay to cash in $9,676.20, while another connected on a 6-leg $900 one to take home $18,962.80 (as shown in graphics below). With several more competitions on the horizon, the excitement will only increase surrounding the sport.
"The matches don't take long to finish and since there are so many to parlay people seem to really enjoy it," Bogdanovich said. "It's exceeded my expectations by a thousand times. I'm shocked – and pleasantly so."
Check your William Hill Nevada and New Jersey mobile apps as well as the mobile Sportsbook Rhode Island website and mobile application powered by William Hill for daily table tennis matches.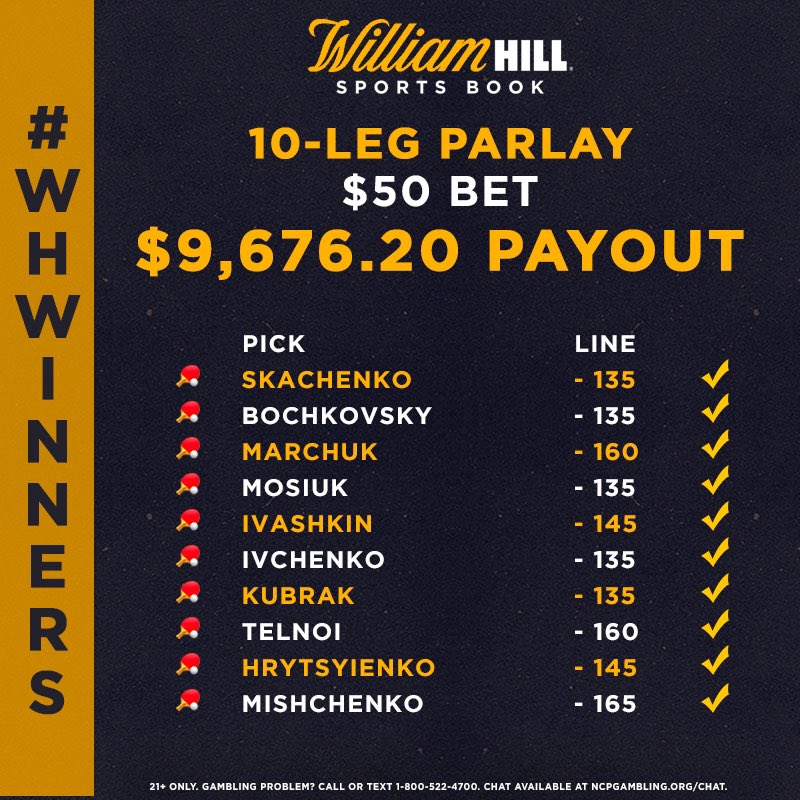 Bet table tennis with William Hill, America's #1 sportsbook.