The 2020 Stanley Cup Playoffs officially start today, starting with the Lightning seeking revenge for last year's early exit against the Blue Jackets at 3 p.m. ET/12 p.m. PT.
Before we look at Round 1, though, let's examine some of the movement in the Stanley Cup futures market.
When the qualifying round started on July 31, the Golden Knights and Bruins were 11/2 co-favorites at William Hill to win it all. Now, Vegas stands alone atop the board at 9/2, with the Avalanche right behind at 5/1.
The Flyers made a sizable jump after earning the No. 1 seed in the Eastern Conference, as Philadelphia moved from 10/1 (seventh-lowest odds) to 6/1 (tied for third-lowest odds with the Lightning).
Other teams that have seen noticeable improvements in their futures over that span include the Hurricanes (50/1 to 17/1), Islanders (50/1 to 22/1), Blackhawks (75/1 to 30/1) and Canadiens (100/1 to 35/1). 
On the flip side, the Bruins (9/2 to 8/1), Stars (12/1 to 22/1) and the defending Stanley Cup champion Blues (17/2 to 13/1) are among those whose odds have risen. 
Since the NHL season has resumed, William Hill has taken a few sizable Stanley Cup futures wagers. Two of them came on Western Conference long shots, as a Nevada bettor placed $1,000 on Flames 40/1 for a $41,000 total potential payout and a New Jersey bettor put $500 on Blackhawks 60/1 for a $30,500 total potential payout.
The Eastern Conference's top team has drawn the largest futures wager at William Hill since the July 31 restart, as a Nevada bettor laid $2,142.86 on Flyers 6/1 for a total potential payout of $15,000.
The 16 remaining teams each face the next step in their quest for the Cup, with eight intriguing Round 1 showdowns. After William Hill released its odds for every single series yesterday, some noteworthy wagers have come in.
The Golden Knights have drawn the three biggest Round 1 series wagers thus far, highlighted by one Nevada bettor placing $4,500 on Golden Knights -350 for a total potential payout of $5,785.70.
Vegas's opponent, however, has also attracted a notable bet. Another Nevada bettor placed $2,500 on Blackhawks +290 for a total potential payout of $9,750, the largest one as of now at William Hill.
Other underdogs have been generating big bets as well, with the Blue Jackets at +210 vs. the Lightning, Canucks at +180 vs. the Blues and the Islanders at +145 vs. the Capitals each receiving a $2,000 wager. 
---
Check out William Hill's current 2019-20 Stanley Cup futures below.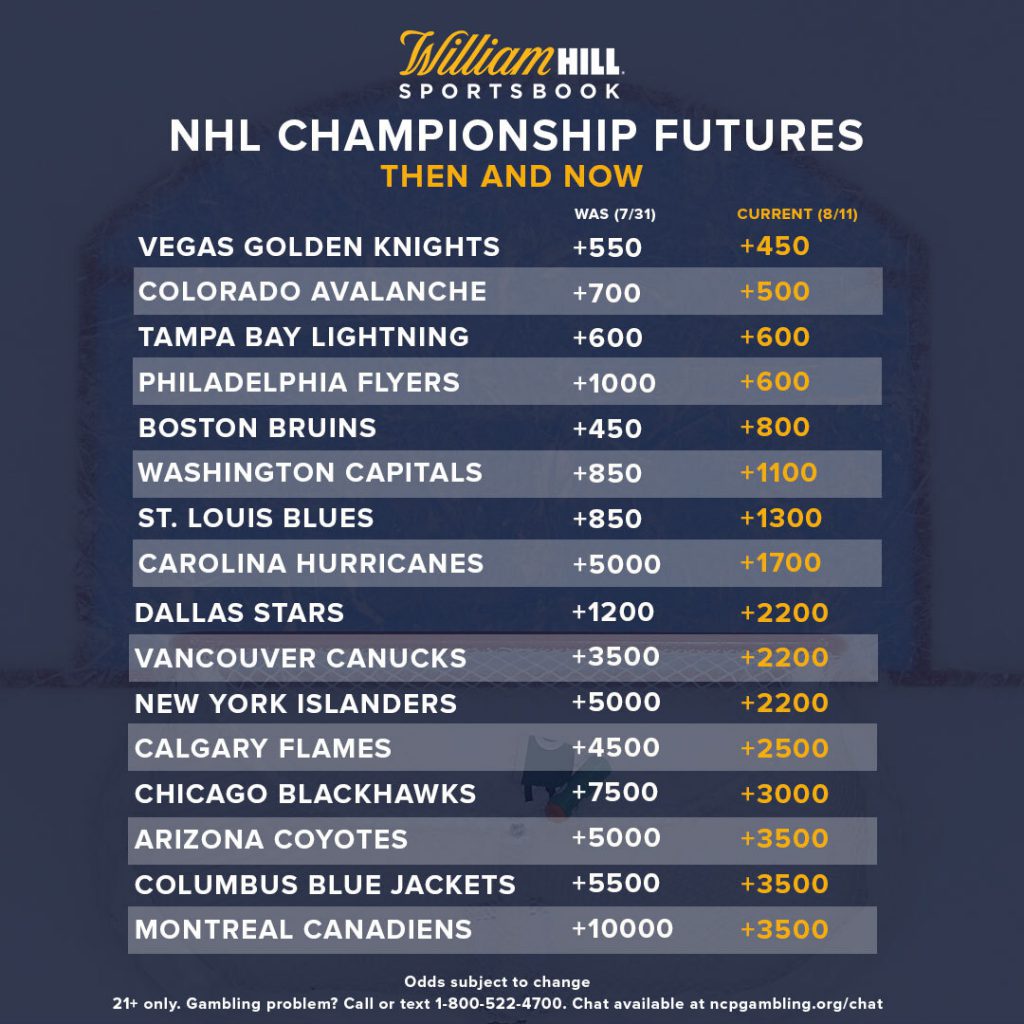 Bet NHL with William Hill, America's #1 sportsbook.