Three weeks of the 2020-21 NFL season are in the books, and there's been plenty of scoring and excitement.
Last night's Chiefs vs. Ravens battle capped off Week 3, with Kansas City prevailing on the road 34-20. The Chiefs are now priced as the +275 favorites to win the Super Bowl, while the Ravens have the second-lowest odds at +600.
"It was a phenomenal handle on the game last night," said Nick Bogdanovich, Director of Trading for William Hill US. "It's a miracle it stayed under. It was a huge seven-figure swing. I wouldn't want to bet against Chiefs after the way they looked last night, that's for sure. They look like a well-oiled machine."
Even with the swing on the Chiefs vs. Ravens total, the public has had a strong start to the football season.
"Bettors are winners in the first three weeks," Bodganovich said. "All you have to do is look at the standings and see that every team is supposed to be in first place is in first place. A lot of it also has to do with so many games going over, and the public loves betting overs. The totals are going to keep going up until they start going under, that's the way it works."
For the first time this NFL season, there's some uncertainty surrounding this week's slate. The NFL announced today that the Titans had a few players and coaches test positive for COVID-19 following their Week 3 win over the Vikings. Both Tennessee and Minnesota have closed their facilities, and their upcoming games are currently off the board at William Hill.
"We're just waiting for more information," Bogdanovich said. "Is it three Tennessee backups who tested positive? [Ryan] Tannehill? [Derrick] Henry? We just get the news and make the best decision possible. Obviously it's early in the week, so it's best to take it down. It might be different if this broke over the weekend."
Fourteen Week 4 games are up at William Hill now, and a few spreads have already shifted by more than a point. Three home underdogs have gotten notable action: The Jets are now +1 from +3 in a Thursday night showdown with the Broncos, the Panthers moved from +5 to +3.5 against the Cardinals and the Lions have gone from +5.5 to +4 vs. the Saints.
One Nevada bettor placed a $20,000 wager on Lions +4 for a total potential payout of $38,181.80, which is the largest NFL Week 4 wager as of now at William Hill.
Four totals have shifted by at least two points as well, highlighted by Jaguars vs. Bengals jumping 3.5 points to 49 from its 45.5 opener. The only total to move by multiple points toward the under is Saints vs Lions, as it currently resides at 54 after originally being set at 56.
Check out William Hill's current Week 4 NFL odds below.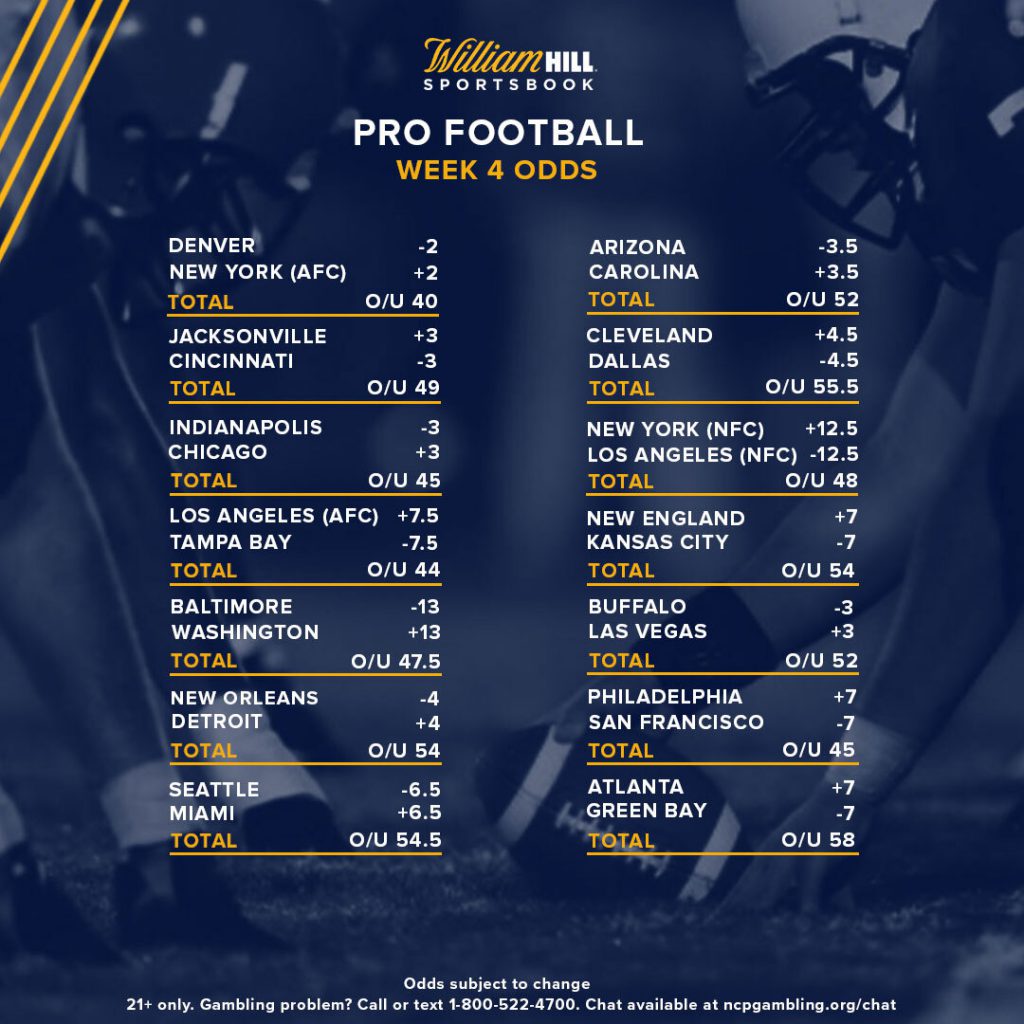 Bet NFL with William Hill, America's #1 sportsbook.