Week 2 of the NFL season featured just three William Hill spreads that closed at four points or lower and seven others ending up at a full touchdown or higher. For the Week 3 odds recently released at William Hill, eight games currently have a line of four points or lower and just three are at seven or higher.
"Lots of 3s and 4s this week, so I like that," said Nick Bogdanovich, Director of Trading for William Hill US. "People will actually have to pick winners this week.
"Anything in the 9 range is the ultimate sweet spot for the teaser players. It looks like Indianapolis is at 10 against the Jets and Cleveland at 7 against Washington are the two biggest numbers out there."
One of those Week 3 contests that has a tight spread is a battle between two of the best teams in the league on Monday night. The Chiefs are a 3.5-point road underdog against the Ravens after opening at +3.
"Chiefs-Chargers was the biggest handle we've ever had for a regular season game," Bogdanovich said. "Chiefs-Ravens will be a monster game, I just don't know if it will eclipse that one.
"When a point spread is right around 9 like Chiefs-Chargers, you get every single teaser and moneyline parlay. When it's around 3, teasers are reduced immensely and moneyline parlays aren't nearly as significant. Point spread has a lot to do with the handle on a game compared to just the team itself."
The Colts are the biggest chalk this week at -10 hosting the Jets. For shortest numbers, the Bills are 2.5-point favorites at home vs. the Rams in a face-off between 2-0 teams and the undefeated Titans are 2.5-point road favorites against the winless Vikings.
Another matchup between a 0-2 team vs. 2-0 team has drawn a couple early notable wagers. Despite dropping their first two games, including yesterday's heartbreaker against the Cowboys, the Falcons have moved to -3.5 from -3 against the Bears in Atlanta.
Yet, two William Hill Nevada bettors are bullish on Atlanta, with one putting down $5,500 on Falcons -3 (-110) for a total potential payout of $10,500 and the other placing $3,300 on Falcons -3 (-110) for a total potential payout of $6,600. Those are the two largest Week 3 wagers as of now at William Hill.
Check out William Hill's current odds for Week 3 of the NFL season below.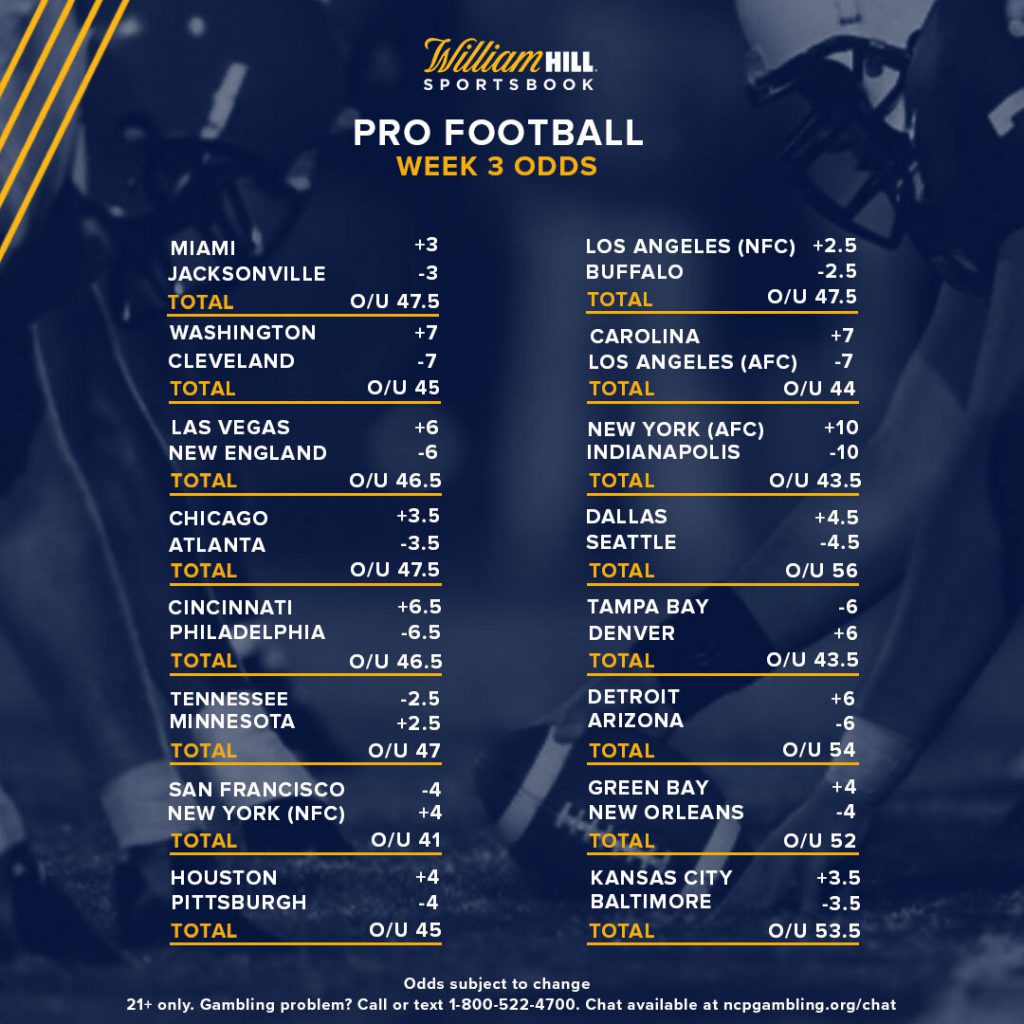 Bet NFL with William Hill, America's #1 sportsbook.