The football is twice as nice on this Monday night, as Patriots vs. Chiefs kicks off at 7:05 p.m. ET/4:05 p.m. PT on CBS, followed by Falcons vs. Packers at 9:00 p.m. ET/6:00 p.m. PT on ESPN.
Patriots vs. Chiefs was originally scheduled for Sunday afternoon. However it was postponed a day after both teams had a player that tested positive for COVID-19, including New England starting quarterback Cam Newton. Now, backup Brian Hoyer will be under center for the Patriots at Arrowhead Stadium tonight.
"When you're handling a situation where the starting quarterback is out, trying to figure out the size of the drop-off is key," said Nick Bogdanovich, Director of Trading for William Hill. "Obviously there's 32 different situations. I would say Cam to Hoyer falls somewhere in the middle of the league, like three points or so. But there's a bigger fall off when an Aaron Rodgers or Dak Prescott or Russell Wilson goes down, we're talking six, seven points at least.
"Cam's played every snap and has looked solid, while Hoyer hasn't played at all this year. So that's probably worth at least three points, and now the spread for this game is double digits from 7. But when the number gets that high, you have to bring in the [Bill] Belichick factor in that he's going to find a way to keep this team hanging around."
The Chiefs are currently 11-point favorites at William Hill (-650 moneyline). Meanwhile, the Patriots are +450 to win the game outright and the total is at 49. New England is the third team to be getting at least 10 points in Week 4's slate at William Hill, so have bettors shied away from wagering on the Patriots like the other two?
"We'll definitely still need New England in some form or fashion," said Bogdanovich. "But this also isn't your typical double-digit underdog. It's not anything like yesterday with those giant spreads for Ravens-Washington and Rams-Giants. It's still the Patriots, it's still Belichick. So the public isn't rushing to the window to back the Chiefs like the Ravens or Rams."
The Chiefs have brought in 75% of the tickets and 65% of the total dollars wagered among all spread bets against the Patriots. Yet, Chiefs spread is not nearly as popular a bet as the Ravens and Rams were yesterday. Baltimore (-14) captured 88% of the total number of tickets and 93% of the total dollars wagered vs. Washington, while Los Angeles (-13.5) attracted 85% of the total number of tickets and 94% of the total dollars wagered against the Giants.
In fact, the biggest bet for this AFC clash is on New England. A Nevada bettor placed $45,630 on Patriots +11 (-110) for a total potential payout of $87,111.80.
In the later game between the Falcons and Packers, there's also been some line movement due to a key absence.
"We were in the 7, 7.5 range with this game, and now it's down under a touchdown after the injury news," Bogdanovich said. "There's no question that [Davante] Adams being out is huge, and that [Julio] Jones and [Calvin] Ridley both playing is huge. All the big three wide receivers, their playing status all went in favor of Atlanta, so that's why the line has come down."
The Packers (-270 moneyline) are now 6-point home favorites over the Falcons. While the total is still the highest for any NFL game this year at 56.5, it's dropped a bit from its position of 58 last week.
Among all spread wagers for this game, the Packers have the advantage with 83% of the total number of tickets and 66% of the total dollars wagered. Once again, though, the underdog has drawn the biggest bet as of now for this showdown. Another Nevada bettor placed $85,030 on Falcons +7 (-120) for a total potential payout of $155,888.35.
Check out William Hill's latest odds and trends for both Patriots vs. Chiefs and Falcons vs. Packers below.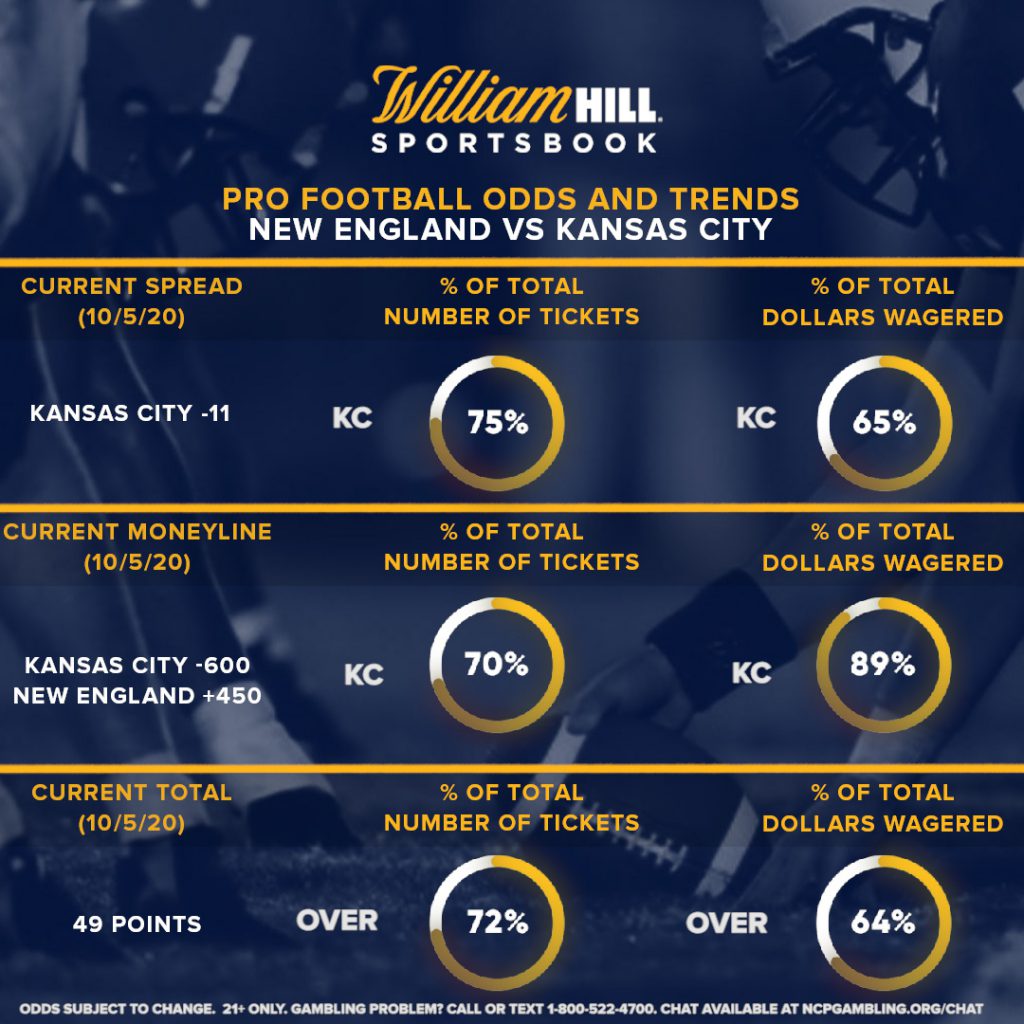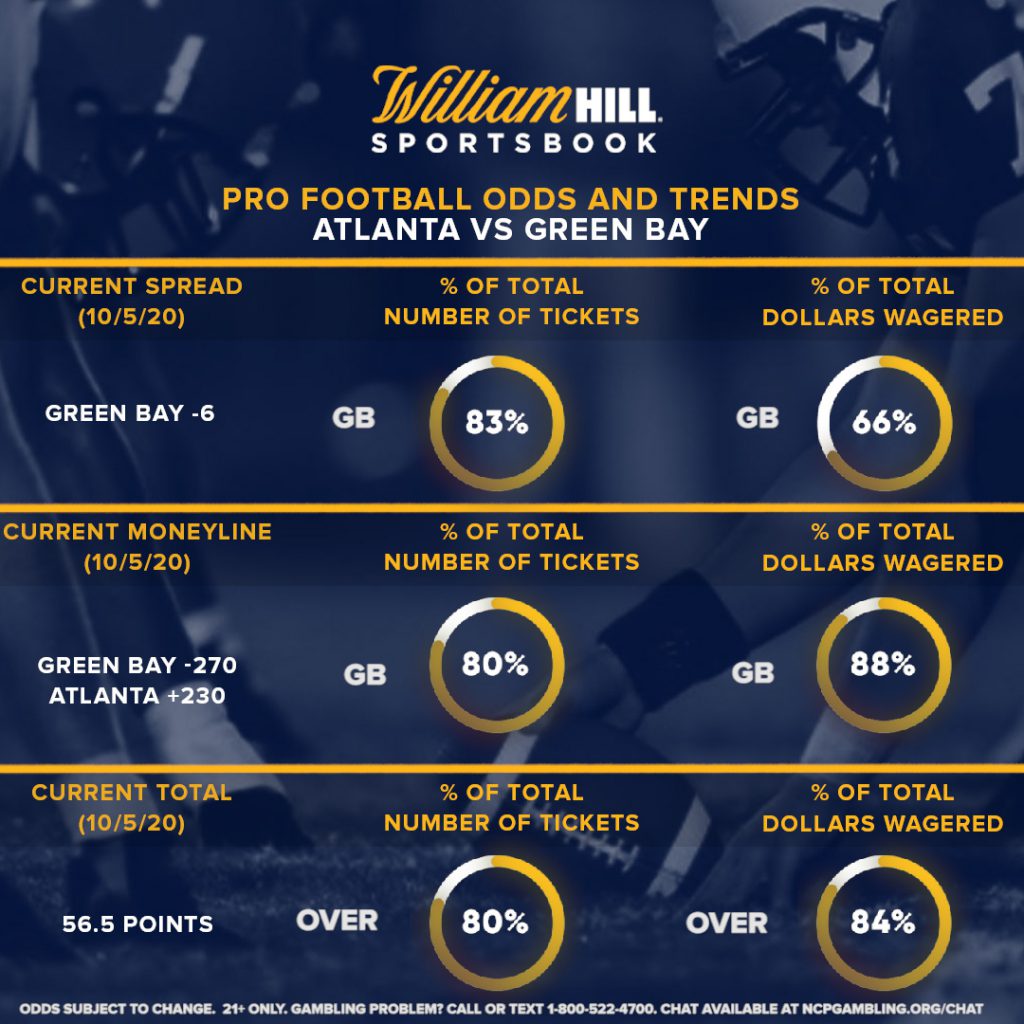 Bet NFL with William Hill, America's #1 sportsbook.