The NBA is close to returning.
The league's board of governors approved today a 22-team format to resume the current season in Orlando, Florida.
The 22 teams are the current top-8 teams in each conference as well as six other teams that are within six games of a playoff spot in the standings. All 22 teams will play eight games for seeding purposes to finalize the regular season, and the top-7 teams in each conference will qualify for the postseason. There could be a potential "play-in" between the No. 8 and No. 9 teams in the standings to determine the eighth and final playoff spot for each conference.
The nine Eastern Conference teams participating are the Bucks, Celtics, Raptors, 76ers, Heat, Nets, Pacers, Magic and Wizards. Meanwhile, the 13 Western Conference teams will be the Lakers, Clippers, Rockets, Nuggets, Mavericks, Jazz, Thunder, Pelicans, Trail Blazers, Grizzlies, Spurs, Kings and Suns.
With the NBA preparing its return, William Hill has put odds back up for its 2019-20 NBA championship, Eastern Conference and Western Conference futures.
The Lakers are currently the 11/5 favorite to capture the franchise's 17th NBA title, with the Bucks and Clippers right behind at 13/5 and 13/4 odds respectively. The Rockets and Celtics are tied for the fourth-lowest odds at 15/1 apiece, with the defending champion Raptors following them up at 18/1.
On the other end, the Kings and Suns have the longest odds to win it all, as each team is priced at 2000/1.
Check out William Hill's 2019-20 NBA championship odds below, which are available to bet in Nevada, New Jersey and Iowa.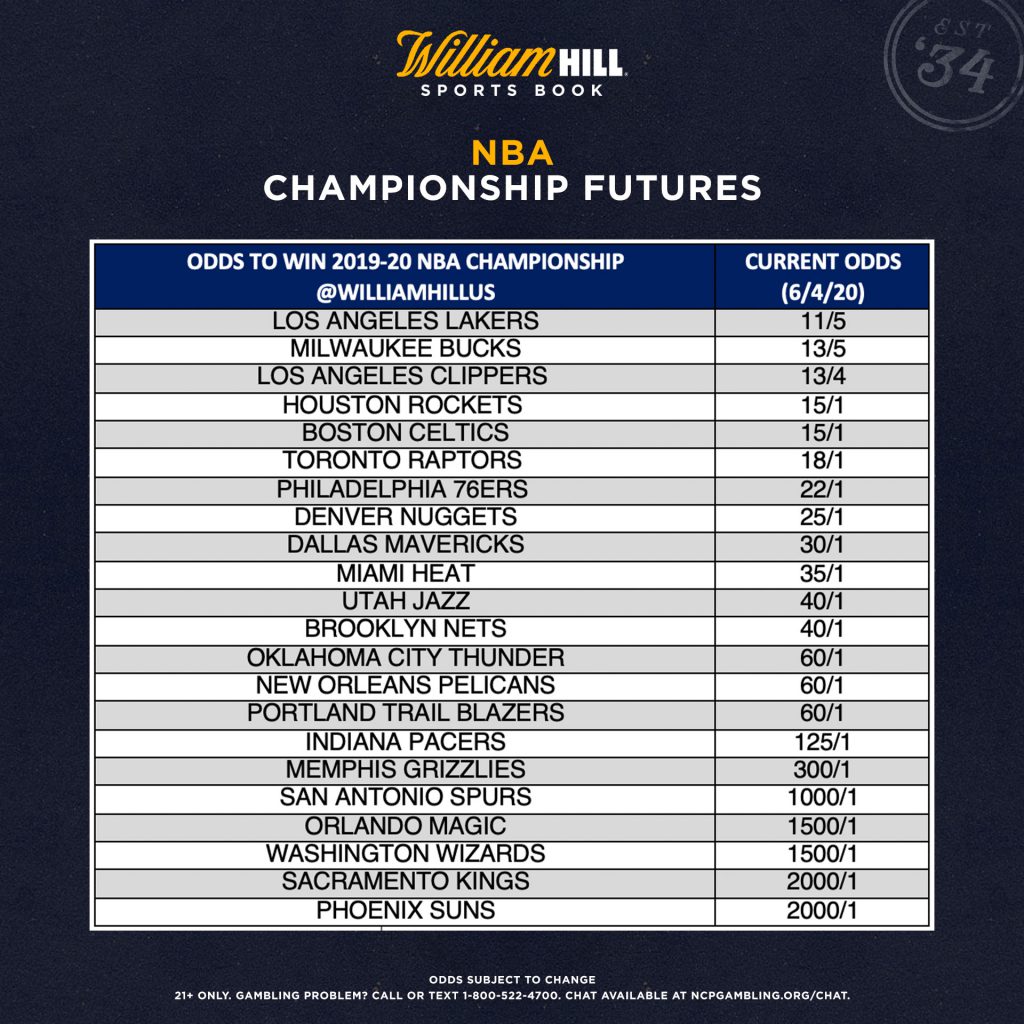 Bet NBA with William Hill, America's #1 sportsbook.