We're approaching the halfway mark of the 2020 MLB season, and the top contenders have started to really separate themselves from the pack.
Despite the shortened 60-game campaign, it's been business as usual for baseball action at William Hill.
"For individual games, baseball handle has been on par with seasons past," said Nick Bogdanovich, Director of Trading for William Hill US. "Baseball bettors are loyal, a lot of them tend to bet only baseball. That's their preference—it's stats-driven, it's every day, you get a good rhythm for it."
The Dodgers have overtaken the Yankees as the 2020 World Series favorite at William Hill. Los Angeles is currently listed at +275, with New York right behind at +350. The Dodgers lead the league in winning percentage at .733, and they have two more wins than any other team.
"At the beginning of the year, Dodgers and Yankees clearly looked like the two best teams," Bogdanovich said. "Dodgers are playing pretty darn good right now. By far the most money is on the Dodgers, then the Yankees."
Since August 1, the Dodgers lead the way with 24% of the total dollars wagered as well as 13% of the total number of tickets among all 2020 World Series futures bets. That's highlighted by the largest World Series futures bet taken this month at William Hill thus far, as one Nevada bettor put $9,000 on Dodgers +325 for a total potential payout of $38,250.
Over that same time period, the Yankees rank second in total dollars wagered (17%) and third in total number of tickets (10%).
Yet, another club's emergence this season has led to a top-3 standing in both of the aforementioned categories as well.
"Since we have so many books in Northern Nevada, we get Oakland money every year regardless if they're good or bad. We opened them 25/1, and every number we've put up since has been hit hard—18/1, 16/1, 15/1, 12/1, 10/1 and now at 8/1."
The Athletics possess the AL's best record at 20-9, and currently have the third-lowest World Series odds at 8/1. Regarding William Hill's MLB trends for the month of August, Oakland has captured 12% of the total number of tickets and 15% of the total dollars wagered. That includes another Nevada bettor who placed $3,500 on the A's back at 12/1 for a total potential payout of $45,500.
The Padres are another team that has seen a strong amount of interest from William Hill bettors. After being priced as high as 28/1 in August, San Diego is down to 20/1. The Padres are fifth in both total number of tickets (7%) and total dollars wagered (6%) this month.
Check out William Hill's latest 2020 World Series trends below.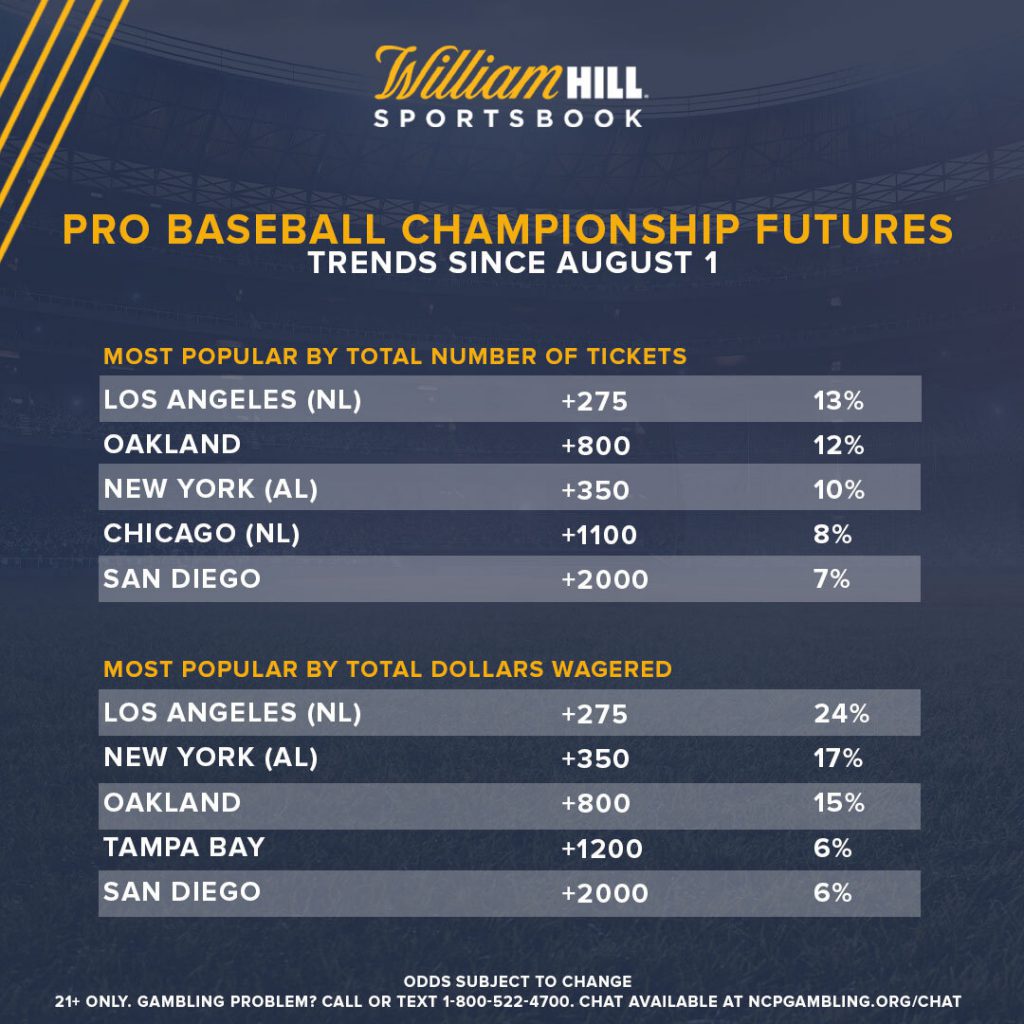 Bet baseball with William Hill, America's #1 sportsbook.