Bet baseball with William Hill, America's #1 sportsbook.
In the middle of a New York winter, it's only fitting that the Mets cranked up the heat on the MLB offseason with a blockbuster trade.
The Mets acquired All-Star shortstop Francisco Lindor and starting pitcher Carlos Carrasco from the Indians, and New York's 2021 World Series futures dropped accordingly at William Hill. The Mets are currently tied for the fifth-lowest odds with the White Sox at +1200, only trailing the Dodgers (+400), Yankees (+550), Padres (+800) and Braves (+850).
"We moved the Mets from 16/1 to 12/1 for World Series after the news broke," said Nick Bogdanovich, Director of Trading for William Hill US. "And for pennant, +900 down to +550. So that trade made us make a small adjustment. We opened them at 35/1, so they've come down a lot."
Meanwhile, the Indians' World Series futures shifted from 30/1 to 45/1 at William Hill following the trade. Cleveland was originally listed at 22/1, meaning the Indians have gone from having the 11th-lowest odds to tied for 18th-lowest with the Red Sox.
Headlined by a new owner and an exciting offseason, the Mets have certainly piqued the interest of William Hill bettors.
"The Mets are our biggest liability right now for World Series futures," Bogdanovich said. "We're definitely a loser with them. It's not a huge liability, but it's the most we've got with many people not wanting to tie their money up for too long in these COVID-era futures."
The Mets lead all teams in both total number of tickets (14%) and total dollars wagered (31%) among all 2021 World Series futures at William Hill. That includes two noteworthy wagers, as one New Jersey bettor put $5,000 on Mets 25/1 for a total potential payout of $130,000 and another New Jersey bettor placed $3,000 on Mets 35/1 for a total potential payout of $108,000.
Two NL West clubs rank second and third in each category. The defending champion Dodgers only trail the Mets in total number of tickets (13%) and total dollars wagered (24%). The Padres are next after their big acquisitions of Blake Snell and Yu Darvish, as they've collected 9% of the total number of tickets and 7% of the total dollars wagered.
The Mets' cross-town rival may have lower odds to win it all, but they aren't attracting nearly the level of action on their World Series futures. The Yankees are pulling in 6% of the total number of tickets and 4% of the total dollars wagered.
Check out William Hill's latest odds and trends for 2021 World Series futures below.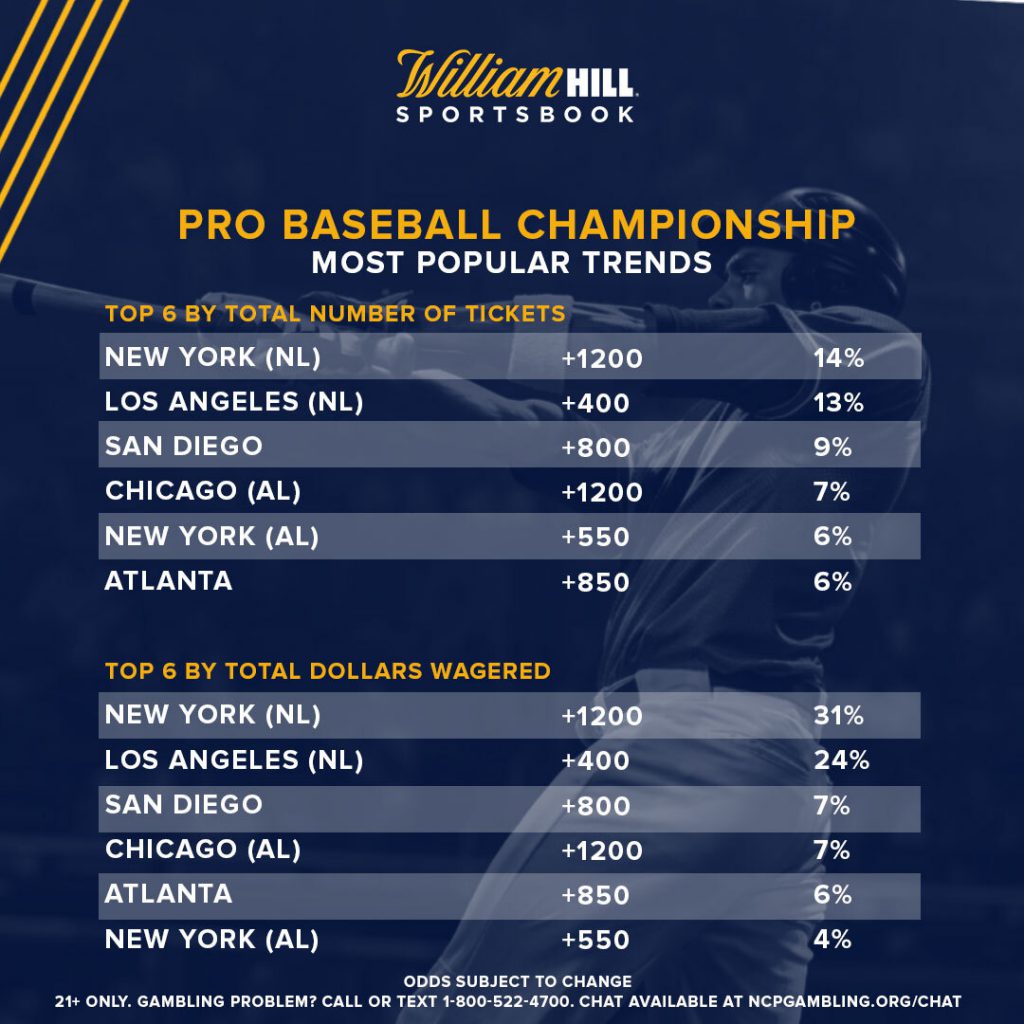 | | |
| --- | --- |
| TEAM TO WIN 2021 WORLD SERIES @WILLIAMHILLUS | CURRENT ODDS (1/7/21) |
| LOS ANGELES DODGERS | 4/1 |
| NEW YORK YANKEES | 11/2 (+550) |
| SAN DIEGO PADRES | 8/1 |
| ATLANTA BRAVES | 17/2 (+850 |
| CHICAGO WHITE SOX | 12/1 |
| NEW YORK METS | 12/1 |
| OAKLAND ATHLETICS | 13/1 |
| TAMPA BAY RAYS | 15/1 |
| MINNESOTA TWINS | 18/1 |
| CINCINNATI REDS | 22/1 |
| HOUSTON ASTROS | 25/1 |
| CHICAGO CUBS | 30/1 |
| WASHINGTON NATIONALS | 30/1 |
| ST. LOUIS CARDINALS | 30/1 |
| LOS ANGELES ANGELS | 35/1 |
| TORONTO BLUE JAYS | 35/1 |
| PHILADELPHIA PHILLIES | 40/1 |
| CLEVELAND INDIANS | 45/1 |
| BOSTON RED SOX | 45/1 |
| MILWAUKEE BREWERS | 50/1 |
| MIAMI MARLINS | 50/1 |
| SAN FRANCISCO GIANTS | 55/1 |
| ARIZONA DIAMONDBACKS | 60/1 |
| SEATTLE MARINERS | 75/1 |
| KANSAS CITY ROYALS | 75/1 |
| DETROIT TIGERS | 75/1 |
| TEXAS RANGERS | 75/1 |
| COLORADO ROCKIES | 100/1 |
| BALTIMORE ORIOLES | 100/1 |
| PITTSBURGH PIRATES | 200/1 |