The Premier Lacrosse League's second season will be underway this week, and now you can bet on which team will win it all.
William Hill became the first sportsbook ever to post odds for the Premier Lacrosse League, as it released championship futures in late June. 
Starting on Saturday, July 25, the PLL will engage in a 16-day tournament in Utah at Zions Bank Stadium. The first stage will be group play to determine seeding for a single-elimination tournament that starts on August 4. The championship game is slated for August 9.
The Whipsnakes won the PLL's inaugural championship last season, and are the 3/1 favorites at William Hill to repeat.
William Hill bettors, however, have their eyes on other teams.
The Archers are tied for the third-lowest odds at 9/2, and lead the way in both total number of tickets (26%) and total dollars wagered (29%).
The Atlas are the only team to see their odds improve from the opening number, going from 11/2 to their current 9/2 price. While the Atlas rank fourth in total number of tickets (16%), they are right behind the Archers with 28% of the total dollars wagered.
That includes the largest PLL futures bet taken thus far at William Hill, as one New Jersey bettor placed a $660 wager on Atlas 11/2 for a total potential payout of $4,290.
There has also been some interest on the expansion team. The Waterdogs were the seventh squad to join PLL, and opened with the longest odds at 9/1. The Waterdogs have attracted 22% of the total number of tickets, which is tied for second with the Redwoods (9/2), as well as 8% of the total dollars wagered.
Check out William Hill's latest odds and trends for the 2020 Premier Lacrosse League championship below, which is available to bet in Nevada, New Jersey and Iowa.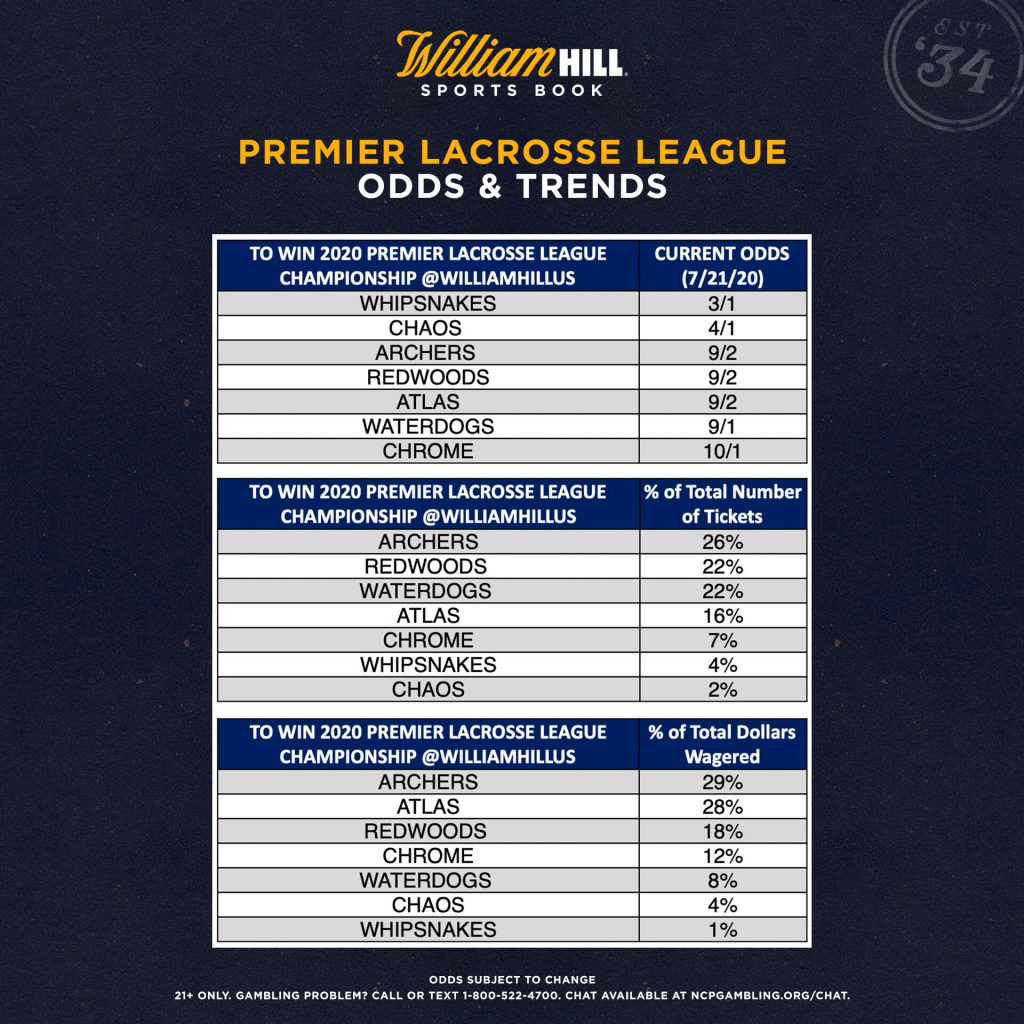 Bet lacrosse with William Hill, America's #1 sportsbook.