The stakes are high in Boston this week, as a field of 123 of the highest-ranked PGA Tour players will be competing at the 2020 Northern Trust. The first tournament of the three-part FedEx Cup playoffs begins tomorrow, with a $15 million prize awaiting the future FedEx Cup champion.
Justin Thomas and Bryson DeChambeau opened as 12/1 co-favorites for the Northern Trust, however DeChambeau now stands alone at 10/1. Thomas has stayed put at 12/1, with Rory McIlroy and Jon Rahm next at 15/1 each.
DeChambeau isn't the only golfer who has seen his odds improve from the original number. Other notable moves near the top of the board include Xander Schauffele (20/1 to 16/1), Jason Day (25/1 to 18/1), Tony Finau (35/1 to 25/1) and Daniel Berger (35/1 to 25/1).
No one can match DeChambeau, though, when it comes to the action he's been drawing to win the 2020 Northern Trust.
"DeChambeau is leading in tickets and money," said Nick Bogdanovich, Director of Trading for William Hill US. "TPC Boston favors power, and DeChambeau has won there before. Any time a course isn't super narrow fairways with high rough, I think it always favors golfers who hit it far."
DeChambeau has received 5% of the total number of tickets, edging out Day, Collin Morikawa (20/1), Reed, Finau, Berger and Matthew Wolff (45/1), who are all at 4%.
For total dollars wagered, DeChambeau has a more sizable lead. He's generated 11% of that category, with Finau next at 7% along with Reed and Berger at 6% apiece.
DeChambeau is also one of the five golfers to receive a $1,000 wager, which is the largest 2020 Northern Trust futures bet taken thus far at William Hill. In Nevada, DeChambeau at 12/1, Finau at 35/1, Jordan Spieth at 70/1 and Harris English at 80/1 each received a grand. In New Jersey, it's Tiger Woods at 45/1 who drew a $1,000 bet.
Yet Woods hasn't been generating the same attention from William Hill bettors. Bogdanovich said Woods winning would be a "break-even" for William Hill, whereas he's usually "a good-sized loser for us." Woods has captured 3% of the total number of tickets and 4% of the total dollars wagered. 
Check out William Hill's latest trends for the 2020 Northern Trust below.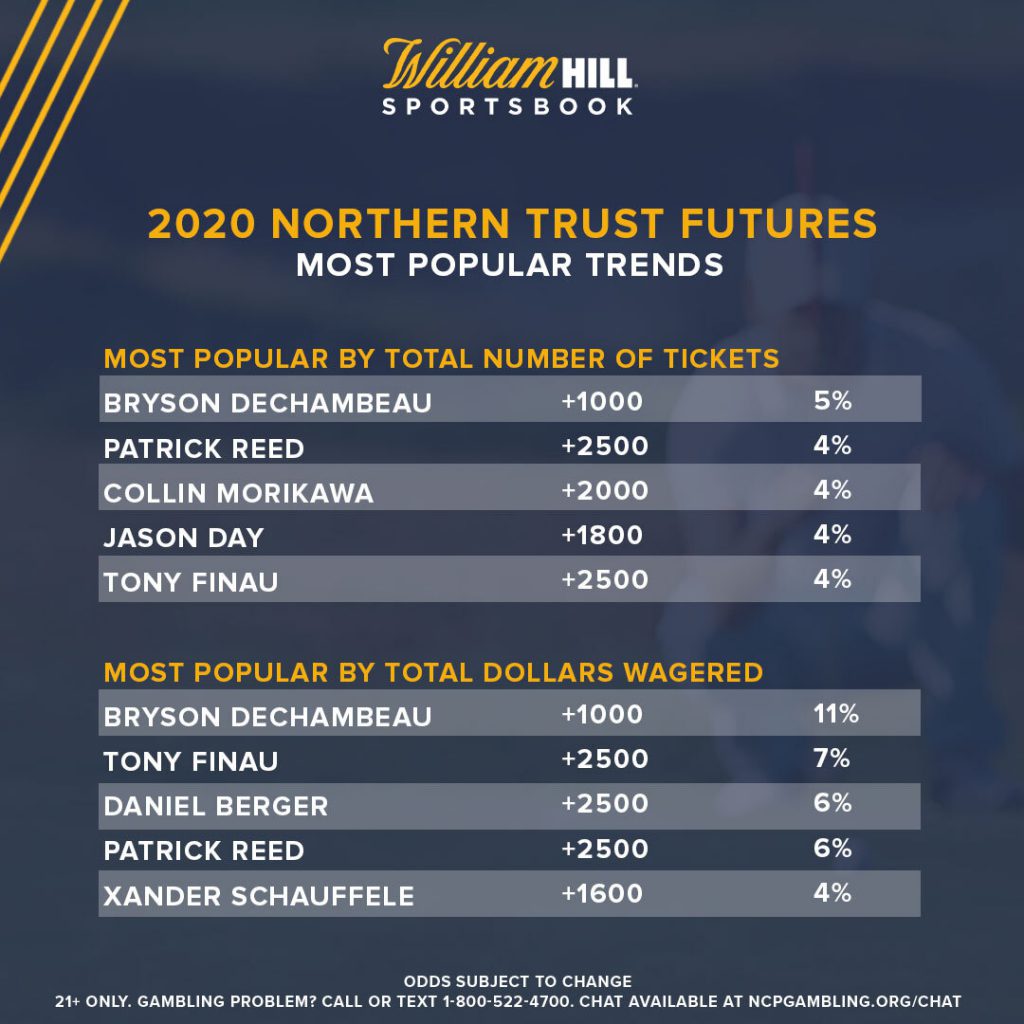 Bet golf with William Hill, America's #1 sportsbook.