The NHL is slated to resume its season on August 1, with two hub cities set for where the games will take place. The 12 Eastern Conference teams will play in Toronto, while the 12 Western Conference teams are in Edmonton.
When the players are ready to take the ice, 16 teams (eight in each conference) will be partaking in the qualifying round. The other eight are the teams with the four best records in each conference, and they will be competing for the top seed.
In the qualifying round, teams will compete in best-of-five series with the winners advancing to the Stanley Cup Playoffs. William Hill has moneyline odds available for all eight qualifying series, so let's look at the early line movements and betting trends.
The Eastern Conference's qualifying-round showdowns are the No. 5 Penguins vs. No. 12 Canadiens, No. 6 Hurricanes vs. No. 11 Rangers, No. 7 Islanders vs. No. 10 Panthers and No. 8 Maple Leafs vs. No. 9 Blue Jackets.
Out in the Western Conference, it's No. 5 Oilers vs. No. 12 Blackhawks, No. 6 Predators vs. No. 11 Coyotes, No. 7 Canucks vs. No. 10 Wild and No. 8 Flames vs. No. 9 Jets.
The Penguins opened as the biggest favorites in any qualifying series at -210 against the Canadiens, and have since moved to -240.
Pittsburgh has gotten 77% of the total number of tickets and 91% of the total dollars wagered. That includes the largest qualifying series wager placed thus far at William Hill, where a Nevada bettor put down $2,100 on Penguins -210 for a potential total payout of $3,100.
Another qualifying series that has seen a notable shift from its opening number is Canucks vs. Wild. The Wild were originally listed at +130, however are now down to +110. William Hill bettors have been siding with the underdog in this matchup, as the Wild have drawn 86% of the total number of tickets and 78% of the total dollars wagered.
The teams that lead each category as of now, though, reside in New York. The Rangers (+125) are tops in total number of tickets, capturing 90% of them against the Hurricanes as well as 85% of the total dollars wagered.

Meanwhile, it's the Islanders (-120) who rank first in total dollars wagered at 95% in their battle against the Florida Panthers.
---
Check out William Hill's latest NHL qualifying series odds and trends below, which are available to bet in Nevada, New Jersey and Iowa.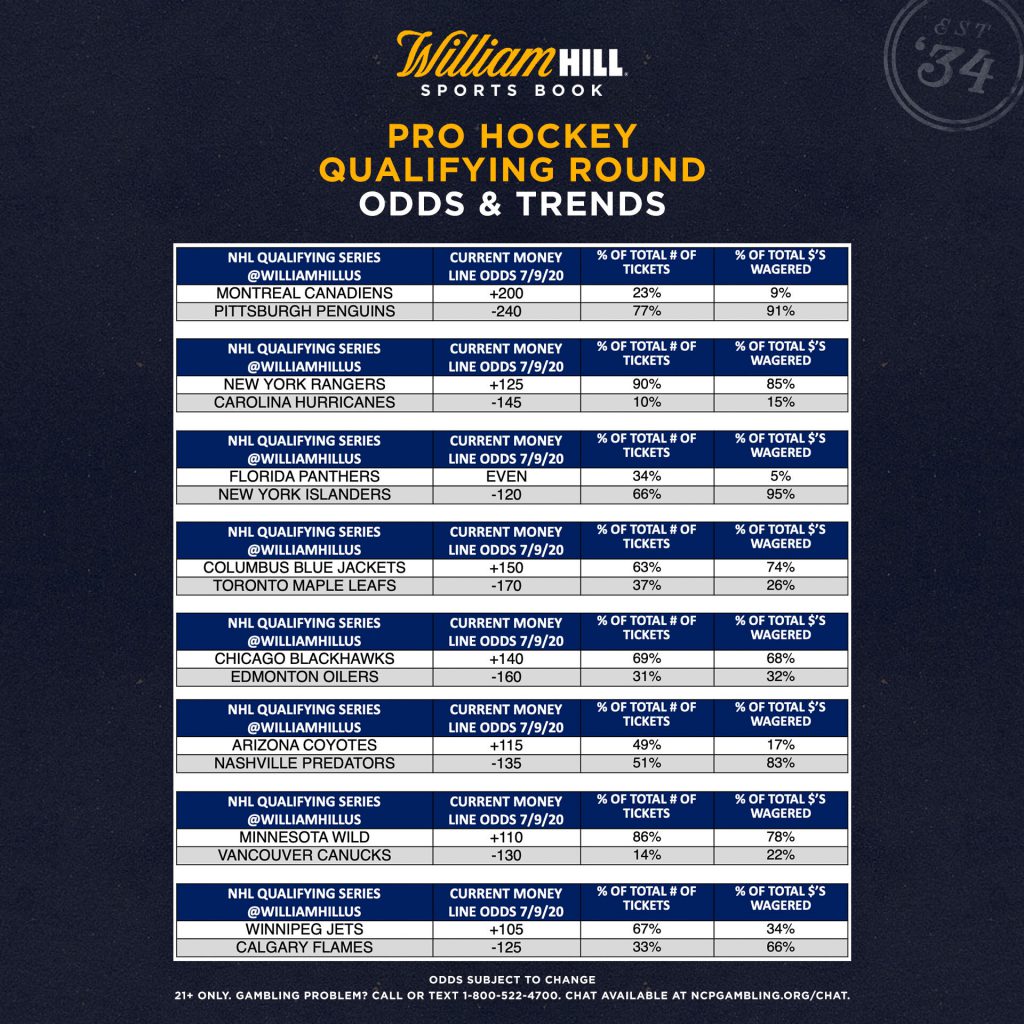 Bet NHL with William Hill, America's #1 sportsbook.