Who says hockey can't be a summer sport? We are just two days away from the NHL's return to the ice, with eight qualifying series and two round-robin tournaments in store.
In the qualifying round, 16 teams will compete in best-of-five series with the winners advancing to the Stanley Cup Playoffs.
Four Eastern Conference matchups are taking place in Toronto: No. 5 Penguins vs. No. 12 Canadiens, No. 6 Hurricanes vs. No. 11 Rangers, No. 7 Islanders vs. No. 10 Panthers and No. 8 Maple Leafs vs. No. 9 Blue Jackets.
Meanwhile in Edmonton, four Western Conference showdowns are occurring: No. 5 Oilers vs. No. 12 Blackhawks, No. 6 Predators vs. No. 11 Coyotes, No. 7 Canucks vs. No. 10 Wild and No. 8 Flames vs. No. 9 Jets.
Over the past month, no series price has shifted as much as Hurricanes-Rangers. The favored Hurricanes have dropped from -145 to -135, while the Rangers have seen their odds improve from +125 to +115.
The move can be attributed to the fact that no team participating in a qualifying series has been generating more action than New York.
The Rangers have received 91% of the total number of tickets and 92% of the total dollars wagered to win their matchup, which leads all teams in both categories. That includes one New Jersey bettor who put down $8,407 on Rangers +115 for a total potential payout of $18,075.05, which is the largest total potential payout as of now on any qualifying series bet at William Hill.
Besides the Rangers, there are a couple of other underdogs that have caught the attention of bettors. The Blue Jackets (+150), Wild (+110) and Jets (+105) have all captured the majority of both the total number of tickets and total dollars wagered in their respective qualifying series.
In fact, despite Columbus's price as the second-biggest underdog in any qualifying series (only the Canadiens are higher at +200), the Blue Jackets rank second in total dollars wagered (83%) and third in total number of tickets (70%) among all teams.
---
Check out William Hill's latest odds and trends for the NHL's qualifying round below, which is available to bet in Nevada, New Jersey and Iowa.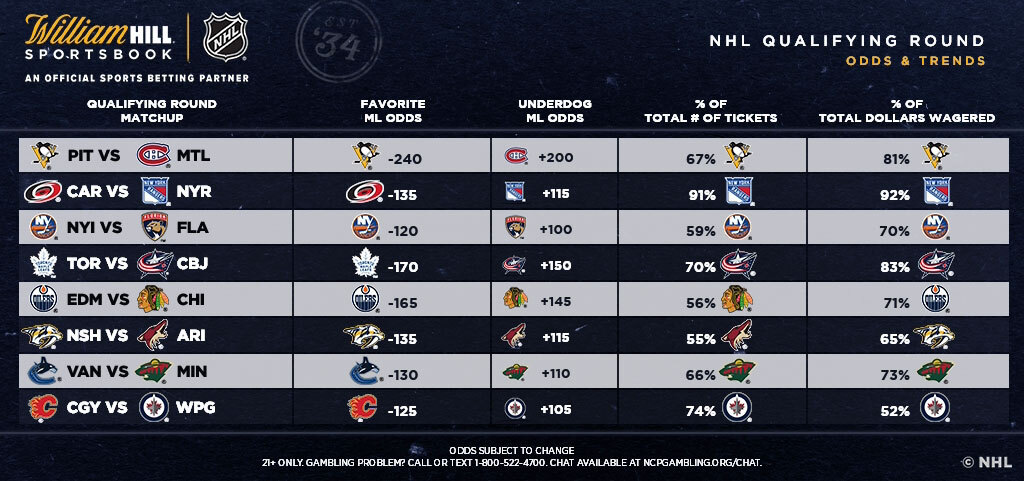 Bet NHL with William Hill, America's #1 sportsbook.