Today marks a pivotal day of Stanley Cup® playoffs action, with three crucial Round 2 showdowns on tap.
In the first game (3 p.m. ET/12 p.m. PT), the Eastern Conference top-seeded Flyers are slight -115 favorites at William Hill over the Islanders. New York took Game 1 by a 4-0 score, and the Islanders are now -210 chalk to advance in the series.
"On a game-by-game basis, the Islanders have sure been getting a lot of love," said Nick Bogdanovich, Director of Trading for William Hill US. "Philly was the favorite going into that series, but people are really betting the Islanders in that one."
A pair of Game 3s occur later in the day, with the Bruins (-115) taking on the Lightning at 5 p.m. ET/2 p.m. PT and the Avalanche (-135) looking to dig out of a 2-0 series hole against the Stars (+115) at 10:30 p.m. ET/7:30 p.m. PT.
Yet, all of those teams still trail the Golden Knights on the current Stanley Cup futures leaderboard at William Hill.
Vegas is now the +240 favorite to hoist Lord Stanley with the Stars next at +475, followed by the Lightning and Bruins each at +500. Entering the playoffs, the Golden Knights and Bruins were the co-favorites at +550 apiece.
Since August 1, the Golden Knights have generated 35% of the total number of tickets and 42% of the total dollars wagered among all 2019-20 Stanley Cup futures wagers at William Hill. The Flyers are next in each category, receiving 17% and 19% respectively.
"We do lose with the Knights, don't get me wrong," Bogdanovich said. "But it's not as bad as in years past, especially in their inaugural season when they opened with super high odds, where we had an immense amount of liability.
"We still get dinged a little though because the tickets and the money are way more than any other team. But since we opened them with lower odds this year, we wouldn't get pummeled, we'd just lose."
However, no team has had a bigger shift in their futures odds from the beginning of the month to now than the Islanders. After being priced at 50/1 on August 1, New York is all the way down +600.
Over that span, the Islanders rank third in total number of tickets (13%) and fourth in total dollars wagered (8%).
---
Check out William Hill's latest trends for 2019-20 Stanley Cup futures.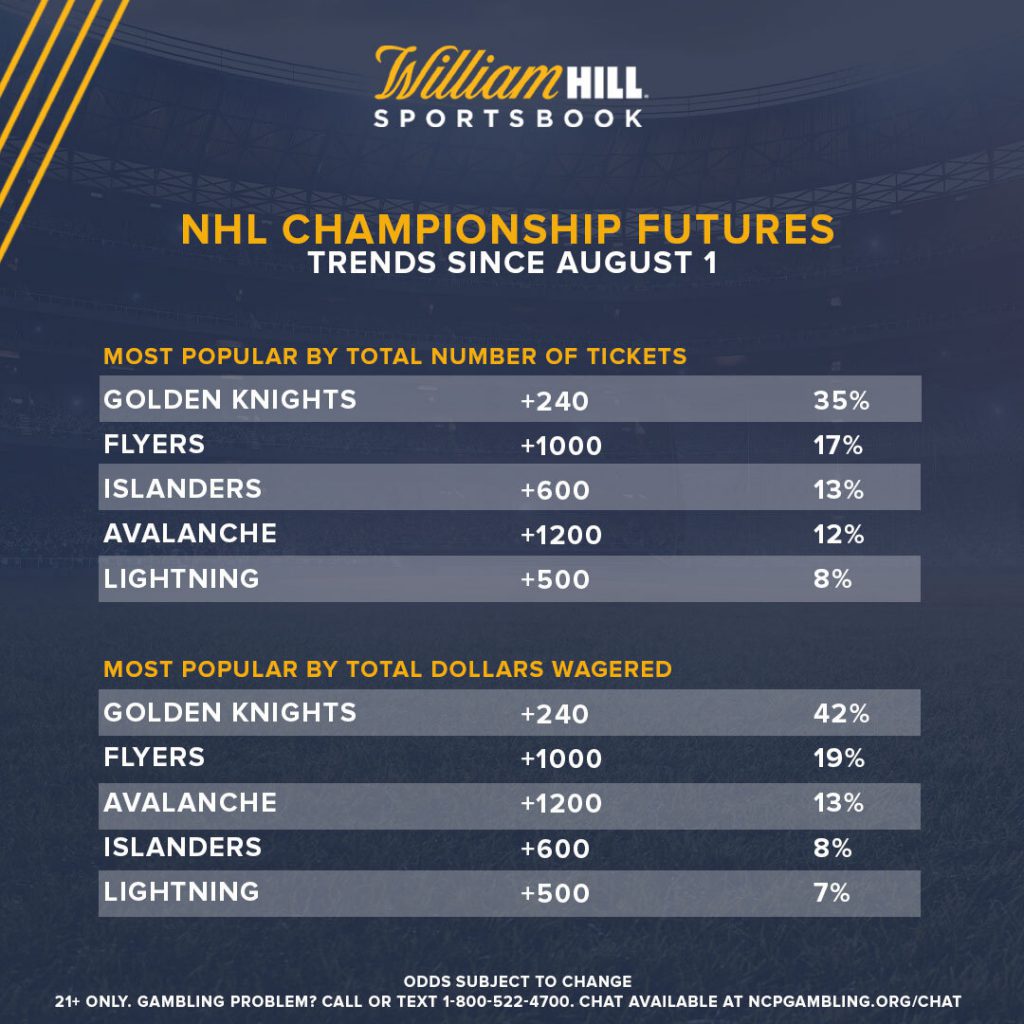 Bet NHL with William Hill, America's #1 sportsbook.