The NBA is back on the hardwood tomorrow! After taking a look at the odds and trends for William Hill's 2019-20 Eastern Conference futures yesterday, we now head out to the Western Conference.
The two Los Angeles teams are atop the board, though each has seen its odds slightly worsen over the past month. The Lakers are still the favorite at William Hill, even with their shift from +115 to their current +125 price. The Clippers are next at +200 after previously residing at +165.
A few Western Conference contenders, however, have seen their odds improve recently, including the Rockets (+750 to +650), Nuggets (14/1 to 12/1), Pelicans (22/1 to 16/1) and Trail Blazers (25/1 to 22/1).
Yet, no team tops the Lakers when it comes to interest from William Hill bettors. The Lakers lead the way in both total number of tickets (19%) and total dollars wagered (22%).
The Rockets and Blazers rank in the top three in both categories, with Houston coming in second in total number of tickets (11%) and Portland only trailing the Lakers in total dollars wagered (16%). Both teams have also drawn noteworthy wagers on their Western Conference futures.
One Nevada bettor put down $1,000 on the Trail Blazers back when they were listed at 150/1 for a total potential payout of $151,000, one of the biggest ones as of now at William Hill.
Another Nevada bettor placed $2,000 on Rockets 9/1 for a total potential payout of $20,000, and that Western Conference futures wager is tied for the largest one thus far along with a $2,000 bet on Mavericks 35/1 for a total potential payout of $72,000.
Meanwhile, the Clippers are fourth in total dollars wagered at 10%, and they've also captured 9% of the total number of tickets.
Check out William Hill's latest odds and trends for 2019-20 NBA Western Conference futures below, which are available to bet in Nevada, New Jersey and Iowa. For tomorrow, we'll look at the updated NBA championship futures odds and trends before the league's resumed season tips off.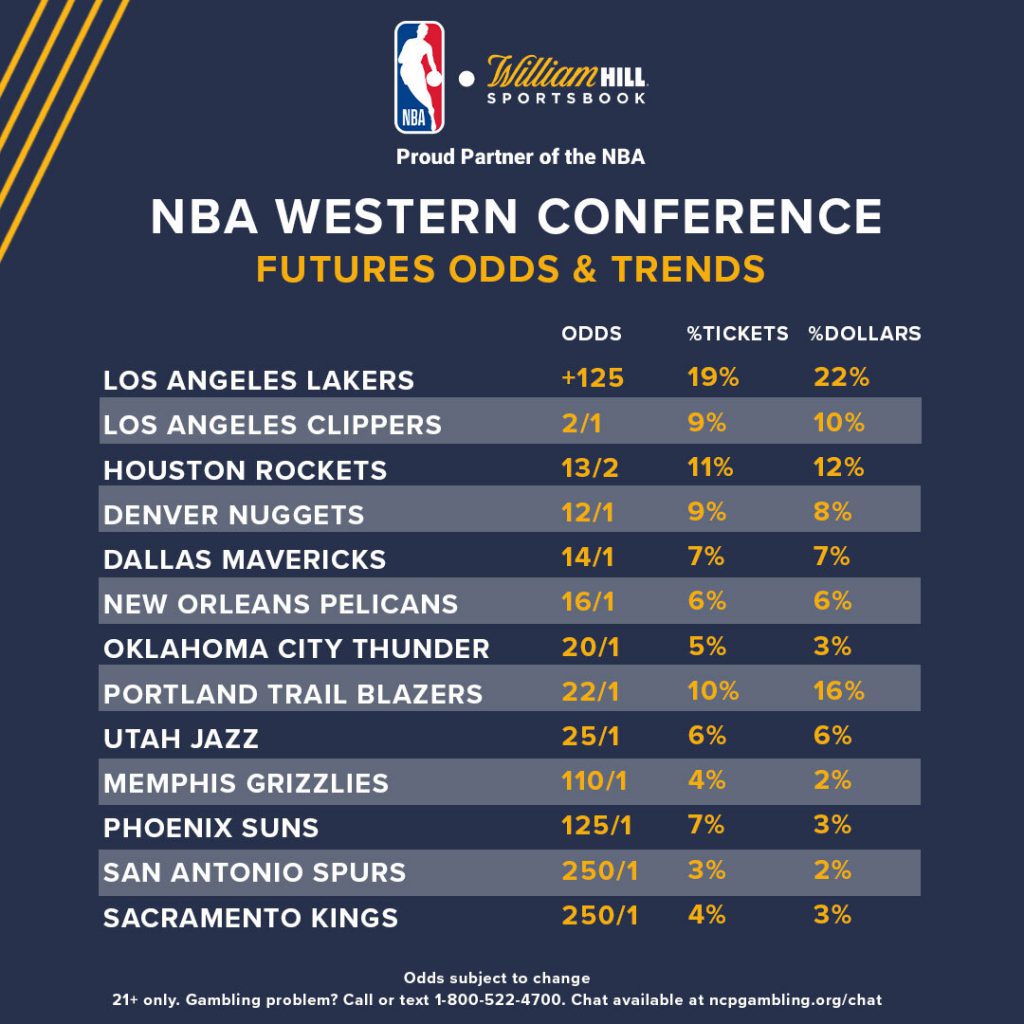 Bet NBA with William Hill, America's #1 sportsbook.