The first round of the NBA Playoffs has seen surprising upsets, historic player performances and even an incredible buzzer-beater to tie a series.
Simply put, it's been non-stop action—especially at William Hill's sportsbooks.
"This definitely has had a March Madness feel," said Nick Bogdanovich, Director of Trading for William Hill US. "As soon as one game is over, the next one's going. You have steady action from 10:30 to 8:30 at night. There's no question it's had a carry-over feel, and people are rolling it over from game to game."
Three teams have already advanced onto the next round, with the Raptors, Celtics and Heat all moving on after sweeping their first-round foes.
Yet, none of those squads have been able to surpass the frontrunners for William Hill's 2019-20 NBA championship futures.
The Lakers are +260 title favorites after grabbing a 3-1 series lead over the Trail Blazers last night. The Bucks follow at +280, with the Clippers right behind at +300 before their important Game 5 showdown with the Mavericks tonight.
"The Clippers were the title favorite last week when the Lakers and Bucks both lost in Game 1, but obviously it's an ever-changing situation," Bogdanovich said. "Those three will likely be in the same neighborhood with one another for the time being, with slight changes depending on how they played in their last game."
Among the teams that have already advanced, the defending champion Raptors are behind the three top teams at +750 while the Celtics are next at +850. Meanwhile, the Heat have the seventh-lowest odds at 20/1, with the five aforementioned teams along with the Rockets (15/1) ahead of them.
There are two Western Conference battles tonight, with the Jazz looking to eliminate the Nuggets in the early contest (6:30 p.m. ET/3:30 p.m. PT). Utah is currently a 2.5-point favorite with the total set at 220.
In the nightcap (9 p.m. ET/6 p.m. PT), the Clippers and Mavericks are each aiming for a critical 3-2 series lead. Los Angeles is an 8-point favorite. The total is already at 237, and if it follows recent betting patterns, it could go up even higher.
"The handle on totals is really what sticks out during these playoffs," Bogdanovich said. "People are betting overs really strong no matter what number we hang up."
Check out William Hill's current odds for tonight's NBA action below.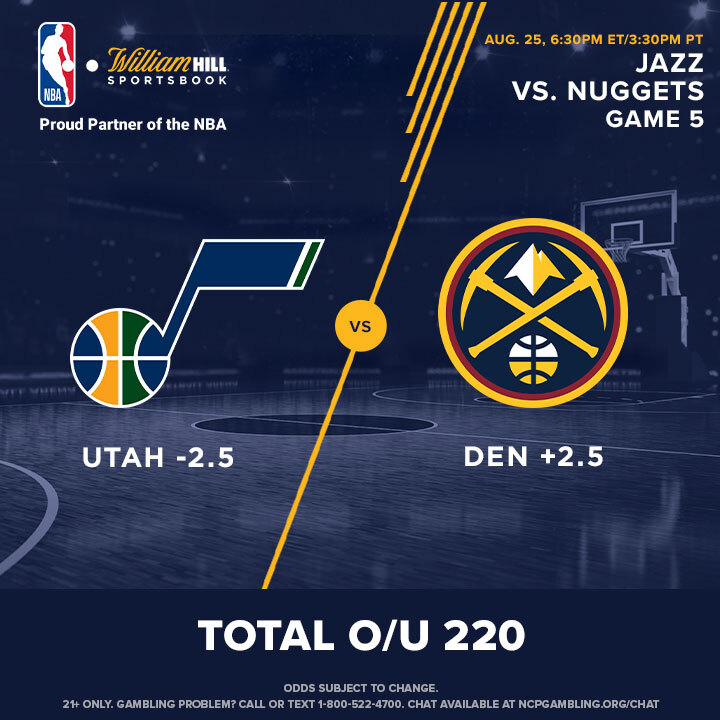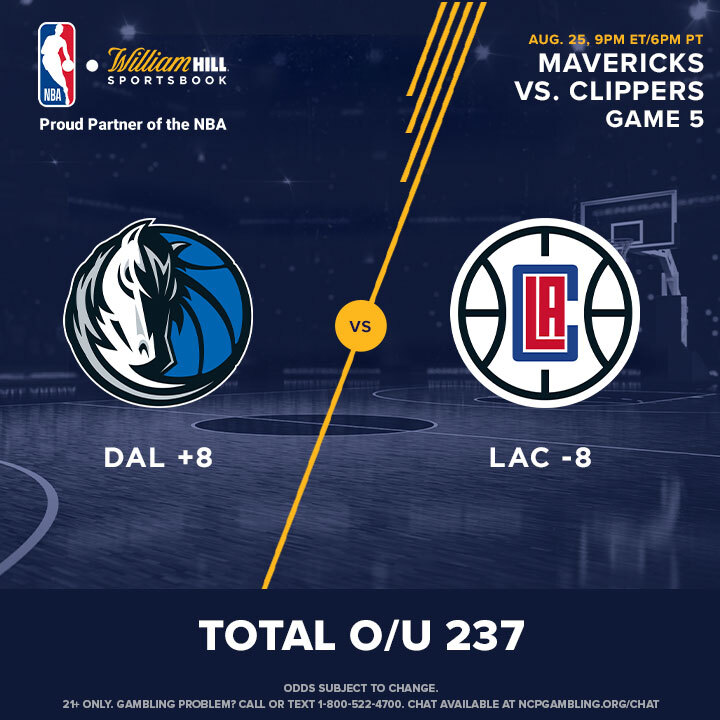 Bet NBA with William Hill, America's #1 sportsbook.