Anthony Davis gave the Lakers a 2-0 Western Conference Finals lead after his buzzer-beating three on Sunday night. The Nuggets, however, haven't shied away from big series deficits, coming back down 3-1 against the Jazz and Clippers this postseason.
The Lakers are 6.5-point favorites (-260 on the moneyline) for tonight's Game 3 showdown at 9 p.m. ET/6 p.m. PT. Meanwhile, the Nuggets are priced at +220 to win this contest outright, while the total sits at 214.
"The Lakers look unbeatable, and you can only pull a rabbit out of your hat so many times if you're Denver," said Nick Bogdanovich, Director of Trading for William Hill US. "For the Nuggets to have a series comeback like that a third time, those odds are astronomical. Lakers look like the dominant team, but hopefully Denver can make these next couple games competitive."
The majority of William Hill bettors believe that will happen in Game 3.
The Nuggets have received 58% of the total number of tickets and 61% of the total dollars wagered among all spread bets for Game 3. Additionally, many William Hill bettors think the Nuggets will pull off the upset, as Denver has captured 56% of the total number of tickets and 69% of the total dollars wagered for all moneyline bets for tonight's contest.
The biggest straight bet for Game 3 as of now at William Hill, though, has come in on the Lakers. A Nevada bettor placed $4,000 on Lakers -6.5 for a total potential payout of $7,636.35.
Regarding the total, William Hill bettors are expecting a high-scoring affair. The over has brought in 71% of the total number of tickets and 85% of the total dollars wagered.
Tomorrow night, the Celtics look to even the Eastern Conference Finals at two apiece with the Heat. Boston is a 3-point favorite (-160 moneyline) with the total residing at 210.5.
"Both series have attracted a similar handle for their games," Bogdanovich said. "Game 3 for the Celtics in a must-win last Saturday was the biggest NBA handle that I've seen on a game. It was that big of a decision, and it was all on Boston. That decision was bigger than 13 of the NFL games we had this past Sunday. I'm sure we'll need the Heat in Game 4 too."
A William Hill New Jersey bettor thinks that both underdogs will emerge victorious in their next game, as a $5,000 moneyline parlay was placed on Nuggets +230 and Heat +135 for a total potential payout of $38,775.
Check out William Hill's latest odds and trends for tonight's Lakers vs. Nuggets Game 3 below.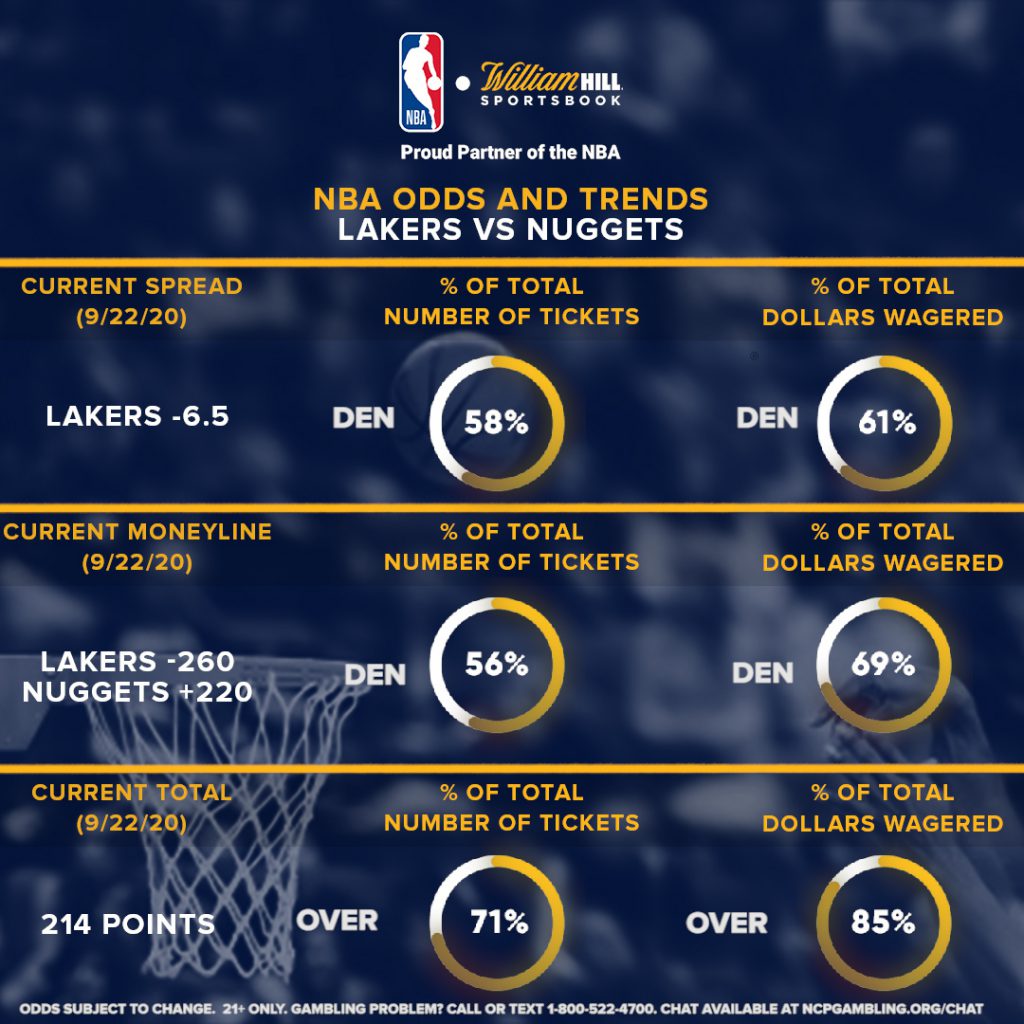 Bet NBA with William Hill, America's #1 sportsbook.