Bet NBA with William Hill, America's #1 sportsbook.
The eighth and final playoff spot in the Eastern Conference will be decided tonight between the Wizards and Pacers at 8 p.m. ET/5 p.m. PT on TNT. So why not take a look at William Hill's Eastern Conference futures before this upcoming play-in game?
When the season tipped off on Dec. 22, the Nets (+220) were slightly ahead of the Bucks (+225) at William Hill Nevada, followed by the Heat (+400), Celtics (+500) and 76ers (+800).
After being as heavy as a -175 favorite in the regular season, the Nets are currently -150 chalk to come out of the Eastern Conference. The 76ers, who finished with the conference's best record, are next at +240, while the Bucks are still in range at +500.
The Hawks have the fourth-lowest odds at 15/1, then the defending Eastern Conference champion Heat are at 22/1. The Knicks (40/1), Celtics (60/1), Wizards (100/1) and Pacers (150/1) are the biggest longshots on the board.
Regarding which teams William Hill bettors are wagering to advance to the NBA Finals, there's one that has clearly separated itself from the pack.
The Nets have captured 64% of the total dollars wagered as well as 22% of the total number of tickets among all Eastern Conference futures bets at William Hill, which is tops in both categories.
That includes one New Jersey bettor who put $20,000 on Nets +150, another $10,000 on Nets +140 a couple days after and $28,181 more on Nets at even-money odds a few weeks later. If the Nets were to win their first Eastern Conference Finals since the 2002-03 season, that bettor would nab a total payout of $130,362.
Meanwhile, the 76ers rank second in both total number of tickets (15%) and total dollars wagered (11%). That is highlighted by one Nevada bettor who laid $10,000 on 76ers +550 for a total potential payout of $65,000.
For total number of tickets, four other teams have received a double-digit percentage—the Heat (13%), Bucks (13%), Knicks (12%) and Celtics (10%). The Heat are third in total dollars wagered at 6%, with the Bucks (5%) and Celtics (4%) rounding out the top 5.
There are also a couple bettors who have noteworthy Eastern Conference futures on tonight's play-in game participants. A Nevada bettor placed $500 on Wizards 250/1 and another $500 on Wizards 200/1 for a total potential payout of $226,500. Another Nevada bettor staked $3,000 on Pacers 35/1 for a total potential payout of $108,000.
Check out William Hill's latest odds and trends for Eastern Conference futures below.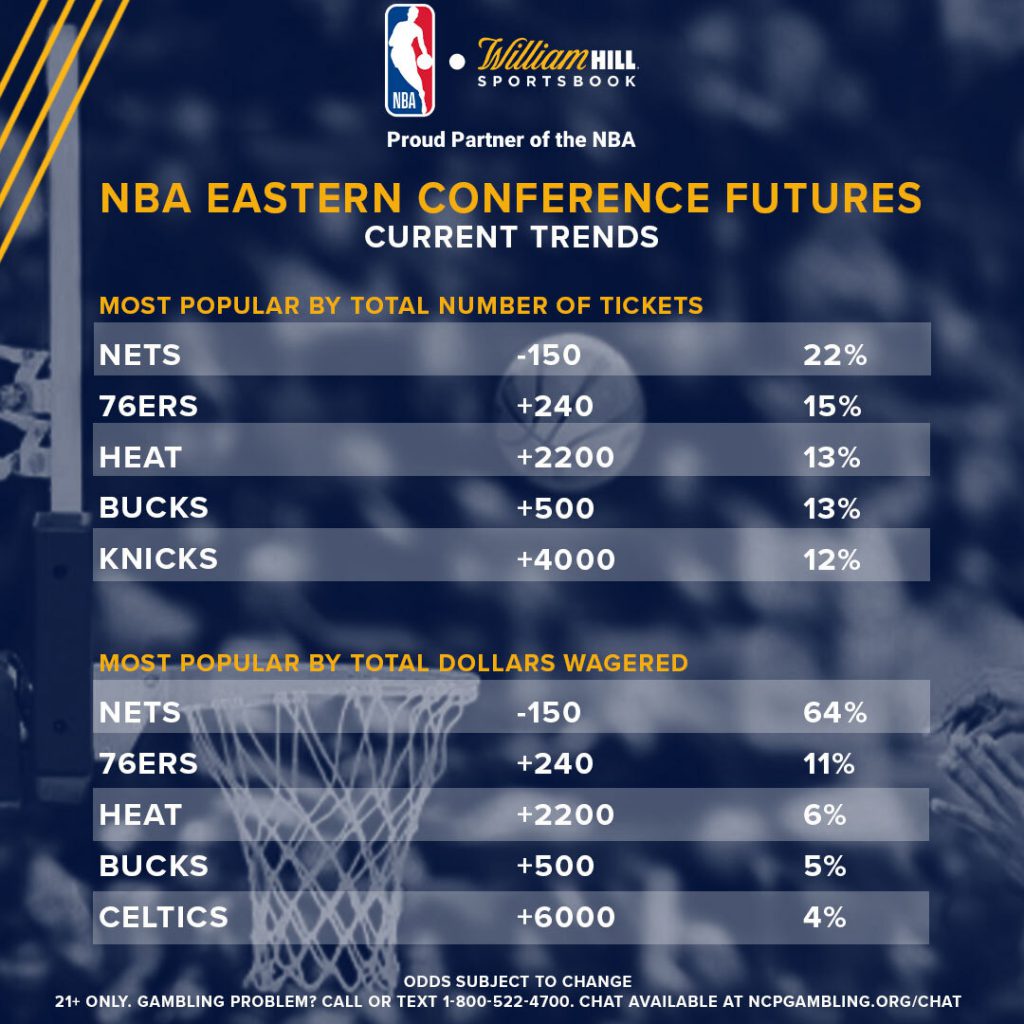 | | |
| --- | --- |
| TEAM TO WIN 2020-21 EASTERN CONFERENCE @WILLIAMHILLNV | CURRENT ODDS (5/20/21) |
| BROOKLYN NETS | -150 |
| PHILADELPHIA 76ERS | +240 |
| MILWAUKEE BUCKS | +500 |
| ATLANTA HAWKS | +1500 |
| MIAMI HEAT | +2200 |
| NEW YORK KNICKS | +4000 |
| BOSTON CELTICS | +6000 |
| WASHINGTON WIZARDS | +10000 |
| INDIANA PACERS | +15000 |