The 101st NFL season is upon us, as the season opener is set for tomorrow.
The defending Super Bowl champion Chiefs will host the Texans in a rematch of this past postseason's divisional round. Houston raced to a 24-0 lead in the second quarter, however Kansas City dropped the hammer from there and emerged comfortably with a 51-31 victory.
"By the time this game kicks off tomorrow, it'll be a huge handle," said Nick Bogdanovich, Director of Trading for William Hill. "It's a great matchup, and since there was no preseason, there's a lot of anticipation for this game. This game has a shot to be our biggest NFL season opener ever."
The Chiefs are currently 9-point chalk at William Hill this time around, and are -440 on the moneyline. Kansas City is the biggest favorite of any team for all the Week 1 games. On the other side, Houston's moneyline is +360, but it's come down from the original number.
"When we opened this game, Chiefs were double-digit favorites," Bogdanovich said. "But that was months ago, and without fans, home field isn't worth as much. So the number going from 10.5 to 9 was more about anticipation versus how people have been betting it."
Yet, William Hill bettors have still been siding with Kansas City.
The Chiefs have drawn 62% of the total number of tickets and 61% of the total dollars wagered for all spread bets in this game. For moneyline, Kansas City has gotten 67% of the total number of tickets and 79% of the total dollars wagered.
The total for this matchup has also featured some movement.
After reaching as high as 56.5, it's currently sitting at 54.5. While the over has generated 52% of the total number of tickets, the under actually has the advantage in total dollars wagered at 67%. That includes one Nevada bettor placing $12,000 on Chiefs/Texans under 54 points for a total potential payout of $22,909.10, which is the largest wager taken thus far by William Hill for Thursday night's showdown.
"We're a little high on the under, but come game time, we'll be rooting for the under," Bogdanovich said. "There's a zillion teasers and moneyline parlays on the Chiefs, which is standard operating procedure for any 9-point NFL favorite, regardless if they're the Super Bowl champs."
Check out William Hill's latest odds and trends for Chiefs vs. Texans below.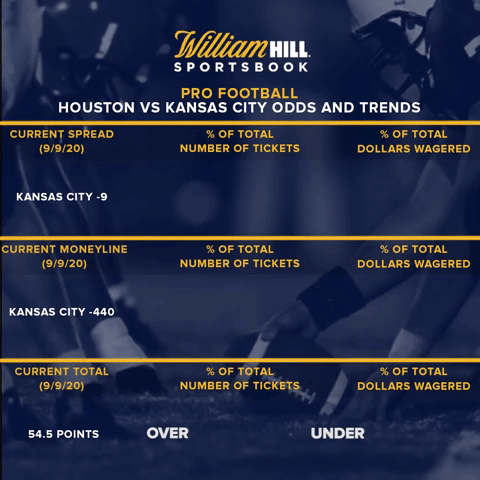 Bet NFL with William Hill, America's #1 sportsbook.