Major League Baseball is ready to play ball.
The MLB Players Association has agreed to play a 60-game season, with Opening Day slated for either July 23 or July 24.
The 60 games for every club will consist of 10 games apiece against divisional opponents and four games against each team in the opposite league's geographical equivalent. For instance, the Yankees would play 10 games against the AL East's Red Sox, Rays, Blue Jays and Orioles along with four games against the NL East's Mets, Nationals, Braves, Phillies and Marlins.
Other rule changes include a universal designated hitter, each team starting with 30-player rosters and a baserunner being placed on second base in every top and bottom of the frame in extra innings.
With an MLB season now in the cards, William Hill has put back up its 2020 World Series futures.
The Dodgers are 13/4 favorites at William Hill to win it all, with the Yankees just behind them at 7/2 odds. Los Angeles has not won a Fall Classic since 1988, however the Dodgers have big aspirations after its offseason acquisition of superstar Mookie Betts.
The Astros are next at 12/1, followed by the Twins and Athletics at 16/1 apiece. The defending champion Nationals are tied for the seventh-lowest odds at 18/1 with the Mets and Angels.
Three teams are grouped together as the biggest longshots on the board, as the Orioles, Tigers and Marlins all sit at 500/1.
The 2020 World Series future with the biggest potential payout thus far at William Hill is on the Royals, who are currently 300/1. A Nevada bettor placed $200 back when Kansas City was priced at 750/1. If the Royals were to win their second Fall Classic in six years, the total payout would be $150,200.
Other notable futures include a couple on Bay Area teams. One Nevada bettor put down $1,000 on the Giants at 125/1 for a $126,000 potential total payout, while another Nevada bettor placed $2,500 on the Athletics at 25/1 for a $65,000 potential total payout.
Check out William Hill's re-released 2020 World Series futures for all 30 MLB teams below, which are available to bet in Nevada, New Jersey and Iowa.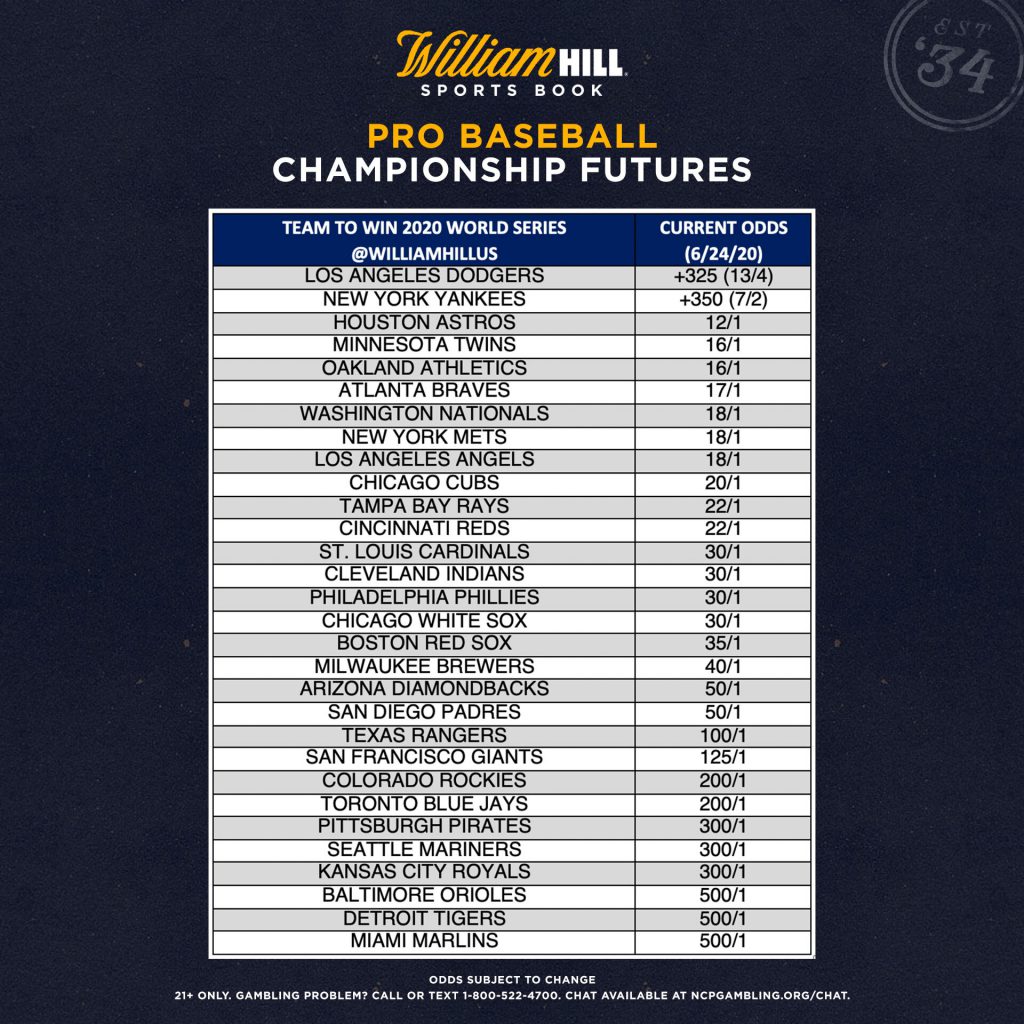 Bet baseball with William Hill, America's #1 sportsbook.