Whether it's several top-25 showdowns or some of the biggest rivalries in the sport, Week 6 of the college football season offers a very exciting slate.
One major opponent for several teams, though, will be Mother Nature. With Hurricane Delta expected to hit the Gulf Coast tonight, several teams will be impacted by the weather on Saturday.
"The hurricane is definitely going to affect the totals wherever there's that type of wind or rain," said Nick Bogdanovich, Director of Trading for William Hill US. "Alabama-Mississippi total was at 71.5 and now it's down to 68. Teams that are staying in that region and are attempting to play, the total will come down on all those games. And potentially if it's a big-enough point spread, it'll trickle down too."
One matchup that already moved locations is No. 17 LSU vs. Missouri. LSU was favored by 20.5 before it was announced that the game will take place in Columbia versus Baton Rouge. Now that line resides at LSU -14.5.
"Death Valley is a monster for LSU," Bogdanovich said. "Even without fans, just to get it out of there was worth something. Now instead of prepping one day, they're traveling one day. The line change there was just a guess, but it had to be somewhere starting in the 4-to-5 point range."
The marquee matchup of the week has also had some line movement. No. 7 Miami opened as a 15.5-point road underdog to No. 1 Clemson, however the Hurricanes are now +14. So how are William Hill bettors approaching this showdown?
"This will be the biggest bet college game this week," Bogdanovich said. "I think we'll end up needing Miami, just a matter of how much. It won't be as big a decision just because Clemson is 0-3 against the spread and Miami has looked real good, but we'll still need Miami.
"This will be the shortest number they'll be able to lay on Clemson in conference play in a long time. Normally their spreads for regular season games are closer to four touchdowns. When push comes to shove and people see that they can lay 13.5 or 14 with Clemson, they'll do it."
Among all spread bets in this game, Miami has received 56% of the total number of tickets. Meanwhile, Clemson has brought in 69% of the total dollars wagered. That is highlighted by one Nevada bettor who placed a $50,000 wager on Clemson -14 (-110) for a total potential payout of $95,454.55, which is tied for the largest college football bet this weekend at William Hill as of now.

Two other $50,000 wagers have come in for college football's Week 6 slate as well, one on No. 21 Texas A&M +7 (-110) vs. No. 4 Florida and another on Oklahoma -125 moneyline vs. No. 22 Texas.
Two other underdogs that are getting noteworthy action are No. 19 Virginia Tech against No. 8 North Carolina and Arkansas against No. 13 Auburn.
After opening at +5.5, the Hokies are now 4-point road underdogs in Chapel Hill. There's been even bigger line movement on the Razorbacks, as Arkansas has gone from opening at +16.5 to its current number of +13.5. These are the only two underdogs playing in top-25 games that are attracting the majority of both the total number of tickets and total dollars wagered. Virginia Tech has captured 68% of the total number of tickets and 87% of the total dollars wagered, while Arkansas has reeled in 53% and 86% in the two respective categories.
Check out William Hill's latest odds and trends below for every Week 6 college football game involving a top-25 team.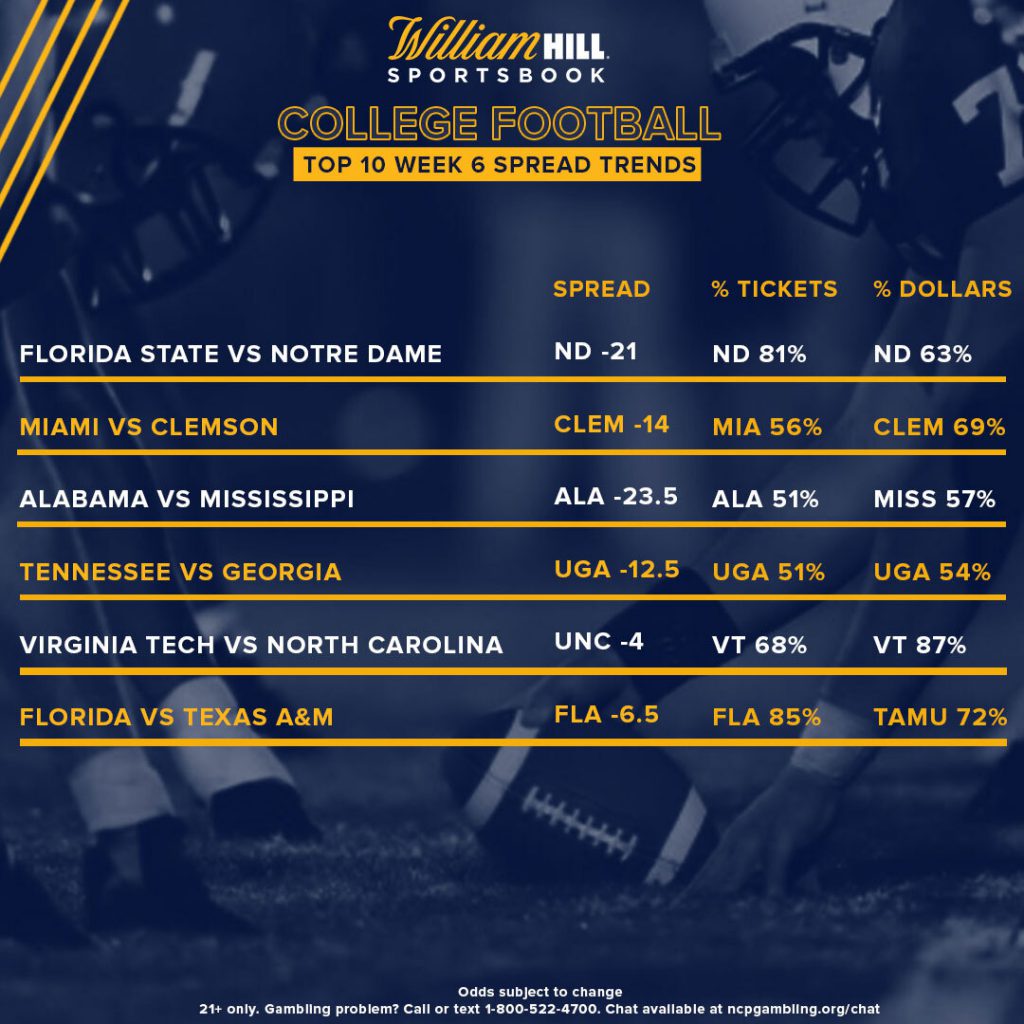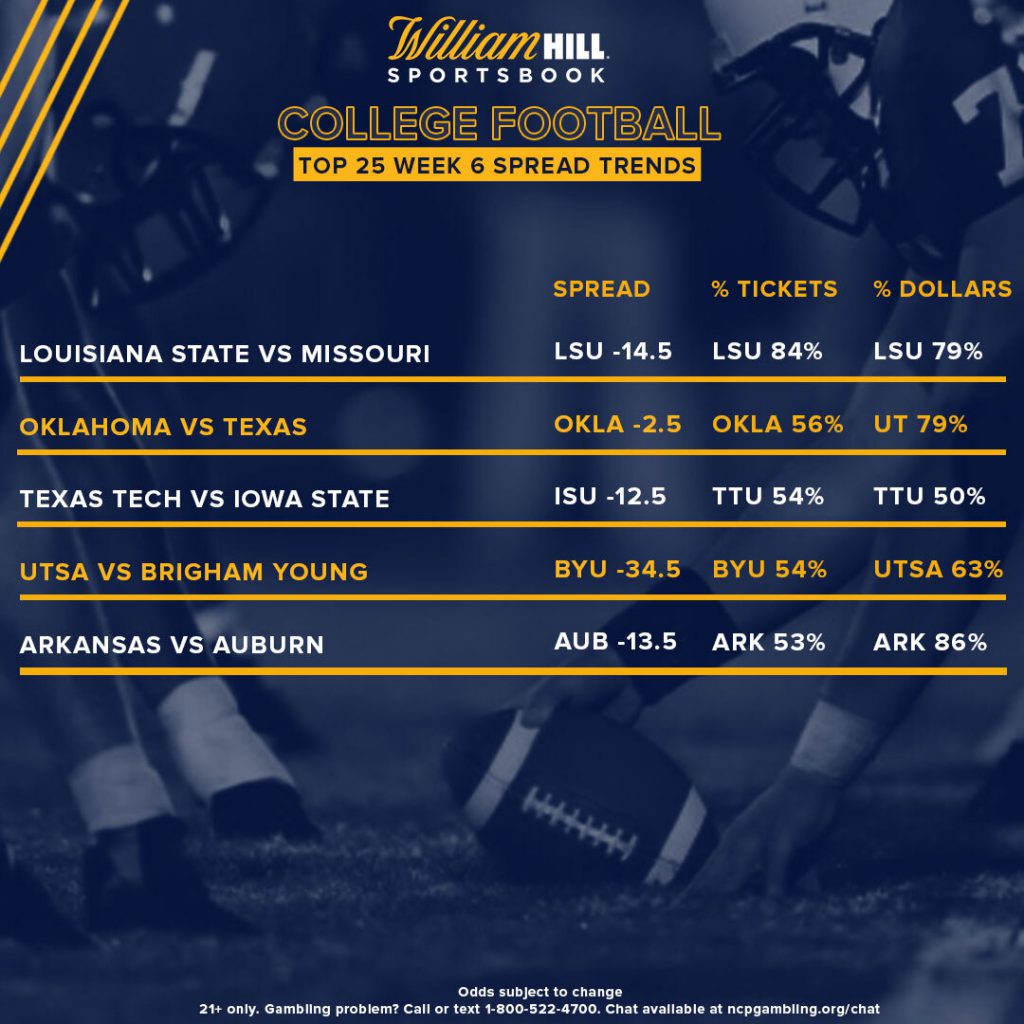 Bet college football with William Hill, America's #1 sportsbook.