There may not be a more important Bundesliga match than today's showdown between Bayern Munich and Borussia Dortmund. The latest edition of "Der Klassiker" has Borussia Dortmund trailing Bayern Munich by four points in the standings with just seven games remaining.
But before taking a look at William Hill's odds for Bayern Munich-Borussia Dortmund and the eight other league games over the next couple of days, let's recap the last week of Bundesliga, check the current standings and highlight the biggest recent Bundesliga betting win at William Hill.
RECENT RESULTS AND PRIME PLAYER PERFORMANCES
Borussia Monchengladbach 1, Bayer Leverkusen 3
Kai Havertz led off the match's scoring with a goal in the seventh minute, and added another one on a penalty kick in the 58th minute.
VfL Wolfsburg 0, Borussia Dortmund 2
Raphael Guerreiro picked up his third goal in two matches, while Achraf Hakimi put the match out of reach after scoring in the 78th minute.
Bayern Munich 5, Eintracht Frankfurt 2
Bundesliga goals leader Robert Lewandowski added another to his tally in the 46th minute, while Thomas Muller had a goal and an assist.
Mainz 0, RB Leipzig 5
Coming off a disappointing draw against SC Freiburg, RB Leipzig responded with five goals in this match, including a hat trick from Timo Werner.
FC Koln 2, Fortuna Dusseldorf 2
FC Koln blew a 2-0 lead in the prior game, and this time it was their turn to rally from a two-goal deficit. Anthony Modeste put FC Koln on the board in the 88th minute, followed by the equalizer from Jhon Cordoba in the 91st minute.
Hertha Berlin 4, FC Union Berlin 0
SC Freiburg 0, Werder Bremen 1
SC Paderborn 07 1, TSG Hoffenheim 1
Schalke 04 0, FC Augsburg 3
CURRENT STANDINGS
1. Bayern Munich (61 points)
2. Borussia Dortmund (57)
3. RB Leipzig (54)
4. Bayer Leverkusen (53)
5. Borussia Monchengladbach (52)
6. VfL Wolfsburg (39)
7. SC Freiburg (37)
8. Schalke 04 (37)
9. TSG Hoffenheim (36)
10. FC Koln (34)
11. Hertha Berlin (34)
12. FC Augsburg (30)
13. FC Union Berlin (30)
14. Eintracht Frankfurt (28)
15. Mainz (27)
16. Fortuna Dusseldorf (24)
17. Werder Bremen (21)
18. SC Paderborn 07 (18)
WILLIAM HILL BIG BUNDESLIGA WINNER OF THE WEEK
One Iowa bettor placed $33,767.95 on RB Leipzig -1.5 (-140) to collect a total payout of $57,887.90.
WILLIAM HILL ODDS FOR UPCOMING BUNDESLIGA MATCHES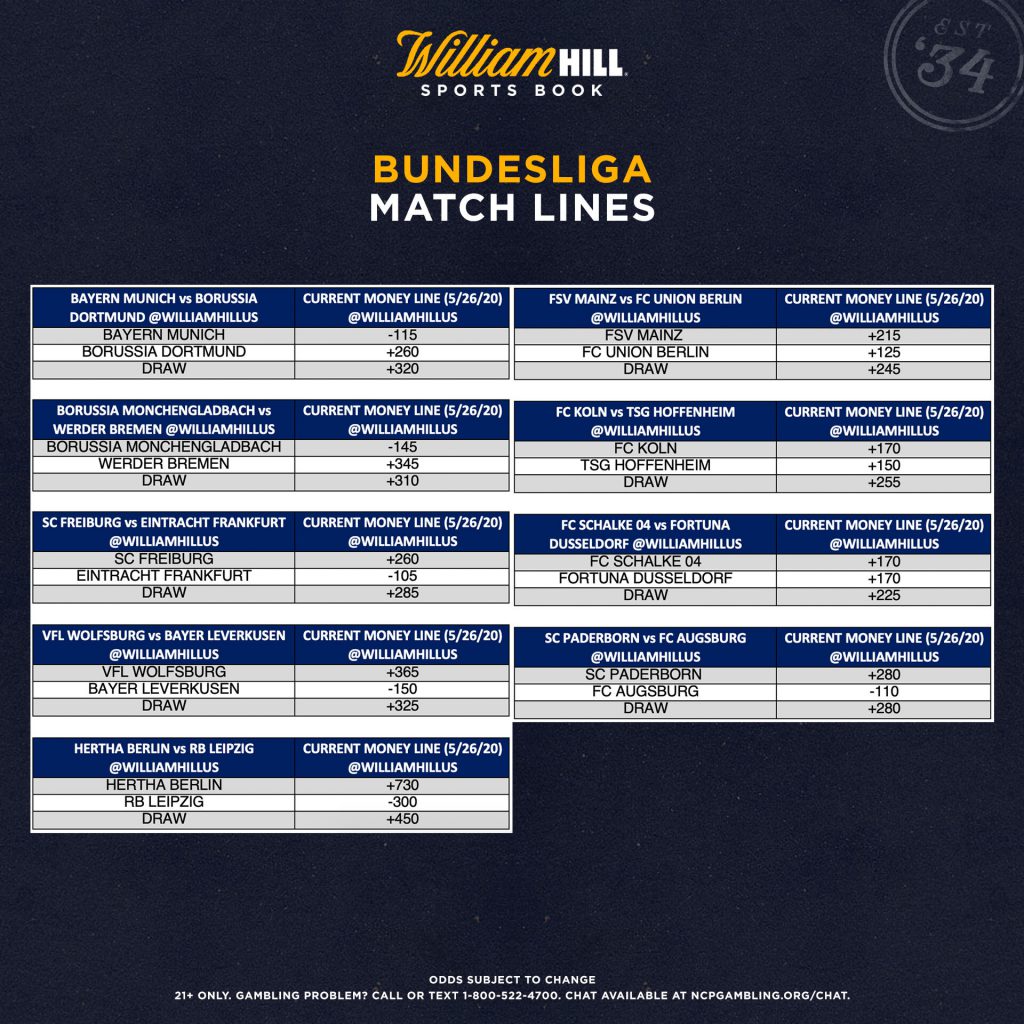 Bet soccer with William Hill, America's #1 sportsbook.