Just 70 golfers remain in the FedEx Cup Playoffs, with a FedEx Cup title and $15 million prize on the line in next week's Tour Championship. Starting tomorrow, however, they'll be fighting for those coveted 30 bids at the BMW Championship.
After a dominant showing in the first leg of the three-part FedEx Cup Playoffs last week, Dustin Johnson is the 8/1 favorite this time around for the BMW Championship. Jon Rahm and Bryson DeChambeau are right behind him at 9/1 and 10/1 respectively.
Johnson went 30-under par in the Northern Trust, his first competition since a second-place finish at the PGA Championship earlier this month. Last week's effort vaulted him into first place in the FedEx Cup standings, as he's edging Justin Thomas by 92 points.
"Dustin's just trending well, he beat the field by 11 shots last week," said Nick Bogdanovich, Director of Trading for William Hill US. "So recent performance made him the favorite here. It's switches weekly out there though, if someone gets a hot putter or figures something out on the range, then watch out."
Johnson has captured 4% of the total number of tickets and 9% of the total dollars wagered at William Hill to win the 2020 BMW Championship, including one Nevada bettor who put down $1,000 on Johnson 8/1 for a total potential payout of $9,000.
Johnson is one of three golfers to rank inside the top 5 in both total number of tickets and total dollars wagered for this upcoming tournament, with Daniel Berger (18/1) and Collin Morikawa (18/1) also in that group.
"Berger's playing lights out," Bogdanovich said. "I don't know if anyone on the tour is playing better. His form is just insane right now. He's had four top-3 finishes in his past six tournaments. He's gotten a lot of love since we opened him at 22/1, he's got the most tickets by a good margin."
Berger leads the way with 8% of the total number of tickets, followed by Collin Morikawa (18/1) and Justin Thomas (12/1) at 5% apiece. Meanwhile, DeChambeau is tops in total dollars wagered at 12%, highlighted by another Nevada bettor putting $2,000 on him at 12/1 for a total potential payout of $26,000.
One notable golfer who hasn't been generating as much action as usual is Tiger Woods. He is tied with Harris English, Viktor Hovland and Hideki Matsuyama for the 14th-lowest odds at 35/1 to win the BMW Championship. Woods has gotten just 3% of both the total number of tickets and total dollars wagered thus far.
"Not a lot of people are rushing to the window to bet Tiger," Bogdanovich said. "I think it'll take a really low round from him to get the juices flowing again. I think people have shied away from him a bit because he hasn't played that much and there's worries about his health."

Check out William Hill's latest 2020 BMW Championship trends below.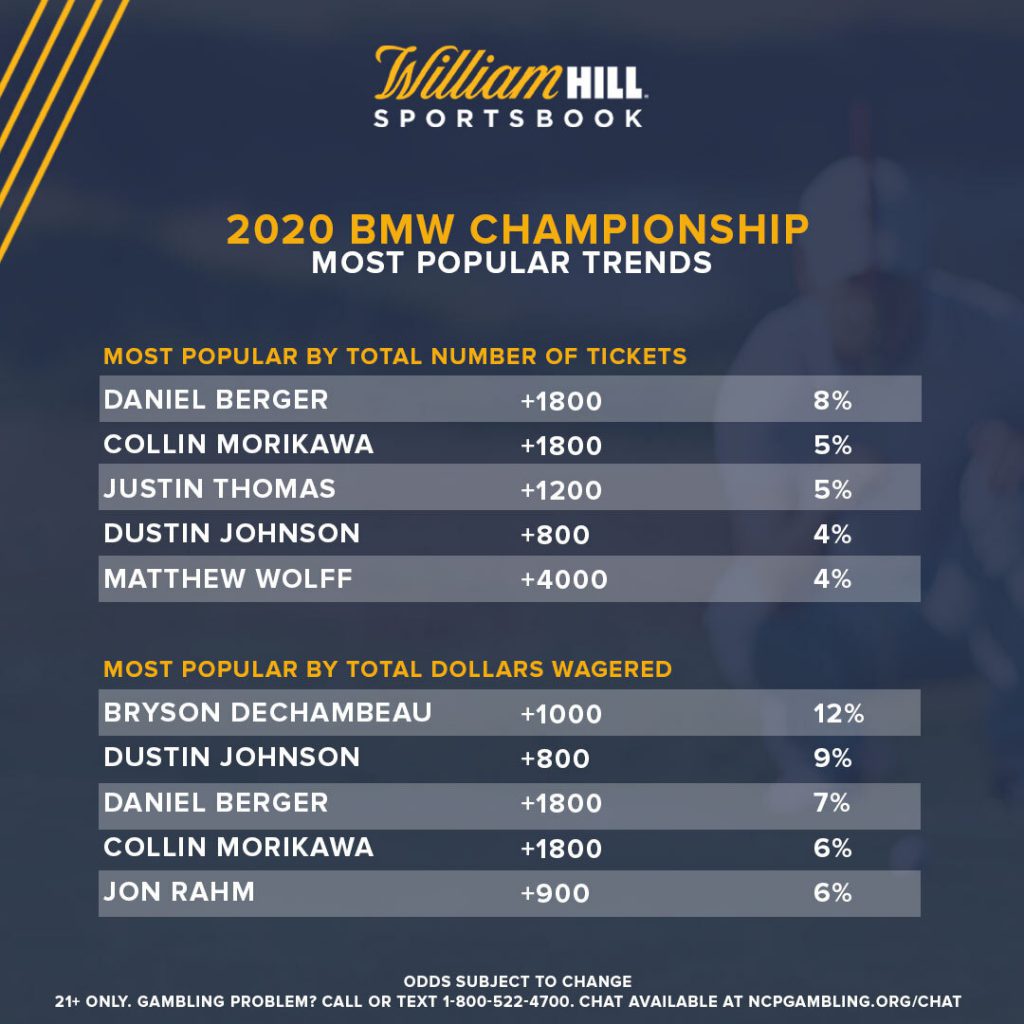 Bet golf with William Hill, America's #1 sportsbook.