Bet college football with William Hill, America's #1 sportsbook.
Alabama earned its place on top of the college football world once again last night, as the Crimson Tide rolled to a 52-24 victory over Ohio State to capture another national championship.
Alabama also finds itself atop the board for William Hill's recently posted 2022 college football national championship futures.
The Crimson Tide lead the way at +300, followed by fellow 2021 College Football Playoff participants Clemson at +400 and Ohio State at +700. Oklahoma (+750) and Georgia (10/1) round out the five teams with the lowest odds to win it all next season.
There's a gap between that group and the next tier, as Texas A&M and Iowa State are tied for the sixth-lowest odds at 22/1 apiece. Notre Dame, who Alabama beat in this year's CFP semifinals, is next at 25/1 along with Florida. Texas (28/1), USC (30/1) and 2020 national champion LSU (30/1) are all lurking close behind.
Cincinnati has the lowest odds of any Group of 5 team at +4000. Other notable squads with odds lower than 100/1 include Miami (50/1), Oregon (50/1), Iowa (60/1), Penn State (75/1) and Wisconsin (75/1).
One team that stands out with how high its odds are is Michigan. The Wolverines are at 125/1 after recently giving an extension to their head coach Jim Harbaugh. Six Big Ten teams have lower national title odds than Michigan, including Northwestern at 100/1.
The biggest national title long shots for each of the Power Five conferences are Kansas (2000/1), Vanderbilt (1000/1), Syracuse (1000/1), California (750/1) and Purdue/Illinois/Rutgers (500/1).
There are also seven teams listed at 9999/1, the highest odds on the board: Old Dominion, Akron, Bowling Green, UConn, New Mexico State, Louisiana-Monroe and UMass.
Check out every team's odds for William Hill's 2022 college football national championship futures below.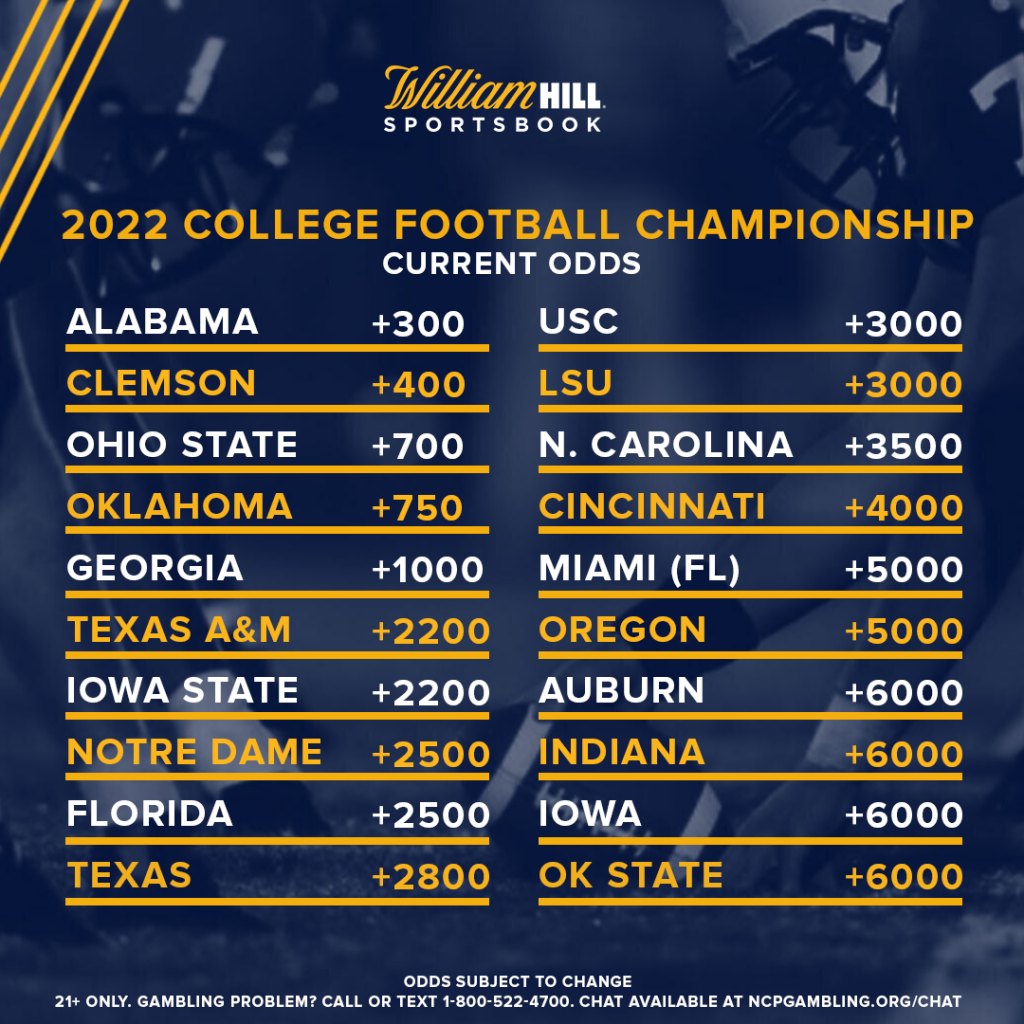 Wisconsin 75/1
Penn State 75/1
Arizona State 100/1
Northwestern 100/1
Michigan 125/1
Washington 125/1
West Virginia 150/1
TCU 150/1
Utah 150/1
Mississippi 150/1
Nebraska 150/1
Stanford 200/1
Virginia Tech 200/1
Coastal Carolina 200/1
Florida State 200/1
UCLA 200/1
BYU 200/1
Kentucky 200/1
Missouri 200/1
Central Florida 200/1
Boise State 250/1
North Carolina State 250/1
Minnesota 250/1
Kansas State 250/1
Pittsburgh 250/1
Tennessee 250/1
Memphis 250/1
Texas Tech 250/1
Virginia 250/1
Arkansas 300/1
Baylor 300/1
Liberty 300/1
Louisiana Lafayette 300/1
Boston College 300/1
Colorado 300/1
Michigan State 300/1
Tulsa 300/1
Maryland 300/1
Mississippi State 300/1
Louisville 300/1
South Carolina 300/1
Georgia Tech 500/1
UAB 500/1
Wake Forest 500/1
San Jose State 500/1
Purdue 500/1
Oregon State 500/1
Buffalo 500/1
San Diego State 500/1
SMU 500/1
Houston 500/1
Illinois 500/1
Washington State 500/1
Army 500/1
Ball State 500/1
Arizona 500/1
Rutgers 500/1
Marshall 500/1
California 750/1
Nevada 750/1
Duke 750/1
Syracuse 1000/1
UTSA 1000/1
Appalachian State 1000/1
Hawaii 1000/1
Western Kentucky 1000/1
Vanderbilt 1000/1
Air Force 1000/1
Louisiana Tech 1000/1
Navy 1000/1
Florida Atlantic 1000/1
East Carolina 1000/1
Tulane 1500/1
Georgia Southern 2000/1
Utah State 2000/1
Kansas 2000/1
Wyoming 2000/1
Fresno State 2500/1
Georgia State 2500/1
South Florida 2000/1
UNLV 2000/1
Temple 2000/1
Western Michigan 2500/1
North Texas 2500/1
Colorado State 2500/1
Toledo 2500/1
Kent State 5000/1
Charlotte 5000/1
Eastern Michigan 5000/1
Arkansas State 5000/1
Rice 5000/1
Ohio 5000/1
New Mexico 5000/1
Troy 5000/1
Middle Tennessee 5000/1
Texas State 5000/1
Southern Mississippi 5000/1
Central Michigan 5000/1
Florida International 5000/1
Miami Ohio 5000/1
South Alabama 5000/1
UTEP 5000/1
Northern Illinois 5000/1
Old Dominion 9999/1
Akron 9999/1
Bowling Green 9999/1
UConn 9999/1
New Mexico State 9999/1
Louisiana-Monroe 9999/1
Massachusetts 9999/1