Bet NHL with William Hill, America's #1 sportsbook.
A new NHL season starts next Wednesday, as five marquee matchups hit the ice to get the 2021 campaign underway.
The Lightning defeated the Stars in six games to win it all this past September after Tampa Bay opened as the +500 Stanley Cup favorite at William Hill back on June 16, 2020.
For the 2021 Stanley Cup, the Golden Knights and Avalanche were originally listed as the +600 co-favorites, followed by the Lightning at +650. Do William Hill bettors think the favorite can lift the trophy two years in a row, or are there any long shots that have caught their attention?
Let's start with some notable moves on William Hill's futures odds. The Golden Knights and Avalanche are still atop the board, but their prices have each dropped to +550. Meanwhile, the Lightning still remain at +650.
There is a new team with the fourth-lowest odds, though. After starting with tied with the Islanders for the seventh-lowest odds at 20/1, the Maple Leafs have gone down to 11/1. Two other Eastern Conference squads are next with the Bruins at 14/1 and the Flyers at 16/1.
Two recent Stanley Cup champions, the Capitals and Blues, have both swung from 22/1 to 18/1, joining the Stars at those current odds. Other noticeable shifts include the Penguins (28/1 to 20/1), Canadiens (50/1 to 28/1), Coyotes (50/1 to 75/1) and Blackhawks (60/1 to 100/1).
Regarding the most popular Stanley Cup futures wagers thus far at William Hill, the favorites have attracted the highest bet count. The Golden Knights are tops with 11% of the total number of tickets, with the Avalanche lurking at 8%.
Then, a couple of surprises follow, with the Blues and the Red Wings (250/1) each generating 6%. The Red Wings have the longest odds of any team to win the 2021 Stanley Cup, as the closest team to them at the bottom is the Senators at 150/1.
For total dollars wagered, the Maple Leafs are out in front at 13%. That is highlighted by one New Jersey bettor placing $5,000 on Maple Leafs 17/1 for a total potential payout of $90,000, which is the largest 2021 Stanley Cup futures wager as of now at William Hill.
The Avalanche rank second in this category as well at 10%, with the Golden Knights right behind at 8%. The Capitals (7%) and Penguins (6%) round out the top five for total dollars wagered.
William Hill has several other NHL markets available, including the player with the most regular season goals, Vezina Trophy (best goaltender) and Hart Memorial Trophy (MVP). The respective favorites in each are Maple Leafs center Auston Matthews at +500, Lightning goalie Andrei Vasilevskiy at +700 and Oilers superstar Connor McDavid at +450.
---
Check out William Hill's latest 2021 Stanley Cup odds and trends below.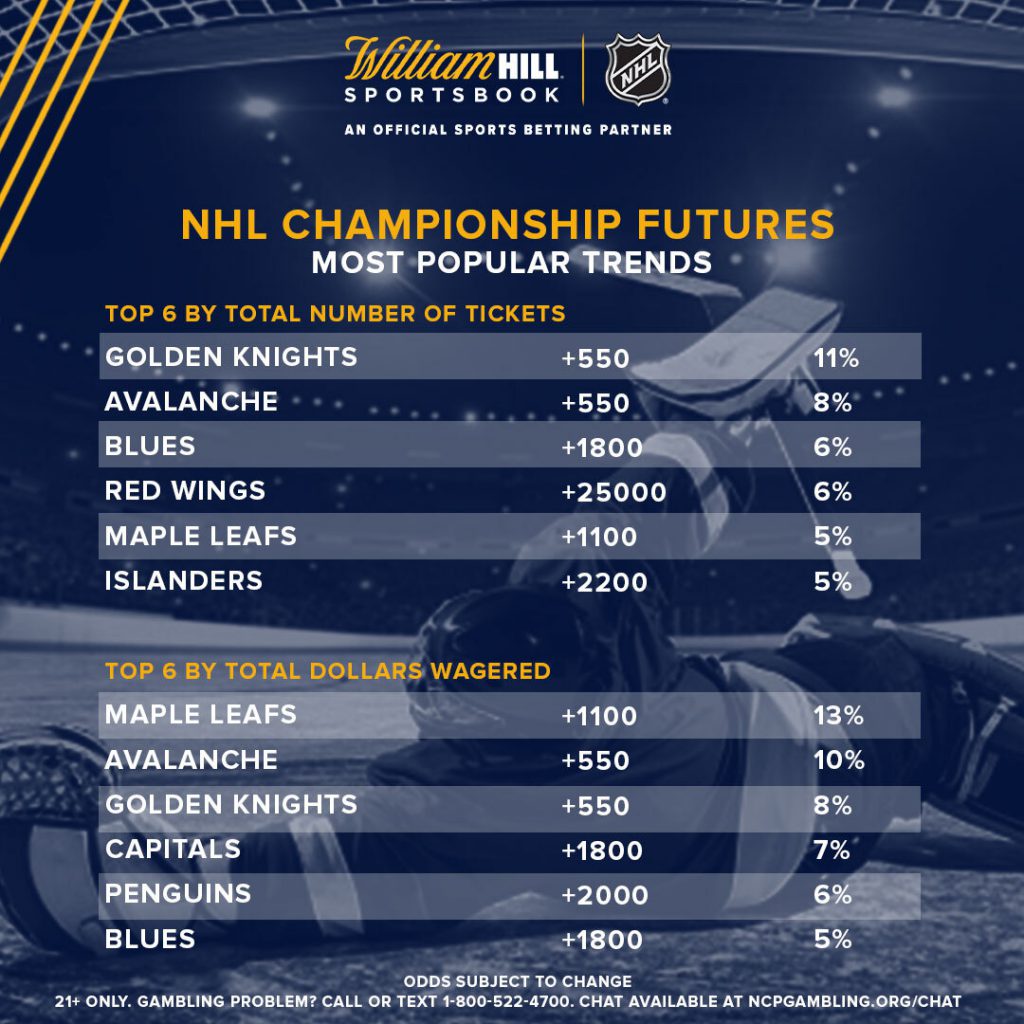 | | |
| --- | --- |
| ODDS TO WIN 2021 STANLEY CUP @WILLIAMHILLUS | CURRENT ODDS (1/5/21) |
| VEGAS GOLDEN KNIGHTS | 11/2 |
| COLORADO AVALANCHE | 11/2 |
| TAMPA BAY LIGHTNING | 13/2 |
| TORONTO MAPLE LEAFS | 11/1 |
| BOSTON BRUINS | 14/1 |
| PHILADELPHIA FLYERS | 16/1 |
| WASHINGTON CAPITALS | 18/1 |
| ST. LOUIS BLUES | 18/1 |
| DALLAS STARS | 18/1 |
| PITTSBURGH PENGUINS | 20/1 |
| NEW YORK ISLANDERS | 22/1 |
| NEW YORK RANGERS | 22/1 |
| CAROLINA HURRICANES | 22/1 |
| MONTREAL CANADIENS | 28/1 |
| VANCOUVER CANUCKS | 30/1 |
| EDMONTON OILERS | 30/1 |
| CALGARY FLAMES | 40/1 |
| NASHVILLE PREDATORS | 40/1 |
| COLUMBUS BLUE JACKETS | 50/1 |
| SAN JOSE SHARKS | 50/1 |
| WINNIPEG JETS | 60/1 |
| MINNESOTA WILD | 60/1 |
| ARIZONA COYOTES | 75/1 |
| FLORIDA PANTHERS | 75/1 |
| NEW JERSEY DEVILS | 75/1 |
| BUFFALO SABRES | 75/1 |
| CHICAGO BLACKHAWKS | 100/1 |
| ANAHEIM DUCKS | 100/1 |
| LOS ANGELES KINGS | 100/1 |
| OTTAWA SENATORS | 150/1 |
| DETROIT RED WINGS | 250/1 |