Bet horse racing with William Hill, America's #1 sportsbook.
Saddle up for an exciting weekend ahead, as the 147th running of the Kentucky Derby is tomorrow. The historic race has taken back its rightful place of the first Saturday in May after it got moved to September in 2020 due to COVID-19.
There are 19 horses set to compete at Churchill Downs, with post time set for 6:57 p.m. ET/3:57 p.m. PT on NBC. Headlining the field is Essential Quality, who is currently the +180 favorite at William Hill Nevada.
"Essential Quality is not going to be a 6/5 (+120) or even-money favorite, [that heavy of a favorite] is not going to happen this year," said Paul Bach, bookmaker for William Hill US. "It's not a great field from top to bottom, but there are maybe 10 horses, for sure 5, that can beat Essential Quality."
Known Agenda and Rock Your World are tied for the second-lowest odds at +500 apiece, followed by Hot Rod Charlie at +600. All three of those horses opened as massive long shots before dropping all the way down to their current prices. Known Agenda was first displayed at 125/1, Hot Rod Charlie was 140/1 and Rock Your World was originally listed at 200/1.
"Hot Rod Charlie is the only horse that I'm a loser on in the futures pool," Bach said. "I took some money late on him at 10/1, then 8/1 and 7/1. So now Hot Rod Charlie is 6/1 because of the liability and the late money."
"There's always a hot horse going into the Kentucky Derby. [Hot Rod Charlie] won the Louisiana Derby by two lengths. He kind of found himself on the lead in that race, nobody challenged him. That's not going to happen here, he's not fast enough to lead. Now he's going to have to sit off, and see if he can finish and find room."
Five more horses have odds lower than 20/1: Highly Motivated (12/1), Midnight Bourbon (13/1), Mandaloun (14/1), Medina Spirit (14/1) and Dynamic One (18/1). At the bottom of the board, three horses are tied for the longest odds. Like the King, Hidden Stash and Brooklyn Strong are all at 65/1.
In terms of the most popular bets for the Kentucky Derby, two horses have separated themselves from the rest of the pack. Essential Quality and Hot Rod Charlie are the only competitors to have received a double-digit percentage for total number of tickets and total dollars wagered.
Essential Quality leads in total number of tickets (15%) and total dollars wagered (26%), while Hot Rod Charlie is second in each category at 12% and 15% respectively. The only other horse to rank in the top-5 in both total number of tickets and total dollars wagered is Medina Spirit.
One Nevada bettor placed $5,000 on Essential Quality +400 for a total potential payout of $25,000, the largest 2021 Kentucky Derby wager taken thus far at William Hill. Meanwhile, another Nevada bettor put down $3,000 on Hot Rod Charlie 10/1 for a total potential payout of $33,000.
Besides betting on which horse will win the 2021 Kentucky Derby, William Hill also has released 19 head-to-head matchups for the race. William Hill is the only legal U.S. sportsbook to offer these markets for tomorrow.
"When I start making the matchups, I start with my future book that I had up," Bach said. "Those are my final thoughts and where the money went, so I believe strongly in my numbers. When the track handicapper comes out after the draw with his numbers, I compare them to mine and they're usually fairly close. After that, I'll look at horses that are close in odds, since I think those horses should be matched up because they have similar talent. I also factor in the post position, the jockey, race shape, and then adjust the lines from there."
Two of the matchups feature Essential Quality, who is a -155 favorite against Hot Rod Charlie (+125) and a -170 favorite against Rock Your World (+140). Essential Quality opened as -155 chalk over Rock Your World before jumping to -170.
The biggest shift on a Kentucky Derby matchup thus far was a 25-cent move between Mandaloun and Medina Spirit. Medina Spirit was originally a slight -120 favorite over Mandaloun (-110). Now Mandaloun has the advantage at -135 against Medina Spirit (+105).
Check out William Hill Nevada's latest odds and trends for the 2021 Kentucky Derby below.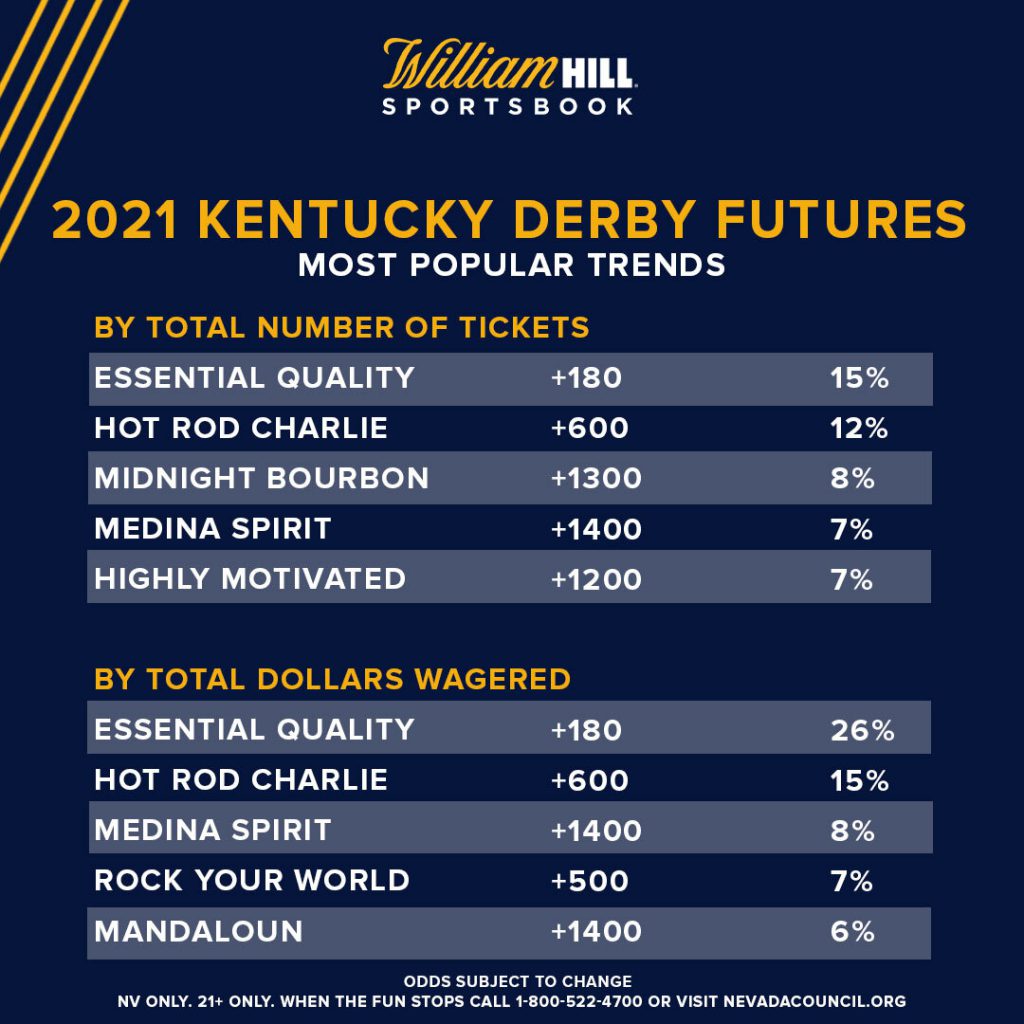 | | |
| --- | --- |
| TO WIN 2021 KENTUCKY DERBY @WILLIAMHILLNV | CURRENT ODDS (4/30/21) |
| ESSENTIAL QUALITY | +180 |
| KNOWN AGENDA | +500 |
| ROCK YOUR WORLD | +500 |
| HOT ROD CHARLIE | +600 |
| HIGHLY MOTIVATED | 12/1 |
| MIDNIGHT BOURBON | 13/1 |
| MANDALOUN | 14/1 |
| MEDINA SPIRIT | 14/1 |
| DYNAMIC ONE | 18/1 |
| O BESOS | 30/1 |
| SOUP AND SANDWICH | 30/1 |
| SUPER STOCK | 32/1 |
| BOURBONIC | 40/1 |
| SAINTHOOD | 55/1 |
| HELIUM | 60/1 |
| KEEPMEINMIND | 60/1 |
| LIKE THE KING | 65/1 |
| HIDDEN STASH | 65/1 |
| BROOKLYN STRONG | 65/1 |