The 25th MLS season is slated to kick off this weekend, and the record-setting Los Angeles FC is the favorite to win the 2020 cup with 7/2 odds.
LAFC finished with the most points and biggest goal differential in MLS history in 2019, yet the team was knocked out of the playoffs by the eventual champion Seattle Sounders in the conference finals. Several bettors believe, however, that LAFC can lock up a championship this time around, as it has drawn 5% of the tickets and 9% of the dollars wagered.
Among the other clubs near the top of the board, the aforementioned Sounders are tied for the second-lowest odds at 11/2 with Atlanta United. New York City FC follows at 6/1. Many people think a Seattle repeat is a strong possibility, as the Sounders have attracted 9% of the tickets and 15% of the dollars wagered—the latter of which is tied for the highest percentage of any MLS team.
The other two squads to haul in 15% of the dollars wagered are the Colorado Rapids (60/1) and Inter Miami FC (40/1). While the Rapids have gotten just 2% of the tickets, one bettor has a potential $50,000 payout on the line after grabbing Colorado at 100/1.
Even though Inter Miami is an expansion team, that hasn't deterred the public from betting on a title in the David Beckham-owned club's inaugural season. After opening at 300/1, Inter Miami has drawn the highest percentage of tickets (17%) of any MLS team, a reason behind the drop to its current number at 40/1.
After signing Mexican national team star Javier "Chicharito" Hernandez in one of the biggest acquisitions in MLS history, the Los Angeles Galaxy have also been a popular wager. The Galaxy are only behind Inter Miami in terms of percentage of tickets (15%) and are tied for fourth with Sporting KC for highest percentage of dollars wagered (11%).
Check out every team's odds to win the 2020 MLS Cup below.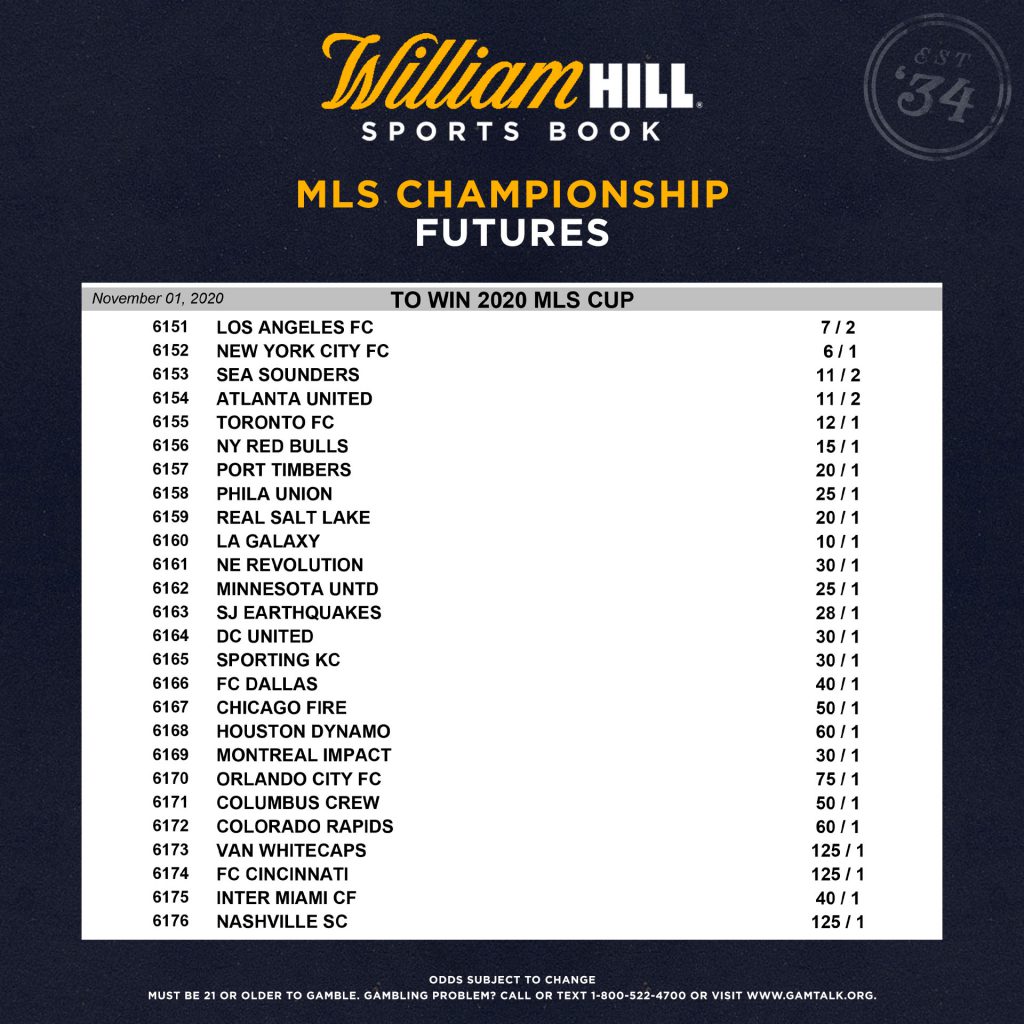 Bet MLS with William Hill, America's #1 sportsbook.