A massive $15 million prize is on the line at the Tour Championship, as the final leg of the FedEx Cup Playoffs tees off Friday.
Thirty golfers will be competing for the 2020 FedEx Cup championship, and the handsome reward that comes with it, at East Lake Golf Club in Atlanta, Georgia.
While the 2019-20 PGA Tour season is set to conclude this weekend, it certainly made its mark on William Hill bettors.
"Post-COVID, PGA Tour action has been phenomenal," said Nick Bogdanovich, Director of Trading for William Hill US. "That month where golf was basically on the stage almost by itself, the average tournament handle had a huge increase from what it was earlier in the year.
"And during that time, it really captured new bettors. Once people start betting it, they realize it's one of the best sports to watch on TV. It's a great sweat."
The Tour Championship has a unique system in which players are given a starting handicapped score based on their current position in the FedEx Cup standings. Top-ranked Dustin Johnson will begin at 10-under par, No. 2-ranked Jon Rahm starts at 8-under par, No. 3-ranked Justin Thomas is at 7-under par and so on.
Not surprisingly, Johnson is the +175 favorite at William Hill to win the 2020 FedEx Cup championship, followed by Rahm at +250 and Thomas at +550. Johnson had a sensational performance in the first event of the FedEx Cup Playoffs, finishing 30-under par at the Northern Trust. Last week, Rahm edged Johnson in a thrilling playoff at the BMW Championship.
"There's like eight or nine guys who can win it, just because of how hard it is to make up that many shots on such a quality golfer," Bogdanovich said. "Because of the smaller field and the unique format, the futures market has been pretty quiet thus far. However, the tournament matchups have been getting nice action and I think InPlay will do well too."
When it comes to the most popular futures bets for the 2020 FedEx Cup championship, a few longer shots have attracted notable attention.
Collin Morikawa (20/1) leads the way with 11% of the total number of tickets, with Rory McIlroy (22/1) and Thomas next at 8% each. Thomas is tops in total dollars wagered at 21%, with Webb Simpson (9/1) ranking second at 17%. Rahm at 14% and Tony Finau (30/1) at 12% are lurking nearby as well.
The largest FedEx Cup championship futures bet taken at William Hill thus far has come in on Simpson. A Nevada bettor placed $2,000 on Simpson back when he was priced at 12/1 for a total potential payout of $26,000.
Additionally, Bogdanovich noted that two head-to-head tournament bets that were receiving significant attention: Xander Schauffele (-120) over McIlroy (EVEN) and Brendon Todd (+140) over Patrick Reed (-160).
Check out William Hill's latest trends for the 2020 FedEx Cup championship below.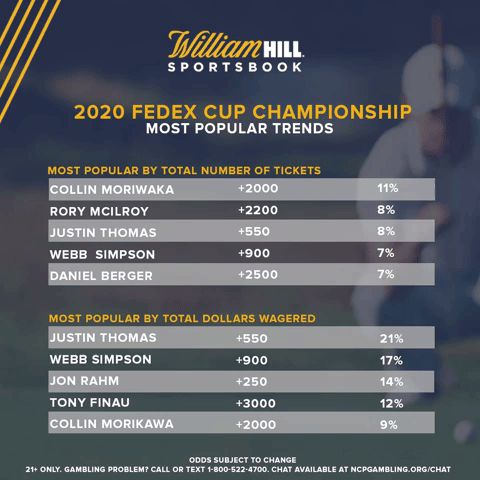 Bet golf with William Hill, America's #1 sportsbook.