Just a couple teams playing in the first week of conference tournaments already know their NCAA tournament future, meaning there's plenty more that have everything on the line this week. Starting this Tuesday, there will be several battles for each conference's automatic bid and an opportunity to be this year's Cinderella. 
Whether it's a favorite who won its regular-season title or a longshot that emerges completely out of the blue, William Hill has released odds for every team in 12 conferences to win their respective tournament.
Among the teams eyeing a No. 1 seed in the Big Dance, Gonzaga opened at -300 chalk to win the West Coast conference tournament while San Diego State is -180 for the Mountain West.
BYU upset Gonzaga less than two weeks ago, and has the second-lowest odds to win the WCC tournament at 11/5. St. Mary's stunned the Bulldogs in last year's WCC tournament final, and is listed at 11/2 to nab the repeat.
San Diego State suffered its first loss of the season on Feb. 22 at the hands of UNLV, and the Runnin' Rebels are 7/1 to win the Mountain West conference tournament. However, Utah State (3/1) and Nevada (9/1) are also legitimate bid-stealing threats to teams on the bubble.
Neither Gonzaga nor San Diego State is the biggest favorite in these first batch of conference tournament odds. That designation would belong to Liberty of the Atlantic Sun, as the Flames are listed at -450 to win its second straight conference tournament.
But there's a reason why madness is an apt term for this month, as there are underdogs, even massive longshots, who will shine in this setting as well. Some of the teams with the highest odds to win their conference tournaments include Portland at 5000/1 in the WCC; Samford, VMI and Citadel at 1250/1 apiece in the Southern; San Jose State at 1000/1 in the MWC; and Evansville at 750/1 to win the Missouri Valley. Yes, the same Evansville who already pulled off the impossible once after beating SEC-leading Kentucky at Rupp Arena back in November.
Below are tables that show William Hill's opening favorites and biggest longshots in each of the 12 conference tournaments taking place the week of March 2 along with the opening odds for every team participating to win their respective tournament.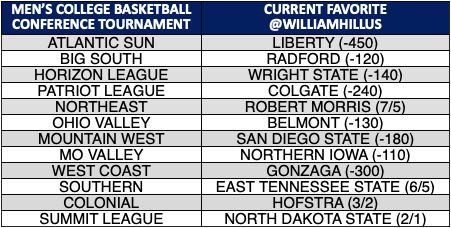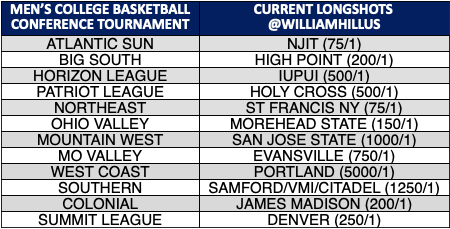 Bet college basketball with William Hill, America's #1 sportsbook.