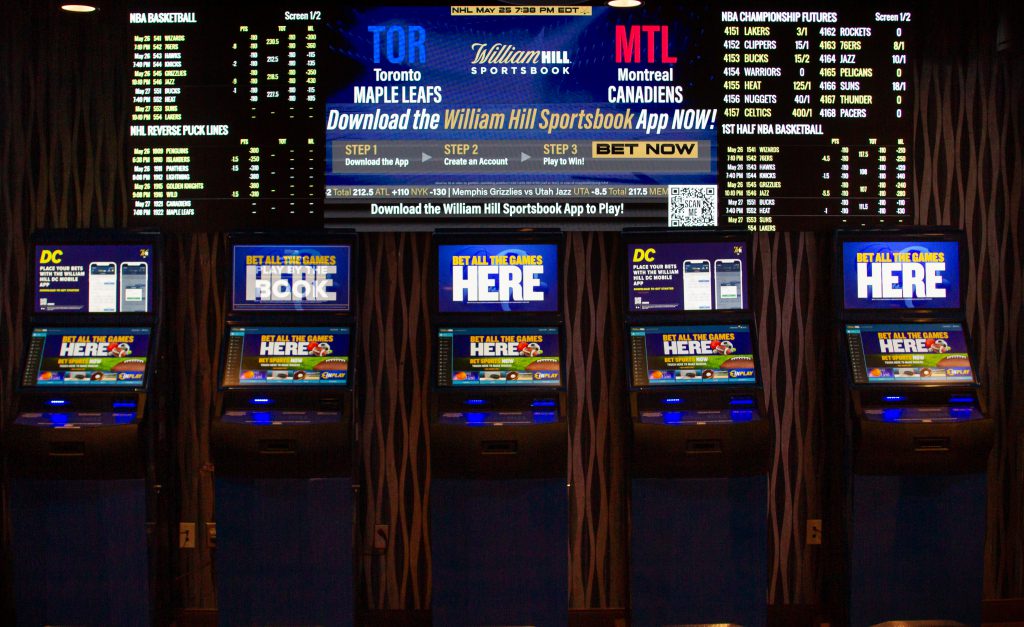 Bet with William Hill, America's #1 sportsbook.
What better place to make history than at our nation's capital?
William Hill, a part of Caesars Entertainment, officially opened its full Washington, D.C. sportsbook today at Capital One Arena, the first sportsbook in a U.S. professional sports facility.
The home of the Washington Wizards, Washington Capitals and Washington Mystics now adds a premiere destination to watch and bet every major sport.
"This is really a groundbreaking moment for Caesars and for the sports betting industry in general," said Tom Reeg, CEO of Caesars. "This is the first integrated sportsbook in a physical stadium in the country. This is the new paradigm, this is where it's going. We ask our employees at Caesars to blaze new trails, to create unique experiences. As you walk this property and you see what's here, this is exactly what we're talking about."
William Hill signed an agreement with Monumental Sports & Entertainment in October 2019 to build and operate a sportsbook at Capital One Arena. This past July, a temporary sportsbook space came to life with betting windows and self-service kiosks.
Now the 18,000-square foot, two-floor sportsbook is filled with wall-to-wall LEDs, D.C. sports memorabilia and even a restaurant with the concept designed by a local Michelin-starred chef.
"I think this is the first step, you'll see lots of other arenas and lots of other leagues pushing on the gas to do this," said Ted Leonsis, CEO and founder of Monumental Sports & Entertainment. "Because of that, we know we're an exemplar and everyone is going to be watching how we execute. We're very committed to making this a very successful experience for our fans, that our partner prospers, and arenas become a natural home for sportsbooks around the world."
Reeg and Leonsis were among those to cut the blue William Hill sportsbook ribbon this morning, signifying the beginning of a new era in Washington, D.C. and for sports betting as a whole.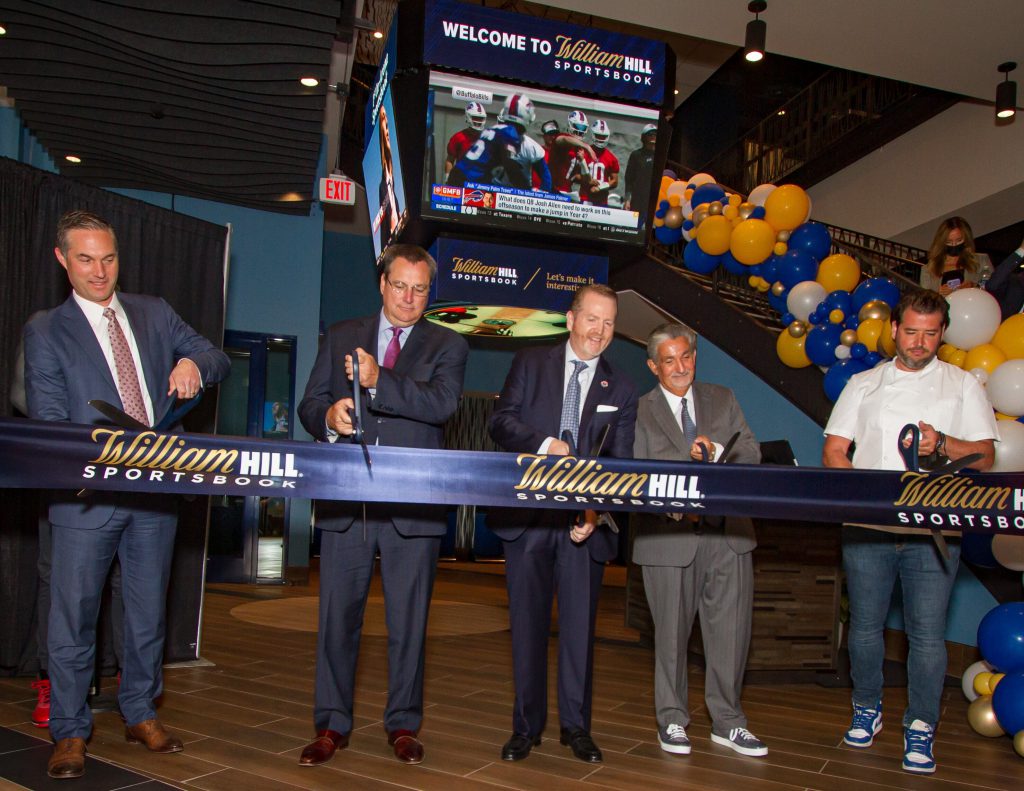 Upon walking into the sportsbook, what immediately grabs your attention is the jumbotron— which is a replica of the one located inside Capital One Arena. The jumbotron is a familiar sight that greets sports fans, one of the many cool features inside that is designed to create an unparalleled sports-viewing atmosphere.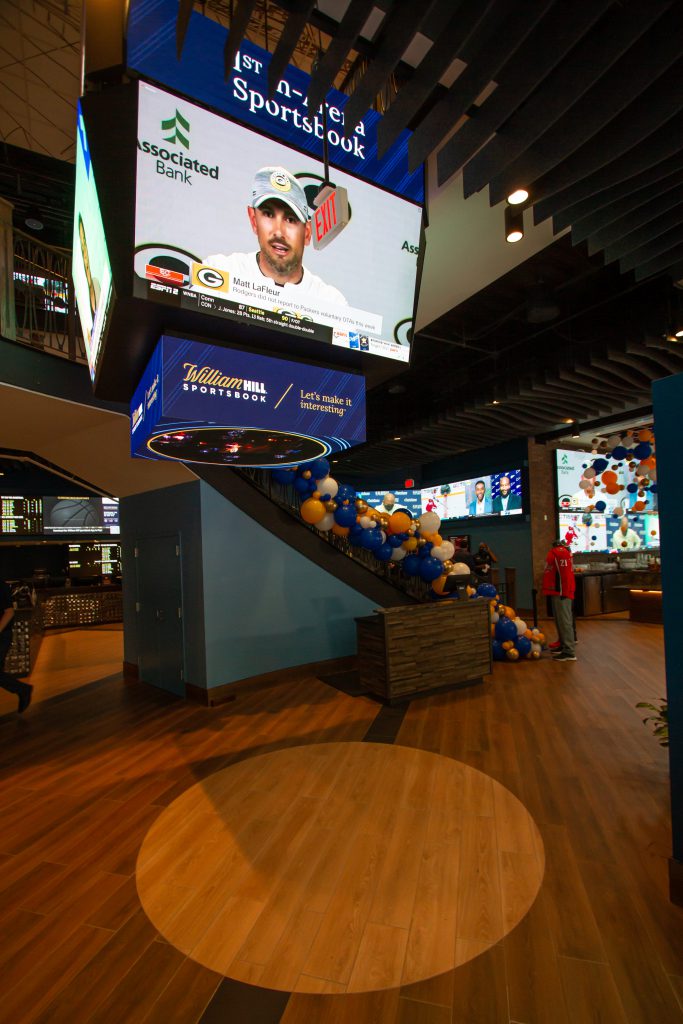 While the sportsbook feels like you've just entered the future of sports betting, it also makes sure to pay homage to the athletes and sites that helped shape the D.C. sports scene. Newspaper headlines highlighting the biggest sports moments in D.C. history serve as the background to the ticket windows. Jerseys hung up throughout the sportsbook include Bradley Beal (Wizards), Wes Unseld (Bullets) and Patrick Ewing (Georgetown), reminding fans of D.C.'s rich sports history at every step.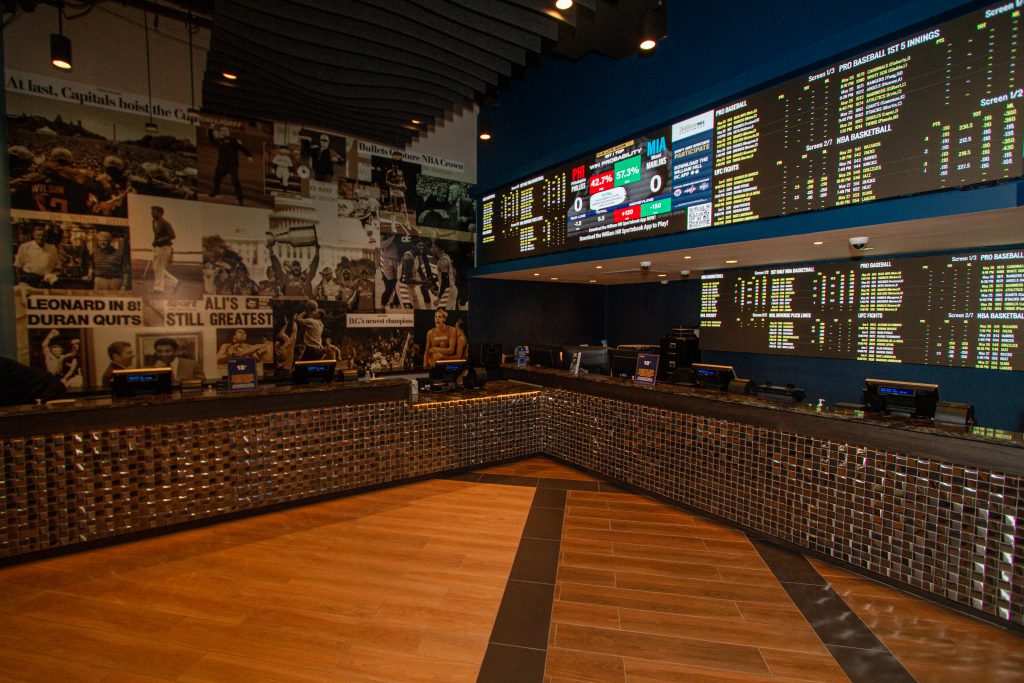 Then there's the groundbreaking restaurant. Nicholas Stefanelli, the chef and owner of Michelin-starred restaurant Masseria, grew up in suburban Maryland and has been a fixture in the D.C. food scene. Stefanelli was in charge of designing the restaurant menu at William Hill's D.C. sportsbook as well as helped establish what the space would look like.
With the opportunity to nosh on delicacies such as soft shell crab, lasagna Bolognese and rack of pork ribs, it gives fans another way to enjoy themselves while watching the games on the giant screens.
"When I got a phone call from William Hill about 18 months ago, and they said 'Do you want to help us out? We want to put a sportsbook in the arena and make it an experience,'" Stefanelli said. "That challenge of intertwining all of these pieces… with food, beverage, hospitality and gaming all coming into one place. And it's in the heartbeat of our city."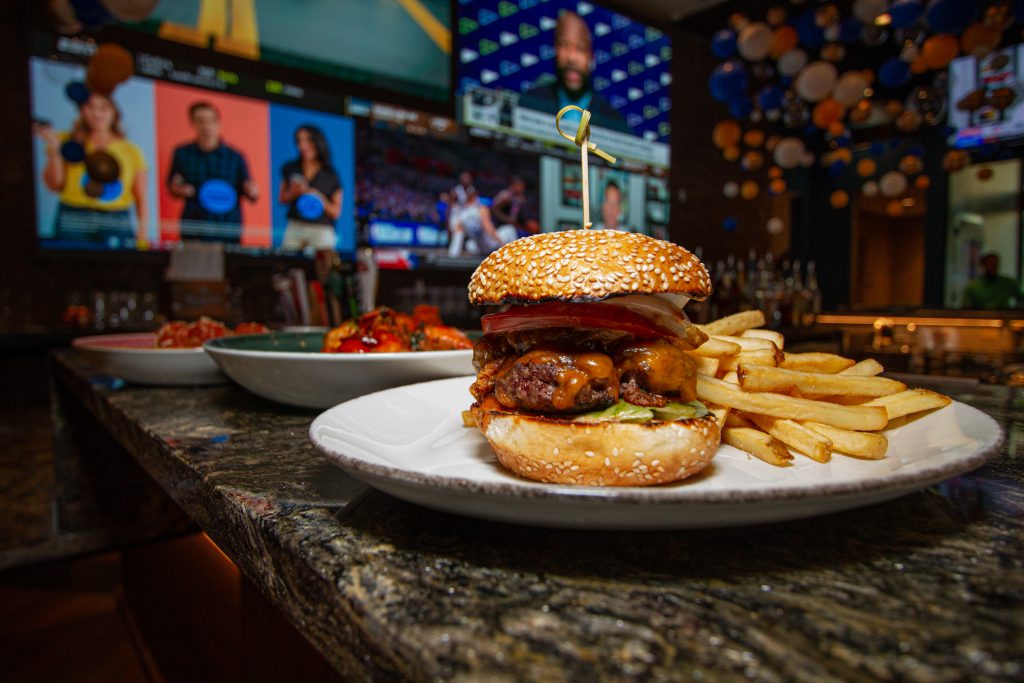 The sportsbook will be open from 10 a.m. ET-11 p.m. ET Monday through Friday, and 9 a.m. ET-11 p.m. PT on Saturday and Sunday. Besides the ticket windows and self-service kiosks, the William Hill D.C. Sportsbook App is available to use within a 2-block radius around Capital One Arena.
Shortly after the ribbon-cutting ceremony, the sportsbook was made open to the public. A long line that stretched outside quickly formed, and betting sheets were passed out to customers eagerly awaiting to make their wagers.
"I think it's fantastic," said Nick Etches, who lives in Maryland. "The upstairs area is pretty cool, I'm very impressed. Having been to many sportsbooks in Vegas, I think they did a really nice job on this one. I am English, and I was born and raised in England until I was 15. We used to have a book at every corner, and it was most likely William Hill. I always come down to D.C. on Wednesdays, and I bet on golf here since it starts on Thursdays."
Once making it inside, bettors immediately got to see Orioles vs. Twins, the first MLB game of the day, showcased on the jumbotron.
"It looks beautiful, there's a lot of TVs everywhere," said Jeff Arnold, who placed baseball and basketball bets. "I've been living in D.C. all my life, and I'm a big Wizards fan. I'm here [at the William Hill D.C. sportsbook] a lot, so I know I'll be here sitting and chilling watching the games. I can definitely see being here all day."