The Chiefs handled the Texans 34-20 in Thursday night's NFL season opener, and we still have 15 more Week 1 games on tap over the next few days.
So what have been the most popular bets for this slate so far at William Hill?
"There's two public dogs this week, that's rare," said Nick Bogdanovich, Director of Trading for William Hill US. "Arizona and Tampa Bay are the two, and you don't really see that a lot in the NFL."
Both of those teams start their 2020-21 campaign on the road in crucial divisional clashes. The Buccaneers are 3.5-point underdogs against the Saints, while the Cardinals are 7-point underdogs vs. the 49ers. Tampa was as high as +4.5 and Arizona reached +8.
"I think it's a lot of factors for why Arizona is getting this much action," Bogdanovich said. "Year 2 of Kyler Murray, everyone's thinking he's gonna have a breakout season. They got DeAndre Hopkins. San Francisco's a little banged up with their receivers. These two teams know each other well, and Arizona has hung with them the past couple seasons."
The Buccaneers (58%), Cardinals (56%) and Packers (53%) are the only underdogs on the Week 1 card to receive a majority of the total number of tickets for spread wagers in their respective matchups. The Cardinals have gotten 83% of the total dollars wagered on all spread wagers vs. the 49ers, which is the fifth-highest percentage of any team in Week 1.
Arizona has drawn some noteworthy bets as well, as three of the five biggest spread wagers are on the Cardinals. That is highlighted by one Nevada bettor placing $30,000 on Cardinals +7 (-110) for a total potential payout of $57,272.70, which is the largest spread wager taken at William Hill thus far for any Week 1 NFL game.
Another $30,000 bet came in on an underdog, though that Nevada bettor opted for the moneyline. That wager came on Packers +125 against the Vikings, and if Green Bay were to pull off the upset, that total payout would be $67,500.
There's been notable movement with several of the totals too, as 12 of the 16 games this week have seen their opening totals drop. The two biggest total shifts have been Chargers vs. Bengals moving from 46.5 to 42 and Eagles vs. Washington going from 45.5 to 42.
"The sharps think that no preseason will lead to the offenses being out of sync early on," Bogdanovich said. "There's definitely professional handicappers that think at this point of the season that the defenses will be ahead of the offenses."
Not surprisingly, the unders for Chargers/Bengals and Eagles/Washington lead the way in total dollars wagered, at 94% and 86% respectively. The over that ranks first in total dollars wagered is Cardinals/49ers at 89%, which has shifted from 45.5 to its current 48 number.
Check out William Hill's latest odds and trends for NFL's Week 1 action below.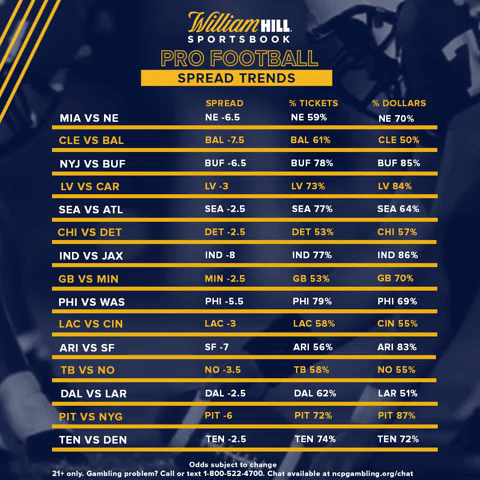 Bet NFL with William Hill, America's #1 sportsbook.