The NBA resumed its season last Thursday, and now we've had a week of games under our belt. We've seen buzzer-beating wins, giant upsets and Pacers forward T.J. Warren look invincible.
William Hill bettors seemingly can't get enough of the NBA's return. Nick Bogdanovich, Director of Trading for William Hill U.S., says that there's been around a 50% increase in total handle with games being played in the bubble versus games before the 141-day shutdown.
In particular, bettors have been keen to betting over the total in the past week. Only two of the first 13 bubble games closed with a total that was 230 or higher at William Hill. Since then, it's been much more common to see totals in the 230s, and even the 240s posted.
"Last Friday, overs went 6 for 6 and people made a lot of money," Bogdanovich said. "The pace has been so fast this whole year, and COVID didn't slow them down whatsoever. Seems like every team in Orlando plays fast anyway. Brooklyn, San Antonio, Houston, these teams just go, go, go. You look at the shots per game, it's incredible."
This past Tuesday, five of six underdogs not only covered, but won outright. That included the Nets' massive upset over the Bucks as 19-point underdogs and +1500 on the moneyline. While Bogdanovich isn't leery about releasing large spreads going forward in seeding games because "every spot calls for a certain number," he does believe upsets could be the norm.
"I do think the dogs are live. You just don't know with this current situation and you have to plan for the unexpected, and that favors the underdog," Bogdanovich said. "There's a lot of liability out there on teams like OKC and Portland. If one of those teams gets a run going and catches a favorite dealing with positive COVID tests, you could see a large underdog cash in the NBA. And that's quite rare."
As a result, a few Western Conference contenders have seen their NBA championship futures odds improve over the past week. The Nuggets have gone from 30/1 to 25/1, the Thunder have moved from 40/1 to 30/1 and the Trail Blazers have shifted from 50/1 to 40/1.
"Without a home-court advantage and given this entire situation, I'm not so sure that the Clippers, Lakers or Bucks are as likely to win like they would've if the season played out regularly," Bogdanovich said.
Check out William Hill's odds for today's NBA seeding games along with current NBA championship futures below.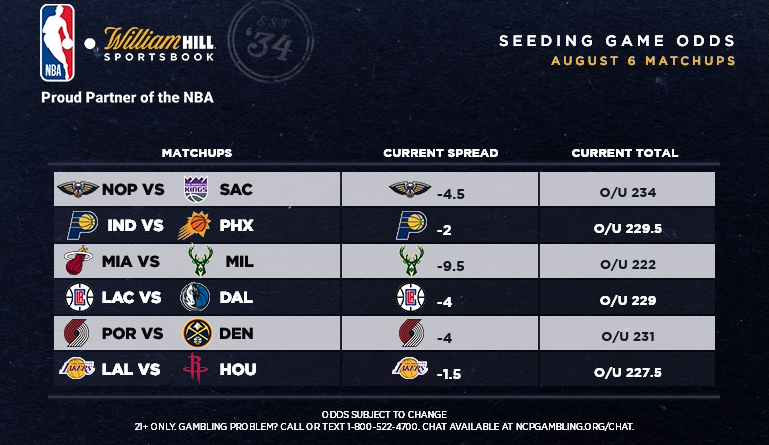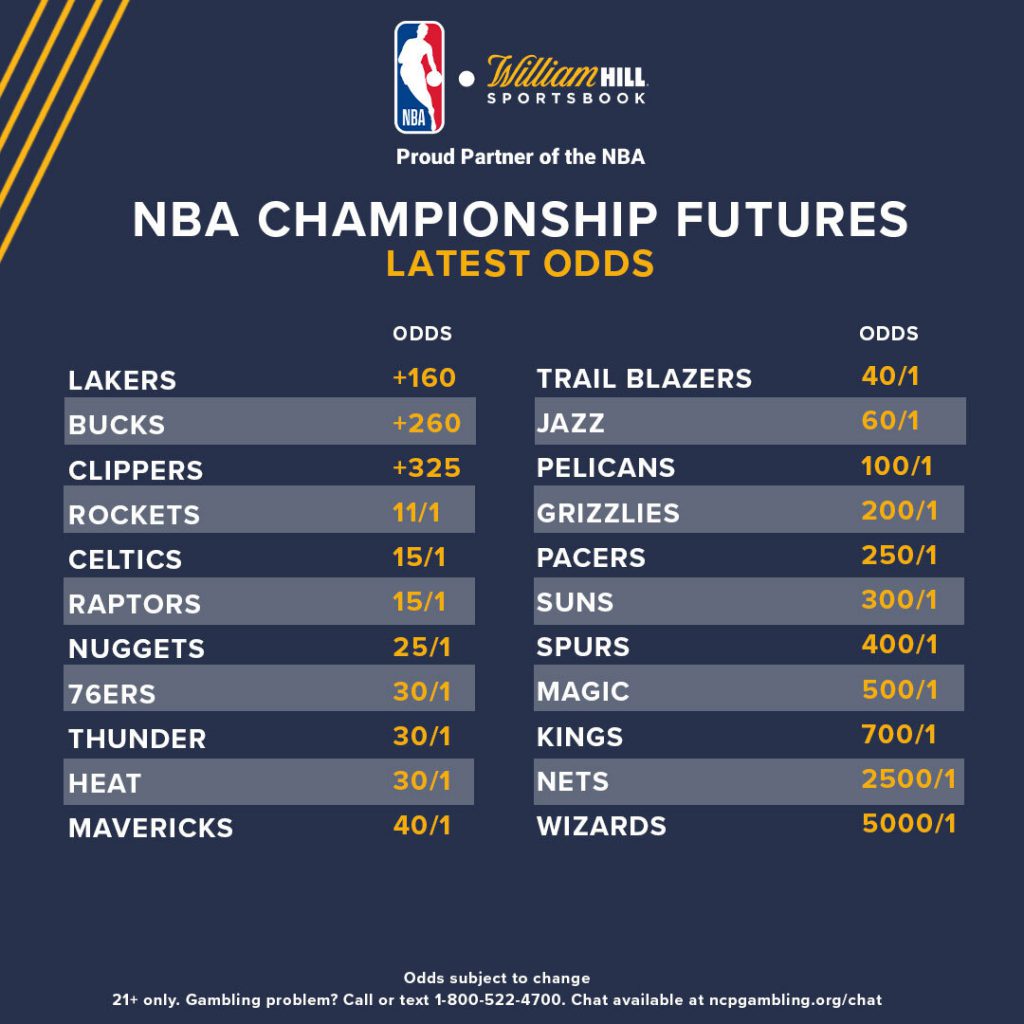 Bet NBA with William Hill, America's #1 sportsbook.