The NBA Finals tip off tonight, as the Lakers and Heat square off in Game 1 at 9:10 p.m. ET/6:10 p.m. PT.
When William Hill released its 2019-20 NBA title futures in June 2019, the Lakers opened at 10/1 and the Heat were a 100/1 long shot. In fact, Miami's price reached as high as 200/1.
There were several notable futures wagers on these two teams throughout the season.
A Nevada bettor put $2,000 on the Heat to win the title back when they were 40/1 for a total potential payout of $82,000. Additionally, a $600 wager was placed on Heat 75/1 ($45,600 total potential payout) and two $200 wagers are on Heat 200/1 ($40,200 total potential payout each).
The largest NBA title futures payout on the Lakers was when another Nevada bettor put $9,500 on Lakers 5/1 for a total potential payout of $57,000.
Fast-forward to this past Sunday night, when William Hill opened the Lakers as -440 favorites to win it all after the Heat eliminated the Celtics in Game 6. That line has dropped considerably, however, as Los Angeles is now -345 with Miami at +285.
"Heat have drawn money all throughout the playoffs, and those bettors have been rewarded," said Nick Bogdanovich, Director of Trading for William Hill US. "They keep killing the point spread. Many bettors think the Heat can compete with the Lakers, but there's also a fair amount of hedges on Lakers futures to lock up a profit."
William Hill bettors are split on these series odds, as the Heat have brought in 83% of the total number of tickets, yet the Lakers have captured 64% of the total dollars wagered. That includes one Nevada bettor who placed $31,000 on Lakers -400 for a total potential payout of $38,750. The biggest Heat series wager was $10,000 on Heat +290 for a total potential payout of $39,000.

Another NBA Finals bet that has been a popular wager has been which player will win MVP. LeBron James leads the way with -170 odds to do so, followed by Anthony Davis at +200 along with Jimmy Butler and Bam Adebayo at +750 each. Yet it's a player listed at 25/1 who has caught the attention of bettors too.
"If the early returns on this Game 1 are any indication, this series is going to be very heavily bet. There's a lot of tickets in this market too," Bogdanovich said. "Most tickets is Tyler Herro, believe it or not. They think he's going to be a hero. Most money is LeBron, second-most is Bam Adebayo."
For tonight's Game 1 face-off, the Lakers opened as 5.5-point favorites (-210 moneyline). The Heat were +180 to grab a 1-0 series lead and the total sat at 218.
Now, the spread is down to Lakers -4.5, while the moneylines are at -190 and +170 respectively. Yet, Los Angeles has the slight edge with William Hill bettors. The Lakers have brought in 57% of the total number of tickets and 62% of the total dollars wagered among all Game 1 spread wagers, as well as 59% of the total number of tickets and 50% of the total dollars wagered on all Game 1 moneyline wagers.
The total, though, has dropped half a point to 217.5, and William Hill bettors are divided on how many points will be scored in the series opener. While 71% of the total number of tickets are on the over, 65% of the total dollars wagered are on the under. That's highlighted by the biggest Game 1 bet taken thus far at William Hill, as a Nevada bettor placed $33,000 on under 218 (-110) for a total potential payout of $63,000.
Check out William Hill's latest odds and trends for tonight's Game 1 between the Lakers and Heat below.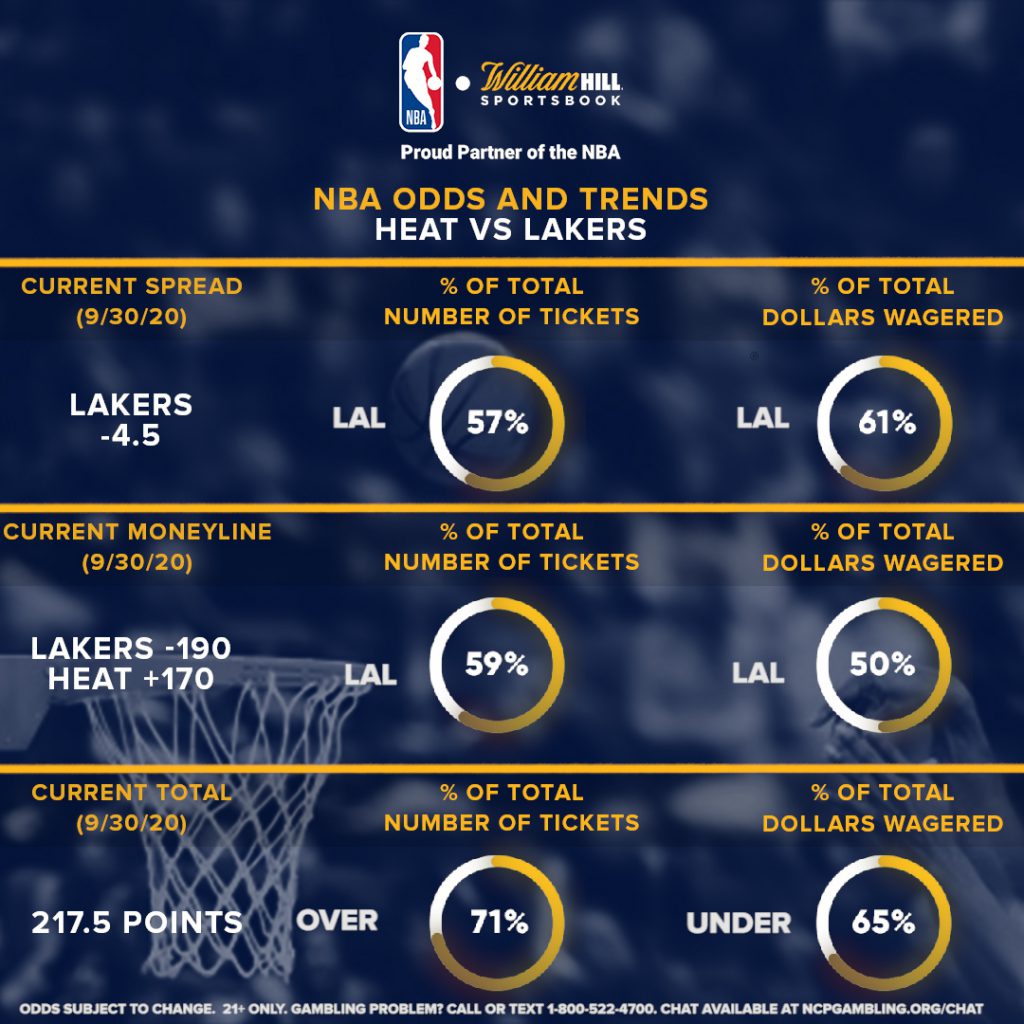 Bet NBA with William Hill, America's #1 sportsbook.