Bet NHL with William Hill, America's #1 sportsbook.
We are over a month into the 2021 NHL season, and there are several teams that look like contenders to hoist the Stanley Cup this summer.
So who have been the most popular Stanley Cup futures wagers at William Hill since the season began on Jan. 13?
The Golden Knights and Avalanche were +550 co-favorites at William Hill before opening night on the ice. Vegas, however, now stands alone atop the board at +550, with Colorado possessing the second-lowest odds at +650. The Golden Knights also lead the way in total number of tickets and total dollars wagered since the season started.
"They've gotten three times as many tickets as any other team," said Nick Bogdanovich, Director of Trading for William Hill US. "We don't get killed with the Golden Knights because their price was cheap, but we definitely lose with them. We have less liability this year with them because of where we opened them."
Vegas has generated 19% of the total number of tickets and 21% of the total dollars wagered among all 2021 Stanley Cup futures bets at William Hill since Jan. 13. The Avalanche, Bruins (+750), Canadiens (10/1) and Flyers (20/1) are all next with 6% of the total number of tickets, while Boston ranks second by racking up 15% of the total dollars wagered.
The Bruins have attracted the two largest in-season 2021 Stanley Cup futures wagers as of now at William Hill. Two different Iowa bettors each placed $5,000 on Bruins 14/1 for total potential payouts of $75,000 apiece.
Along with the Golden Knights, Avalanche and Bruins, the other team to rank in the top five in both total number of tickets and total dollars wagered since the season began is the Canadiens.
Montreal was first listed at 50/1 when 2021 Stanley Cup futures were released on Sept. 29, and were down to 28/1 on opening night. Now the Canadiens have the sixth-lowest odds at 10/1, and are fourth in total dollars wagered since Jan. 13 at 7%.
Another long shot, though, has also brought in noteworthy action throughout the season.
"We have six-figure liability on the Canadiens right now," Bogdanovich said. "Some people smelled the Canadiens out pretty good. The worst-case scenario though is the Panthers. They're in first place and they were at 100/1. That's still pretty good value for a first-place team, 35/1. But we're hoping that they've overachieved and that they'll come back to Earth."
The Panthers have captured 3% for both total number of tickets and total dollars wagered, as Florida has surged to a 10-2-2 record and is tied for the second-most points in the league with 22. One Nevada bettor thinks this hot start isn't a mirage, putting down $1,900 on Panthers 100/1 for a total potential payout of $191,900.
---
Check out William Hill's latest odds and in-season trends for 2021 Stanley Cup futures below.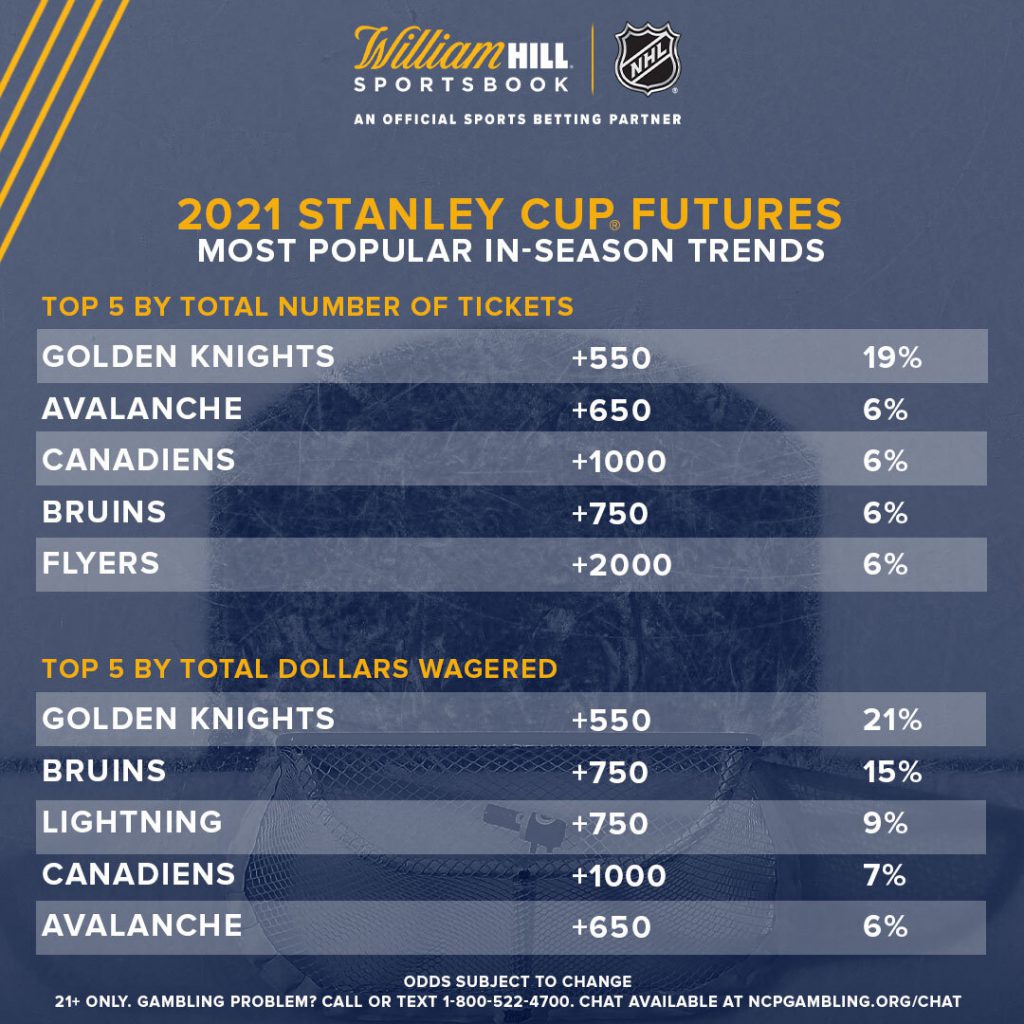 | | |
| --- | --- |
| ODDS TO WIN 2021 STANLEY CUP @WILLIAMHILLUS | CURRENT ODDS (2/19/21) |
| VEGAS GOLDEN KNIGHTS | +550 |
| COLORADO AVALANCHE | +650 |
| TAMPA BAY LIGHTNING | +750 |
| BOSTON BRUINS | +750 |
| TORONTO MAPLE LEAFS | +850 |
| MONTREAL CANADIENS | +1000 |
| CAROLINA HURRICANES | +1400 |
| ST. LOUIS BLUES | +1500 |
| PHILADELPHIA FLYERS | +2000 |
| WASHINGTON CAPITALS | +2200 |
| DALLAS STARS | +2500 |
| PITTSBURGH PENGUINS | +3000 |
| FLORIDA PANTHERS | +3500 |
| CALGARY FLAMES | +3500 |
| NEW YORK ISLANDERS | +3500 |
| EDMONTON OILERS | +4000 |
| NEW YORK RANGERS | +5000 |
| WINNIPEG JETS | +6000 |
| MINNESOTA WILD | +6000 |
| NASHVILLE PREDATORS | +7500 |
| COLUMBUS BLUE JACKETS | +7500 |
| NEW JERSEY DEVILS | +10000 |
| ARIZONA COYOTES | +10000 |
| CHICAGO BLACKHAWKS | +10000 |
| VANCOUVER CANUCKS | +10000 |
| SAN JOSE SHARKS | +12500 |
| BUFFALO SABRES | +20000 |
| ANAHEIM DUCKS | +20000 |
| LOS ANGELES KINGS | +25000 |
| OTTAWA SENATORS | +50000 |
| DETROIT RED WINGS | +50000 |