Bet NASCAR with William Hill, America's #1 sportsbook.
It's time to get revved up, as the best drivers in the world are set to compete this weekend in NASCAR's biggest race.
William Hill has odds up for 42 drivers for the 2021 Daytona 500,with the race's reigning two-time winner also serving as the favorite to finish in first for this year's competition.
Denny Hamlin opened at +800 and has stayed at that number since. Hamlin has captured the checkered flag three times at a Daytona 500 (2016, 2019, 2020), and will be looking to tie Cale Yarborough for the second-most victories in this event on Sunday. Richard Petty holds the all-time Daytona 500 record with seven first-place finishes.
Chase Elliott has the second-lowest odds at +900, as his price slightly shifted from when it was first released at 10/1. Joey Logano, who won at Daytona in 2015, is currently listed at 10/1.
Ryan Blaney and Brad Keselowski are next at 11/1 apiece, with Kevin Harvick, William Byron and Kyle Larson all close behind at 12/1. Larson has seen a big jump from his opening number, going from 20/1 to 12/1. Then Kyle Busch and Aric Almirola are each at 15/1, followed by Alex Bowman and Martin Truex Jr. who are both at 17/1.
"Daytona 500 is our biggest handle for any NASCAR race by far," said Nick Bogdanovich, Director of Trading for William Hill US. "Looks like Larson has the most tickets right now, then Elliott. Dollar-wise, Truex has the most and then Hamlin."
Besides Hamlin, Logano and Harvick (2007), four other Daytona 500 winners are looking to repeat their success in this year's race. They are 2018 champion Austin Dillon (28/1 odds), 2017 victor Kurt Busch (20/1), 2010 titleholder Jamie McMurray (75/1) and 2008 prizewinner Ryan Newman (50/1).
A few notable wagers have already come in for the Daytona 500 at William Hill. A $3,000 bet has been placed on Byron at 17/1 ($54,000 total potential payout), Truex Jr. at 18/1 ($57,000 total potential payout) and Almirola at 18/1 ($57,000 total potential payout).
Check out William Hill's latest odds for the 2021 Daytona 500 below. You can watch the 63rd running of the historic race this Sunday at 2:30 p.m. ET/11:30 a.m. PT on FOX.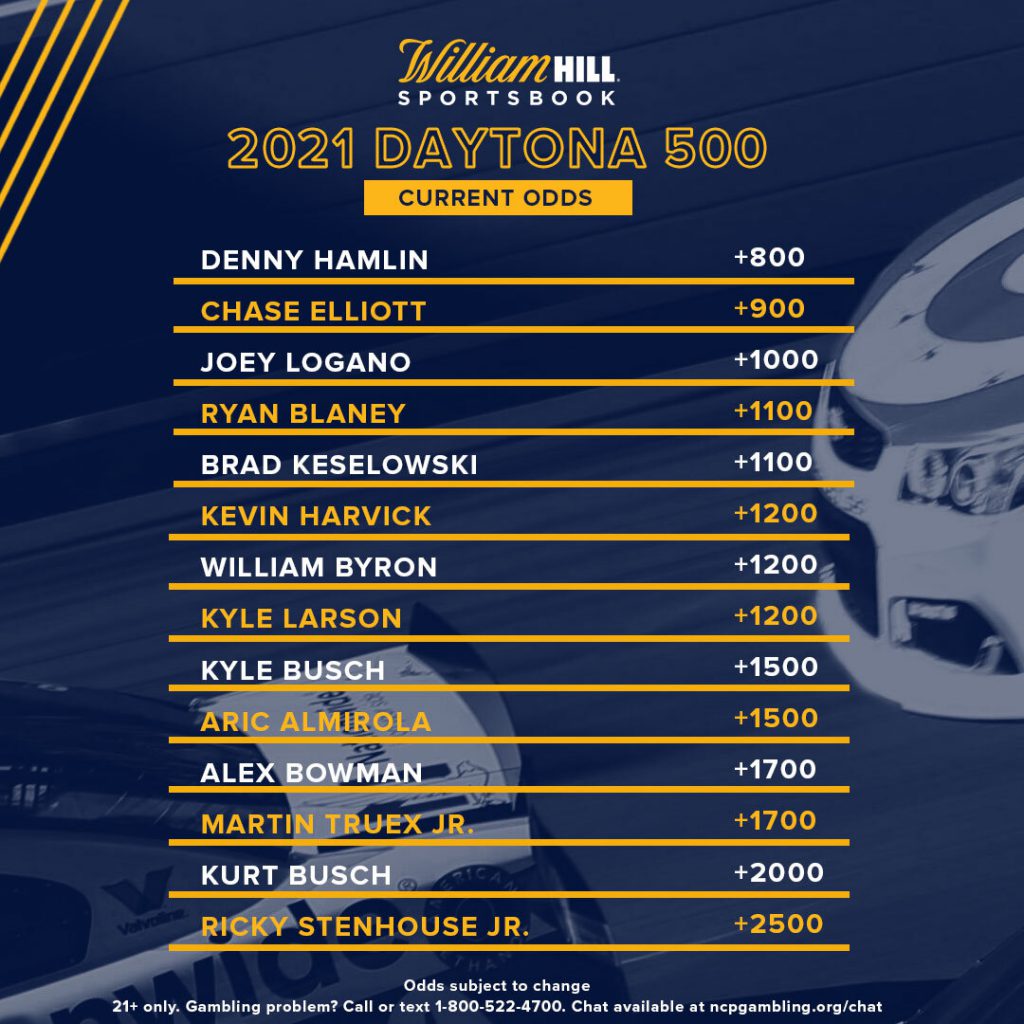 | | |
| --- | --- |
| TO WIN 2021 DAYTONA 500@WILLIAMHILLUS | CURRENT ODDS (2/9/21) |
| BUBBA WALLACE | +2800 |
| AUSTIN DILLON | +2800 |
| MATT DIBENEDETTO | +3000 |
| ROSS CHASTAIN | +3500 |
| CHRISTOPHER BELL | +4000 |
| RYAN NEWMAN | +5000 |
| TYLER REDDICK | +5000 |
| ERIK JONES | +5000 |
| CHASE BRISCOE | +6000 |
| CHRIS BUESCHER | +6000 |
| AUSTIN CINDRIC | +6000 |
| COLE CUSTER | +6000 |
| JAMIE MCMURRAY | +7500 |
| MICHAEL MCDOWELL | +10000 |
| DANIEL SUAREZ | +12500 |
| TY DILLON | +12500 |
| DAVID RAGAN | +15000 |
| COREY LAJOIE | +15000 |
| RYAN PREECE | +15000 |
| NOAH GRAGSON | +20000 |
| ANTHONY ALFREDO | +20000 |
| KAZ GRALA | +25000 |
| BJ MCLEOD | +75000 |
| TIMMY HILL | +75000 |
| QUIN HOUFF | +100000 |
| CHAD FINCHUM | +100000 |
| CODY WARE | +100000 |
| JOSH BILICKI | +100000 |