The first major of the 2020-21 PGA Tour season starts tomorrow, as the best golfers in the world will be competing at the 2020 U.S. Open at Winged Foot Golf Club in Mamaroneck, New York.
"These golfers better have strong intestinal fortitude this week," said Nick Bogdanovich, Director of Trading for William Hill US. "Above par may win this thing, there will be lots of rough holes. So whoever's mentally toughest along with playing well is going to win this thing."
The golfers participating include defending U.S. Open champion Gary Woodland (70/1), 2019-20 FedEx Cup champion Dustin Johnson (the favorite at 17/2 or +850) and three-time U.S. Open winner Tiger Woods (40/1).
However, no one has generated more attention from William Hill bettors than Phil Mickelson, who is currently 50/1 after opening at 85/1. Mickelson attracted a futures bet that has the second-largest liability of any golf wager ever at William Hill. A Nevada bettor placed $45,000 on Mickelson at 75/1 that could net $3.375 million.
William Hill's largest liability on a golf wager came last year, when a bettor laid $100,000 at 100/1 odds that Woods would capture the Grand Slam (winning all four majors) for a potential $10 million payday.
"Someone just came to the counter at one of our Nevada properties and said he wanted to make the bet," Bogdanovich said. "Obviously something of that size, I had to make a call. After a discussion, we decided to give him the bet, pretty much that simple.
"Getting a bet like that excites me for sure. I'm a big golf fan, and it'll make this week a little more interesting when they tee it up. Just that much more money in the pot. It definitely adds more excitement to get a bet of that stature."
Other notable Mickelson wagers taken at William Hill include $10,000 on him at 65/1 to net a potential $650,000 and $1,000 on him at 50/1 to net a potential $50,000.
"Phil's got the most money along with the third-most tickets, believe it or not. So there's a lot of Phil love besides that big bet," Bogdanovich said. "Then Dustin Johnson has the most tickets and the second-most money. Johnson without question deserves to be the favorite given his recent play, and the amount of action on him isn't surprising at all."
Mickelson has brought in 29% of the total dollars wagered to win the 2020 U.S. Open along with 5% of the total number of tickets. Johnson has received 9% of the total dollars wagered and 7% of the total number of tickets, highlighted by another Nevada bettor putting down $3,000 on Johnson 9/1 to net a potential $27,000.
Besides Mickelson, Jon Rahm (9/1), Xander Schauffele (10/1), Justin Thomas (10/1) and Collin Morikawa (18/1) have each drawn 5% of the total number of tickets. Thomas ranks third in total dollars wagered at 6%, with Rahm and Schauffele right behind at 5% apiece.
Check out William Hill's latest trends for the 2020 U.S. Open below.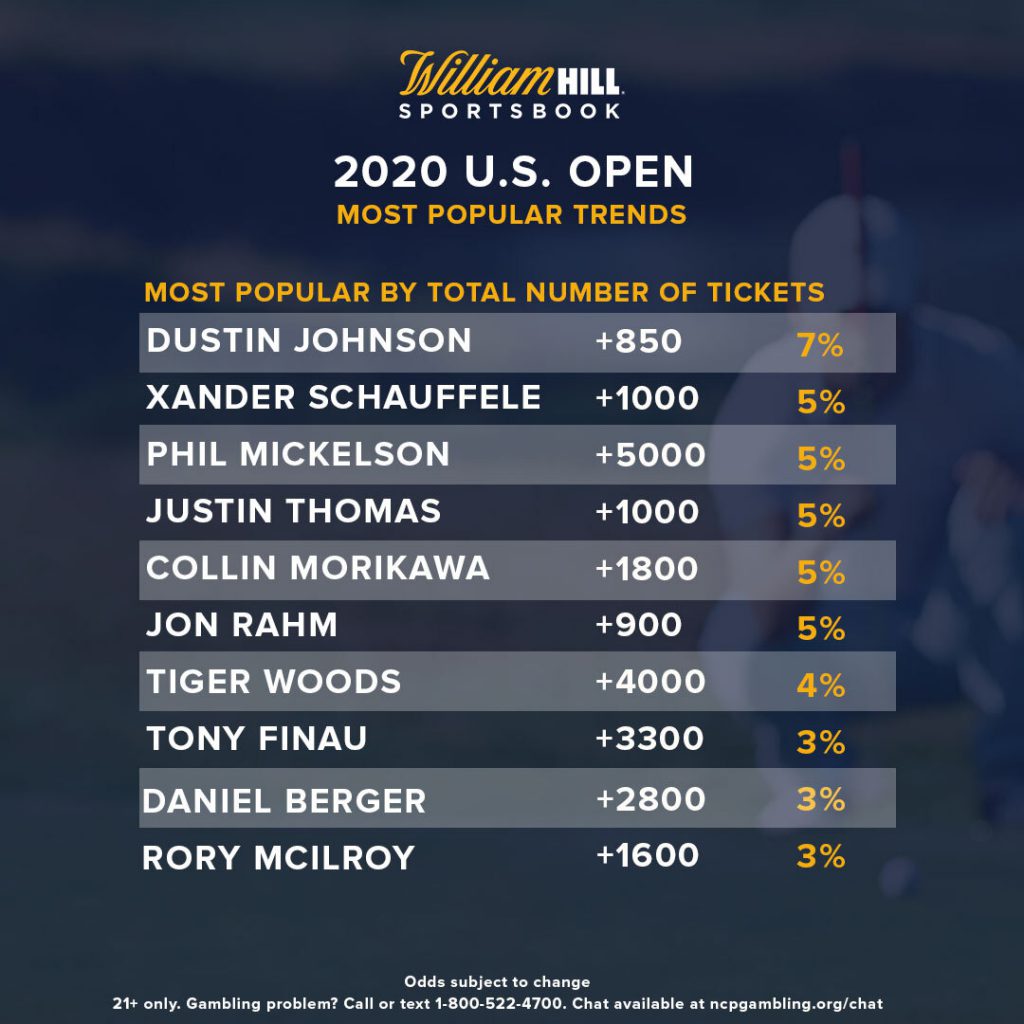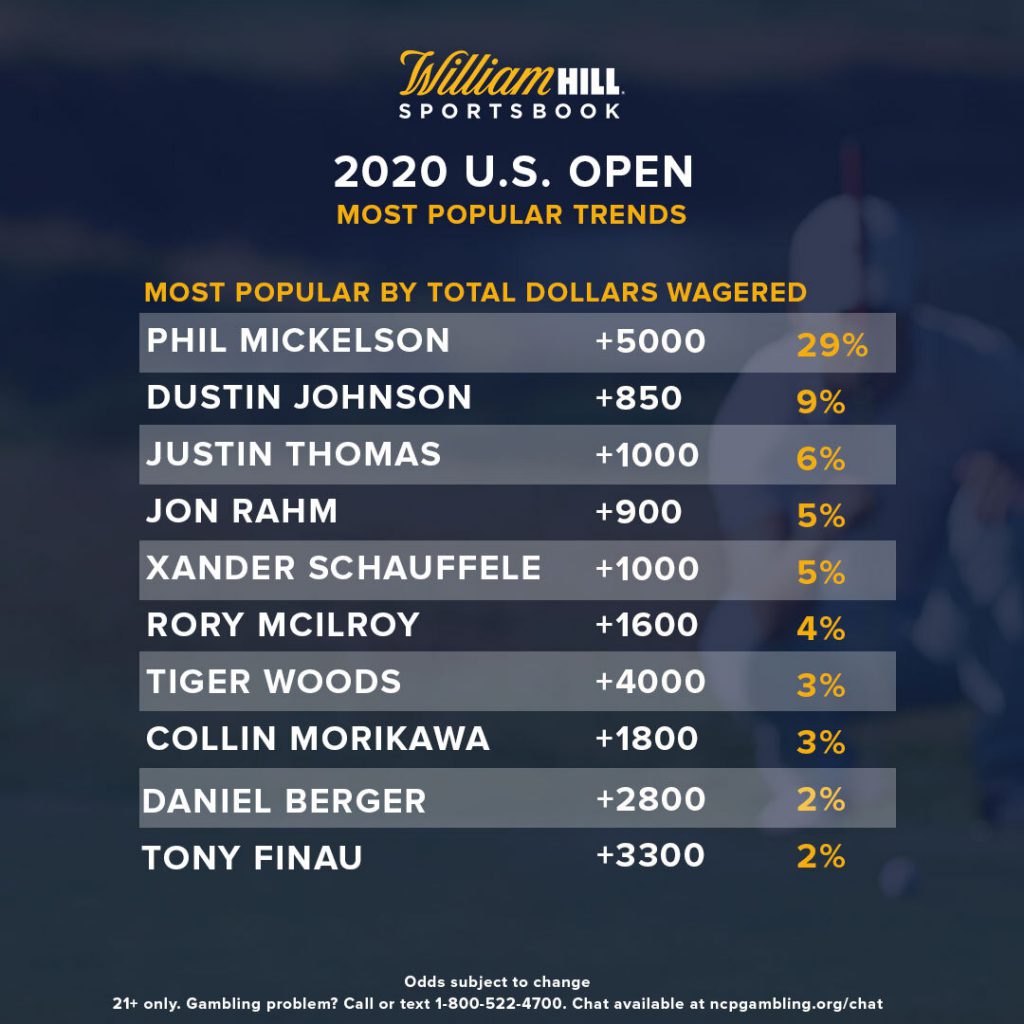 Bet golf with William Hill, America's #1 sportsbook.