This fall William Hill is giving you the chance to earn cash back with Fall Rewards!
Enroll before December 31st and you will receive Fall Rewards Points for all qualifying Nevada Mobile Sports wagers made between August 15th and December 31st, 2018.
Once enrolled, you will receive 1 Fall Rewards Point for every $1 of Mobile Sports wagers, 2 Fall Rewards Points for Parlays/Teasers, and 5 Fall Rewards Points for Parlay Cards placed through the app during the promotion.
On January 10th, 2019, enrolled Mobile Sports patrons will automatically receive $1 added to their account balance for every 1,000 Fall Rewards Points earned between August 15th and December 31st, 2018.
To enroll into William Hill's Fall Rewards, visit www.williamhill.us/fall.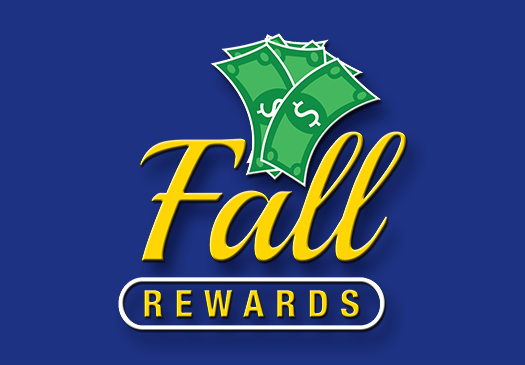 WILLIAM HILL NEVADA FALL REWARDS
OFFICIAL PROMOTION RULES
Wednesday, August 15, 2018 – Monday, December 31, 2018
The William Hill Race & Sportsbook ("William Hill") Fall Rewards promotion ("Promotion") will take place from 12:00pm PST on Wednesday, August 15, 2018 through 11:59pm on Monday, December 31, 2018 ("Promotion Period"). Mobile Sports patrons in Nevada will be able to enroll into the Promotion and be eligible to earn a Mobile Sports account bonus.
To be eligible, all participants must be 21 or older and have a William Hill Mobile Sports account in Nevada. Membership is free.
To participate in the Promotion, visit williamhill.us/fall and complete the enrollment form.
Only allowed on the William Hill Mobile Sports app in Nevada.
Eligible Mobile Sports accounts will receive one (1) Promotion point for every $1.00 in sports wagers, two (2) Promotion points for every $1.00 in Parlays/Teasers sports wagers, and five (5) Promotion points for every $1.00 in Parlay Card sports wagers on the Nevada Mobile Sports app on wagers that are both placed and graded during the Promotion Period.

A minimum of 1,000 Promotion points ($1.00 account bonus) is required to qualify and a maximum of 100,000 Promotion points ($100.00 account bonus) may be earned during the Promotion Period.
Any Promotion points earned during the Promotion Period will not carry over to any other promotion.

Promotion bonuses will be credited to eligible member's Nevada Mobile Sports account balance prior to Wednesday, January 10, 2019.
Promotion is only valid for wagering available via the William Hill Nevada Mobile Sports app. Pari-mutuel wagering is not permitted.
Participation is void where prohibited or restricted by law.
This Promotion is subject to all applicable federal, state, and local laws and regulations, and all aspects of the Promotion are subject to the approval of appropriate regulatory authorities.
Participants agree to allow William Hill the unconditional use of their name and likeness for Promotions/advertising and announcements without compensation, consideration, notice, review, or consent.
Participants are responsible for payment of any and all taxes, licenses, registrations and other fees, as applicable.
William Hill reserves the right to change the rules of the Promotion times due to unforeseen or extenuating circumstances.
All decisions regarding the interpretation of rules, eligibility, etc. for this Promotion lie solely with William Hill whose decisions are final.
William Hill reserves the right to modify or cancel this Promotion at any time, for any reason, subject to any applicable regulatory approval, provided that such modification shall not, as of the date of such modification, materially alter or change any points already awarded.
William Hill may disqualify any participant from receiving any points based upon fraud, dishonesty, violation of these rules or other misconduct whether or not related to this Promotion.
William Hill is not liable for injuries or losses arising or resulting from participation in the Promotion and is not liable for any acts or omissions by employees, whether negligent or willful, in the conduct of the Promotion and is not liable in the event of any equipment or software malfunction.
William Hill is not responsible for lost, late, mutilated, or illegible entries nor for electronic transmission errors or delays resulting in omission, interruption, deletion, defect, delay in operations or transmission, theft or destruction or unauthorized access to or alterations of entry materials, or for technical, hardware, software, or telephone failures of any kind, lost or unavailable connections, fraud, incomplete, garbled, or delayed computer transmissions, whether caused by William Hill, users, or by any of the equipment or programming associated with or utilized in the Promotion or by any technical or human error which may occur in the processing of submissions which may limit, restrict, or prevent a participant's ability to participate in the Promotion.
If for any reason the Promotion is not capable of running as planned, including infection by computer virus, bugs, tampering, unauthorized intervention, fraud, technical failures, or any other causes within or beyond the control of William Hill which corrupt or affect the administration, security, fairness, integrity, or proper conduct of this Promotion, William Hill reserves the right at its sole discretion to cancel, terminate, modify or suspend the Promotion.
Any attempt by any person to deliberately damage or to undermine the legitimate operation of this Promotion may be a violation of criminal and civil laws and, should such an attempt be made, William Hill reserves the right to seek damages from any such person to the fullest extent of the law.
Records related to the Promotion will be retained for record keeping purposes in accordance with local legal requirements.
By participating in this Promotion, participants agree to the rules.
Any questions or disputes concerning the interpretation of these rules or situations not covered by these rules will be resolved by William Hill Management in a manner deemed fair to all concerned, and that decision shall be final and binding on all contestants. If the patron is not satisfied with the results of William Hill's decision, they have the option to seek resolution with the Nevada Gaming Control Board.