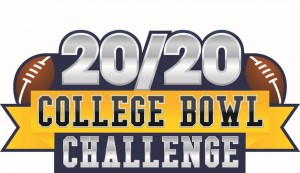 WILLIAM HILL BRINGS BACK THE "20/20 COLLEGE BOWL CHALLENGE" FOR A SIXTH SEASON 
$20,000 in guaranteed prize money up for grabs; $100,000 perfect score bonus
CLICK HERE TO VIEW 20/20 COLLEGE BOWL CHALLENGE CARD
Back this bowl season for the sixth year is the 20/20 College Bowl Challenge – the first contest of its kind in Nevada – with a guaranteed prize pool of $20,000.
Each entry costs $20, and players will select 20 games from the bowl season slate, picking the winner against the designated point spread. The contest card will be available on the William Hill Mobile Sports App and at all William Hill books throughout Nevada on Thursday, December 7th, with no limit placed on entries per customer. Entries can be submitted at any time until 5:00 p.m. on Wednesday, December 27th.
The winner-take-all format will pay out a $20,000 guaranteed grand prize to the entry that selects the most correct games against the spread. If the total amount of entry fees collected exceeds $20,000, then 70% of the additional entry fees will be added to the grand prize money.
As an added bonus, William Hill is offering a $100,000 bonus if the winner can land a perfect 20-for-20 card.
-Official Rules-
There is a $20 fee per entry. There is no limit to the number of entries a contestant may purchase. Entries are non-transferable and non-refundable. Contestants must be at least 21 years or age at date of entry.
The contest involves selecting 20 college bowl games against the point spread from a list of games designated by William Hill. Contest selections must be made before 5:00PM. P.S.T on Wednesday, December 27, 2017, after which there will be less than 20 available game selections and the contest will be closed for entries.
The 20/20 College Bowl Challenge is available on the William Hill Mobile Sports app and at all William Hill Sports Book locations.
All games/events must be played within seven (7) days of the originally scheduled date of action. In the event a game is postponed/canceled beyond the seven (7) days, the game will be declared a loss towards the Grand Prize and the Perfect Card Bonus.
Tickets generated from the wagering system are used to determine winners and losers. Check your ticket before leaving the window or kiosk. Once selections have been submitted and the contestant leaves the window or kiosk, tickets cannot be changed or voided.
To qualify for the Grand Prize, contestants must submit selections for exactly 20 games with selections properly marked.
The Grand Prize is a minimum of $20,000. The Grand Prize will be awarded to the contestant selecting the most winners. If the total amount of entry fees collected exceeds $20,000, then 70% of additional paid entry fees will be added to the prize money.
In the event of a tie for the Grand Prize, the prize money will be divided equally among all entries involved in the tie.
A bonus of $100,000 will be paid only if the contest winner has a perfect score of 20 wins. In the event there are multiple entries with 20 wins, the bonus will be divided equally among all entries with 20 wins.
Winning tickets are non-transferable. Winners must present a valid photo I.D. in person to claim prizes.
All prizes must be redeemed by Tuesday, May 1, 2018. No Exceptions. Uncollected prizes will be deemed forfeited and become property of William Hill.
Winners will be subject to IRS reporting of winnings based on applicable laws and IRS regulations. Contestants who refuse to provide their tax identification number when required will not be allowed to collect their winnings.
All house rules apply to the College Bowl Challenge unless otherwise specified herein.
Employees of William Hill and their immediate families are not eligible to compete in the College Bowl Challenge.
Any questions or disputes concerning the interpretation of these rules or situations not covered by these rules will be resolved by William Hill management in a manner deemed by them to be fair to all concerned and that decision shall be final and binding on all contestants. If the patron is not satisfied with the result of William Hill's decision, they have the option to seek resolution with the Nevada Gaming Control Boards.
William Hill management reserves the right to make changes to the contest rules and format or cancel the contest at any time.
All winners grant William Hill the right to take and utilize any or all photographs taken of them or information secured from them, including their name and likeness, in connection with the contest for publicity, promotional or advertising purposes in any media without compensation, consideration, notice, review, or consent. Winners release William Hill, its employees and officers of any liability in connection with such use.
For questions or any other information regarding the College Bowl Challenge, contact William Hill Customer Support at (855) 754-1200.